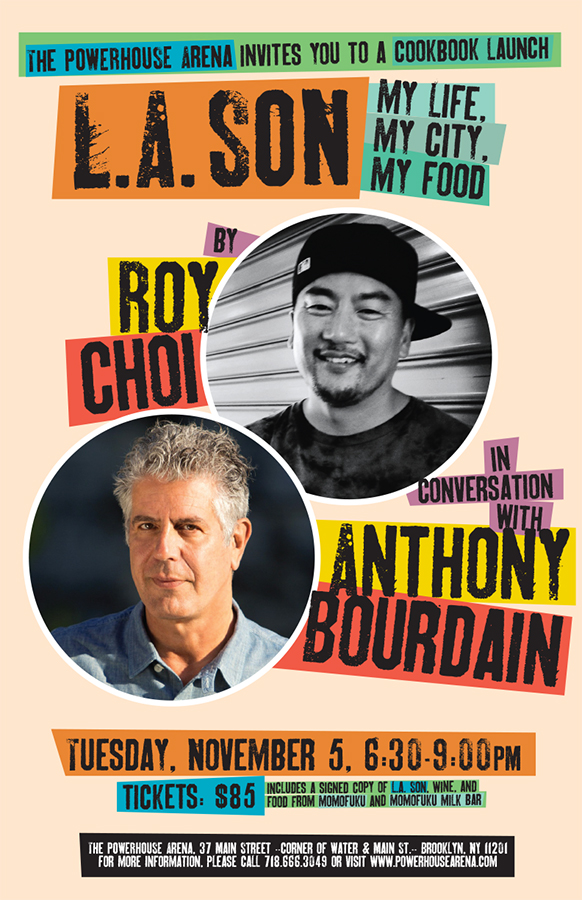 Tuesday Nov 05, 2013
6:30 pm - 9:00 pm
THE POWERHOUSE ARENA [Dumbo]
37 Main Street
Brooklyn, NY 11201
For more information, please call 718.666.3049
Tickets: $85 (includes a signed copy of L.A. Son, beer from Tiger Beer, wine, and food from momofuku and momofuku milk bar)
Tickets available for purchase here. Online ticket orders have closed, but we'll have a very limited number available at the door. Please call us for availability 718-666-3049. Doors will open at 6:30pm – please make sure you have a copy of your receipt or photo ID to present at check-in. You'll receive your signed book as well as tickets for food/drinks when you arrive. Please note the conversation with Roy and Anthony will start promptly at 7:15pm.
---
L.A.-raised maverick chef and Kogi taco truck co-founder Roy Choi celebrates the release of his inventive cookbook memoir with Anthony Bourdain, who'll join the author in conversation. This is Bourdain's only U.S. appearance with Roy Choi during his L.A. Son tour, and it'll feature an exclusive conversation, an audience Q&A, and a DJ set from Francine Molina. Named Best New Chef by Food & Wine in 2010, Choi's expanding empire includes the Los Angeles eateries Chego, A-Frame, Sunny Spot and upcoming POT. Tickets are $85 and include a signed copy of L.A. Son, beer from Tiger Beer, wine, and food samples provided by momofuku and momofuku milk bar. A portion of the ticket sales will be donated to RootDown LA and The Hurricane Sandy New Jersey Relief Fund.
About L.A. SON:
In 2008 chef Roy Choi took his fine dining experience—cultivated at the Culinary Institute of America, Le Bernardin and the Beverly Hills Hilton—and "kicked off the food-truck craze that has swept America" (TIME) with the creation of the wildly popular Kogi truck and the invention of his now famous Korean tacos.  Awarded by Bon Appetit for "being true innovators as grassroots guerrilla restaurateurs" Choi and the Kogi team truly launched a mobile food craze. Now Choi, the godfather of the food truck revolution, Food & Wine's Best New Chef of 2010, and "The David Chang of L.A." (New Yorker) brings us his first book; L.A. SON: My Life, My City, My Food, a touching memoir and flavorful cookbook that's as inventive and creative as the city to which it pays homage: Los Angeles.
In L.A. SON Choi takes us through the neighborhoods and streets most tourists never see, from the casinos where gamblers slurp fragrant bowls of pho to Downtown's Jewelry District, where a 10-year-old Choi wolfed down Jewish deli classics between diamond deliveries; from the kitchen of his parents' Korean restaurant and his mother's pungent kimchi to the boulevards of East L.A. and the best taquerias in the country, to at last, the curbside view from one of his emblematic Kogi taco trucks, where people from all walks of life line up for a revolutionary meal.
Filled with over 85 innovative recipes that meld the various traditions and flavors of Los Angeles – including Korean fried chicken, carne asada, homemade chorizo, and kimchi and pork belly stuffed pupusas – L.A. SON is inventive and original. Gritty and relentlessly charming, Choi tells his unlikely story in a fresh, compelling voice that emerges straight from the city's streets.
About the Author and Contributor:
Roy Choi was born in Seoul, Korea and raised in Los Angeles, California. He graduated from the Culinary Institute of America and went on to cook at the internationally acclaimed Le Bernadin. He was named Best New Chef by Food & Wine in 2010 and he and his Kogi BBQ team are the recipients of a 2009 Bon Appetit award for excellence in culinary innovation. Choi is the co-owner, co-founder, and chef of Kogi BBQ, as well as the restaurants A-Frame, Chego, Sunny Spot and upcoming POT. He lives in Los Angeles, California.
Anthony Bourdain is host of the Emmy Award winning TV show Anthony Bourdain: Parts Unknown on CNN and The Taste on ABC. He is the author of the bestselling Kitchen Confidential as well as A Cook's Tour, Medium Raw, 3 crime novels, a cookbook, a biography of Typhoid Mary, the bestselling graphic novel Get JIRO!, and others. His work has appeared in The New Yorker, The New York Times, Bon Appetit, Gourmet and many other publications.  He recently launched his own publishing line, Anthony Bourdain Books, with Ecco, an imprint of HarperCollins.
About the Charities:
RootDown LA first convinces high school youth to eat their veggies, then engages them in educational experiences and skills training that empower them to build healthier food environments in their communities. By working with their friends, family and neighbors to grow, cook, promote, and distribute their own veggies, the youth become the educators, entrepreneurs, and leaders in our youth-driven local food sites. https://rootdownla.org/
The Hurricane Sandy New Jersey Relief Fund Inc. is a non-profit organization that raises and distributes funds to organizations that support the recovery and rebuilding efforts of New Jersey communities impacted by the storm. The Fund aims to make a sustainable, long-term impact and focuses on programs that address the unmet needs of New Jersey communities. https://sandynjrelieffund.org/
---
For more information, please contact
Justin Levine
email: justin@powerhousearena.com
powerHouse Arena, 37 Main Street, Brooklyn, NY 11201
tel: 212-604-9074 x109