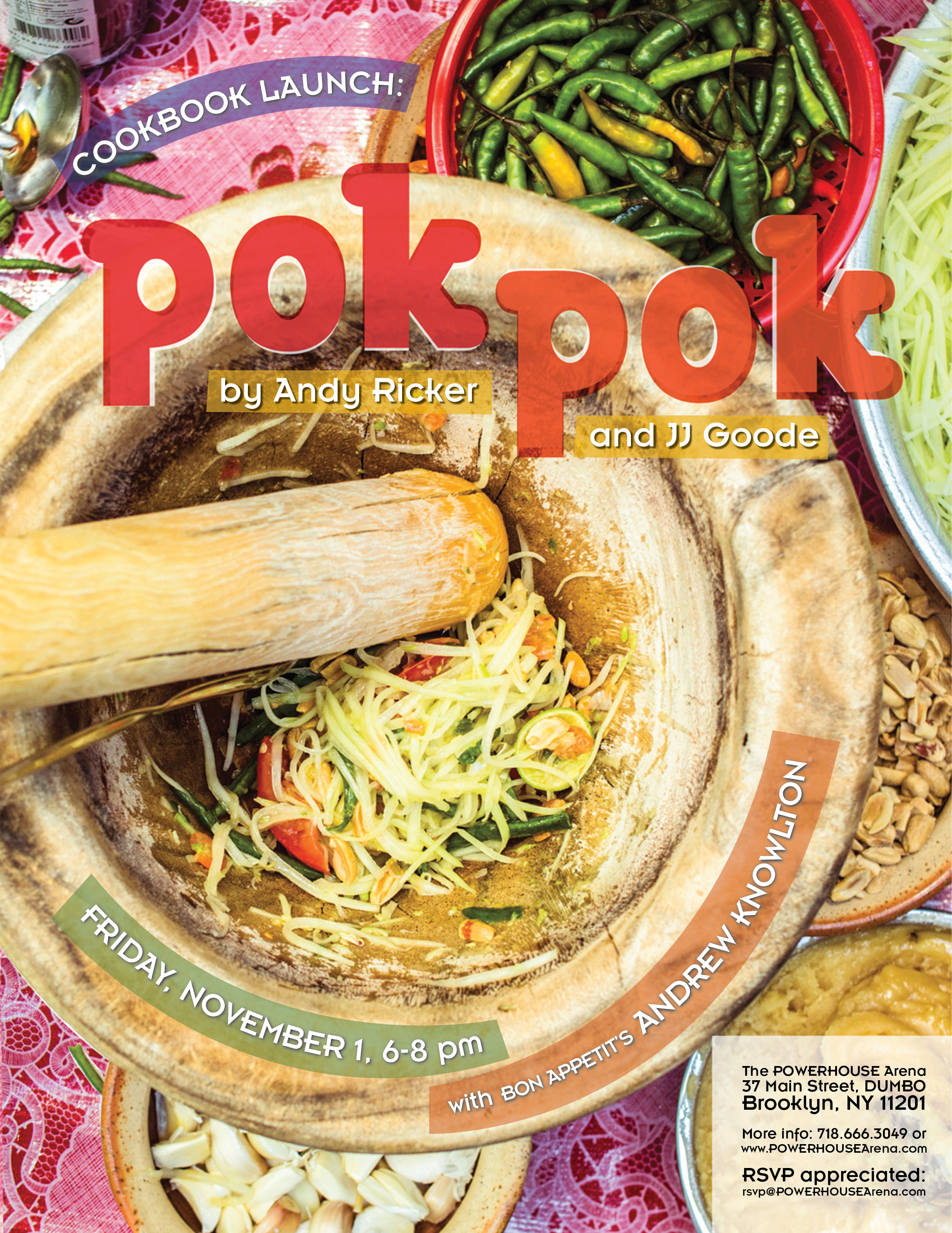 Friday Nov 01, 2013
6:00 pm - 8:00 pm
THE POWERHOUSE ARENA [Dumbo]
37 Main Street
Brooklyn, NY 11201
For more information, please call 718.666.3049
RSVP appreciated: RSVP@powerHouseArena.com
-or-
Please fill out the "Bookings" form at the bottom of this page.
---
A guide to bold, authentic Thai cooking from Andy Ricker, the chef and owner of the wildly popular and widely lauded Pok Pok restaurants. Co-author JJ Goode and Bon Appétit's Andrew Knowlton join Ricker in conversation.
About POK POK:
After decades spent traveling throughout Thailand, Andy Ricker wanted to bring the country's famed food stateside. In 2005 he opened Pok Pok, so named for the sound a wooden pestle makes when it strikes a clay mortar, in an old shack in a residential neighborhood of Portland, Oregon. Ricker has since gone on to open five more wildly popular Pok Pok restaurants, and today he is considered one of the leading American voices on Thai cooking.
In this much-anticipated debut cookbook, Ricker shares seventy of the most popular recipes from Thailand and his Pok Pok restaurants—ranging from Khao Soi Kai (Northern Thai curry noodle soup with chicken) to Som Tam Thai (Central Thai–style papaya salad) to Pok Pok's now-classic (and obsessed-over) Fish-Sauce Wings.
But Pok Pok is more than just a collection of favorite recipes: it is also a master course in Thai cooking from one of the most passionate and knowledgeable authorities on the subject. Clearly written, impeccably tested recipes teach you how to source ingredients; master fundamental Thai cooking techniques and skills; understand flavor profiles that are unique to Southeast Asian cuisine; and combine various dishes to create show-stopping, well-balanced meals for family and friends.
Filled with thoughtful, colorful essays about Ricker's travels and experiences, Pok Pok is not only a definitive resource for home cooks, but also a celebration of the rich history, vibrant culture, and unparalleled deliciousness of Thai food.
About the Authors and Contributor:
Award winning chef Andy Ricker has popular restaurants in both New York and Portland. He visits Thailand yearly, traveling, eating, cooking, and studying the food culture. He brings that knowledge and experience to his restaurants and to his cookbook, Pok Pok: Food and Stories from the Streets, Homes, and Roadside Restaurants of Thailand.
JJ Goode is a Brooklyn-based food writer, and the coauthor of the books A Girl and Her Pig with April Bloomfield, Morimoto with Masaharu Morimoto, and Truly Mexican with Roberto Santibañez.
Andrew Knowlton is the Restaurant and Drinks Editor at Bon Appétit magazine, where he writes features and monthly columns for both the magazine and the website. His blog, The Foodist, was nominated for a 2009 James Beard Award. He has appeared as a judge on The Food Network's "The Next Iron Chef America" and "Iron Chef America." as well as on NBC's "Chopping Block." Andrew appears regularly on CBS, Fox, The Dr. Oz Show, and The Today Show.
---
For more information, please contact
Justin Levine
email: justin@powerhousearena.com
powerHouse Arena, 37 Main Street, Brooklyn, NY 11201
tel: 212-604-9074 x109
RSVP
Bookings are closed for this event.