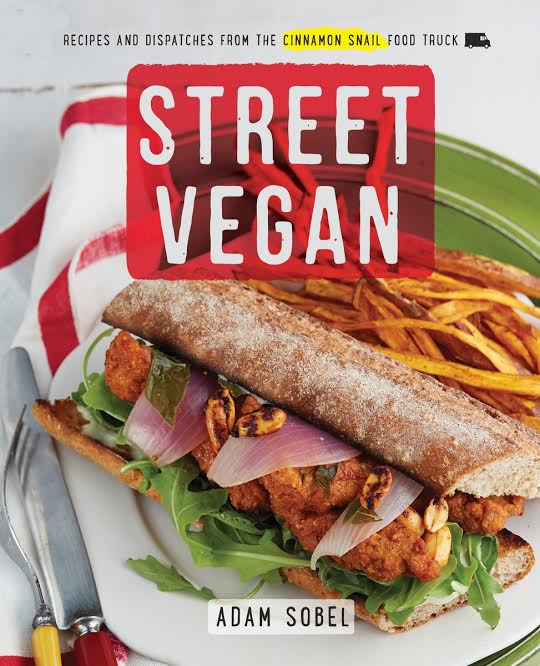 Tuesday May 05, 2015
7:00 pm - 9:00 pm
THE POWERHOUSE ARENA [Dumbo]
37 Main Street
Brooklyn, NY 11201
For more information, please call 718.666.3049
RSVP appreciated: RSVP@powerHouseArena.com
-or-
Please fill out the "Bookings" form at the bottom of this page.
---
Four-time Vendy Award-winning vegan food truck owner Adam Sobel brings the flavors of street cuisine to your kitchen with recipes like Fried Dandelion Greens with Lemon Garlic Potatoes and Brown Sugar-Bourbon Glazed Seitan.  Taste and learn how to recreate these treats for yourself!
The Cinnamon Snail truck will serve food from 6-9 outside the store on Water St.
About Street Vegan:
The thousands of fans who stood in around-the-block lines each week knew what was up: The Cinnamon Snail food truck has serious street credit with vegans and carnivores alike. Before going on hiatus earlier this spring, the truck was named "The Best Food Truck in NYC" by Gothamist, one of the top five food trucks in America by the Huffington Post, and one of the New York Times's favorite doughnut spots in NYC. From Beer-Battered Habanero Buffalo Wings to Lavender Pear Fritters, chef Adam Sobel challenges how we think about vegan cuisine.
While fans wait to see what Adam and The Cinnamon Snail get up to next, they can try out his genius vegan recipes at home with Street Vegan: Recipes and Dispatches from The Cinnamon Snail Food Truck. Adam shares 150 recipes that teach readers how to master ingredients, build sandwiches overflowing with delicious flavors, and make his award-winning and obsession-inducing donuts.
These comforting and decadent recipes include:
BREAKFAST: Maple Mustard Breakfast Seitan Strips; Bourbon Hazelnut Pancakes with Cardamom Brown Butter

BEVERAGES: Coconut Star Anise Milk; Vanilla Sesame Milk; Pistachio Milk with Clove and Rosewater

SOUPS: Jalapeño Corn Chowder; Seitan Asada and Ancho Red Bean Chili with Cilantro Mint Sour Cream

APPETIZERS: Pan-Fried Kimchi Dumplings with Fiery Miso Sauce; Chimichurri Tempeh Empanadas

SANDWICHES: Sage Tempeh Sausage Sliders; Blue Corn Hemp Seed–Crusted Tempeh with Smoked Chile Coconut Bacon and Beer-Simmered Onions

CINNAMAINS: Rosemary Hemp Seed–Crusted Tofu with Tarragon Garlic Bread Pudding; Red Bean–Scallion Pancakes with Thai Basil  Tofu Strips and Tamarind Plum Sauce

DESSERTS: Peanut Butter Chocolate–Ganache Pop Tarts;  Macadamia–White Chocolate Twinkies; Lavender–Vanilla Bean Crème Brûlée

DONUTS: Black Tea Twists with Cardamom Glaze and Tamarind-Plum Glaze; Lavender Pear Fritters with Meyer Lemon Glaze; Vanilla-Bourbon Crème Brûlée Donuts
Peppered throughout Street Vegan are Adam's absurd stories and inquisitive ruminations—tales of negotiating parking tickets with free pastries and the unexpected silver lining of working in a truck rather than a restaurant—as well as irresistible photos of the food and of life inside the snail. Street Vegan delivers a vegan cookbook that is mouthwatering, provocative, and enticing on every page.
About the Author:
Adam Sobel is the chef and owner of the award-winning vegan food truck The Cinnamon Snail. He has appeared in episodes of Donut Showdown and Eat St. on Food Network, and Vegan Mashup and Food Curated on PBS. He has written about vegan food for Vegetarian Times and teaches regular cooking classes at the Institute of Culinary Education in New York. When he's not doing any of that, he can be found in New Jersey, snuggling with his two vegan daughters and his rescued Border Collies.
Manish Engineer has been a vegetarian for nearly 20 years. He formerly worked as the digital product manager at Random House where he worked on many of the top cookbooks at Clarkson Potter. He currently works at the Museum of Modern Art, and the Midwesterner in him loves nothing more than a good sandwich
RSVP
Bookings are closed for this event.