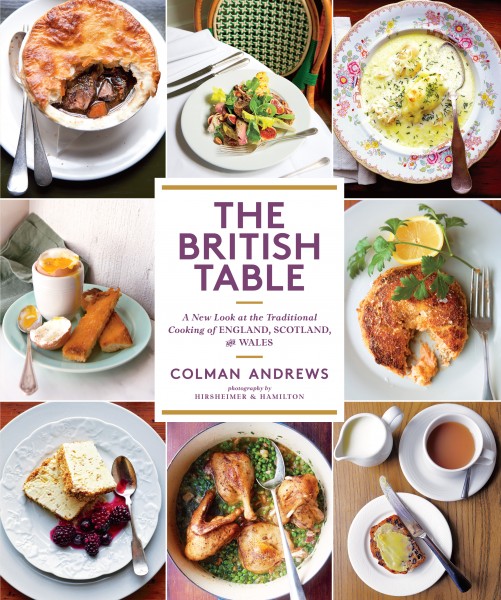 Wednesday Nov 09, 2016
7:00 pm - 9:00 pm
POWERHOUSE @ the Archway
28 Adams Street (Corner of Adams & Water Street @ the Archway)
Brooklyn , NY 11201
For more information, please call 718.666.3049
RSVP appreciated: RSVP@powerHouseArena.com
-or-
Please fill out the "Bookings" form at the bottom of this page.
---
James Beard Award winning chef Colman Andrews will be joined by Christopher Hirsheimer and Melissa Hamilton for a discussion (and tasting!) of traditional, delicious British cuisine.
About The British Table:
In The British Table, James Beard Award winner Colman Andrews offers a richly detailed immersion into the origins and evolution of British food and drink, which was once mocked as bland and colorless fare but is now celebrated and reinterpreted by leading chefs.
Drawing on a vast number of sources, both historical and modern, The British Table includes more than 150 recipes, from traditional regional specialties to modern gastropub reinventions of rustic fare. The book is organized into 13 chapters and covers everything from breakfast to beef and poultry, savory pies, desserts and confections, and teatime. Expect to find delicious reminders of the depth and breadth of Britain's culinary heritage with recipes for:
Braised Duck with Peas
Summer Lobster Soup
Creamed Mushrooms on Toast
Cheese and Onion Pie
Whisky-Soaked-Raisin and Orange Marmalade Bread & Butter Pudding
With profiles of cheese-makers and specialty food purveyors, historical sidebars on regional ingredients, and gorgeous color photographs by Christopher Hirsheimer and Melissa Hamilton of Canal House, The British Table is a veritable love letter to Great Britain by one of the most eloquent and distinguished food writers working today.
About the Author and Moderators:
Colman Andrews is the recipient of eight James Beard Awards, including the 2010 Cookbook of the Year award for The Country Cooking of Ireland. A founding editor of Saveur, he is the author of eight previous books on food, including Catalan Cuisine, Ferran: The Inside Story of El Bulli and the Man Who Reinvented Food, and My Usual Table: A Life in Restaurants, a memoir. He lives in Connecticut.
Melissa Hamilton is a home cook, writer, painter, food stylist, and cofounder of Canal House. She previously worked at Saveur as test kitchen director, and was its food editor for many years. Hamilton also worked at Martha Stewart Living and Cook's Illustrated. She has developed and tested recipes and styled food for both magazines and cookbooks, including those by acclaimed chefs and cookbook authors Colman Andrews, Lidia Bastianich, John Besh, Deborah Madison, Jonathan Waxman, David Tanis, and Alice Waters.
Christopher Hirsheimer is a home cook, writer, award-winning photographer, and cofounder of Canal House, whose facets include a publishing venture, culinary and design studio, and an annual series of three seasonal cookbooks titled Canal House Cooking. Before starting Canal House in 2007 in Lambertville, NJ, Hirsheimer was one of the founders of Saveur, where she was executive editor. She cowrote the award-winning Saveur Cooks series and The San Francisco Ferry Plaza Farmers' Market Cookbook (Chronicle, 2006), and her photographs have appeared in more than fifty cookbooks by such notables as Colman Andrews, Lidia Bastianich, Deborah Madison, Mario Batali, Julia Child, Jacques Pépin, David Tanis, and Alice Waters; and in numerous magazines, including Bon Appétit, Food & Wine, InStyle, and Town & Country.
RSVP
Bookings are closed for this event.