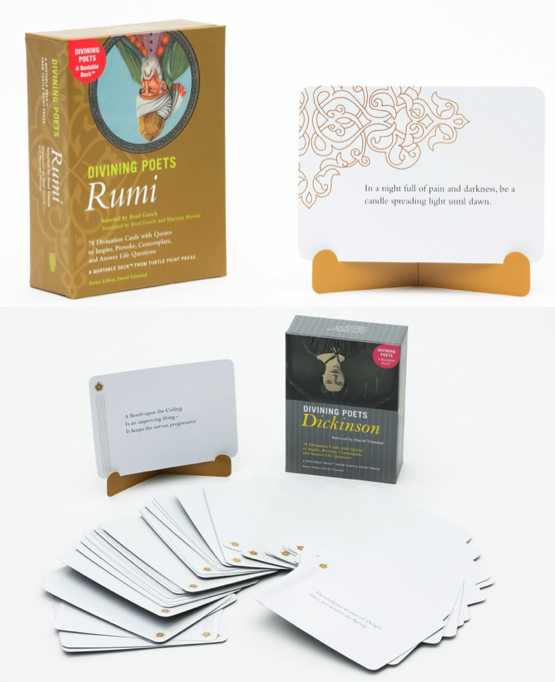 Monday Oct 28, 2019
7:00 pm - 9:00 pm
POWERHOUSE @ the Archway
28 Adams Street (Corner of Adams & Water Street @ the Archway)
Brooklyn , NY 11201
RSVP encouraged & appreciated.
Please fill out the form at the bottom of this page if you plan on attending. Facebook event found here.
PLEASE NOTE: Submitting an RSVP for this event DOES NOT guarantee entrance. This is a free-access event — entrance will be on a first-come, first-served basis.
---
About the Decks.
Turtle Point Press is pleased to introduce the Divining Poets Quotable Deck Series. These elegant, boxed sets of seventy-eight cards, à la tarot decks, feature short quotes meant to inspire, provoke, and guide users to contemplate, memorize, or answer life's questions. Turtle Point Press begins the series with DIVINING POETS: RUMI, and simultaneously, with DIVINING POETS: DICKINSON.
Persian speakers often tell their fortunes and seek life advice by randomly choosing lines from their classical poets. Rumi deck editor Brad Gooch discovered why as he worked on Rumi's Secret, his biography of the wisest poet of all, as well as his forthcoming Everyman's Library collaborative book of translations, Rumi: Unseen Poems, and his popular Twitter feed, @RumiSecrets. Speaking soul-to-soul, with cosmic intimacy, Rumi is always urgently telling us what we need to know on the journey of our lives in haunting, divine, radiant words.
David Trinidad was struck by the Magic 8 Ball sound in his favorite bits from Emily Dickinson's poems—mystical answers to questions one might ask about life and death. He chose seventy-eight, the number of cards in a tarot deck, and found they worked. This is a superlative selection of indelible gems to guide, ponder, and quote.
Both sets include a display stand, plus an instruction card with tips on how to use the decks. This is pocket-sized wisdom to give and to keep, here in perfect time for the holiday season.
About The Authors.
BRAD GOOCH, bestselling author of Smash Cut, Flannery, and City Poet, wrote the first popular biography of Rumi, Rumi's Secret, which was published by HarperCollins in 2017 to critical acclaim.

DAVID TRINIDAD
is the author of more than twenty books of poetry, collaborations, and edited volumes. Among them are
Swinging on a Star
,
Notes on a Past Life
, and
Dear Prudence: New and Selected Poems.
Winner of a Lambda Literary Award and finalist for the Lenore Marshall Poetry Prize, he is a professor of poetry at Columbia College, Chicago.
About The Moderator.
MEGAN FERNANDES is a writer living in NYC. Her work has been published in the New Yorker, Ploughshares, Tin House, The Common, Guernica, among many others. She holds a PhD in English from the University of California, Santa Barbara and an MFA in poetry from Boston University. She is currently an Assistant Professor of English at Lafayette College.
RSVP
Bookings are closed for this event.