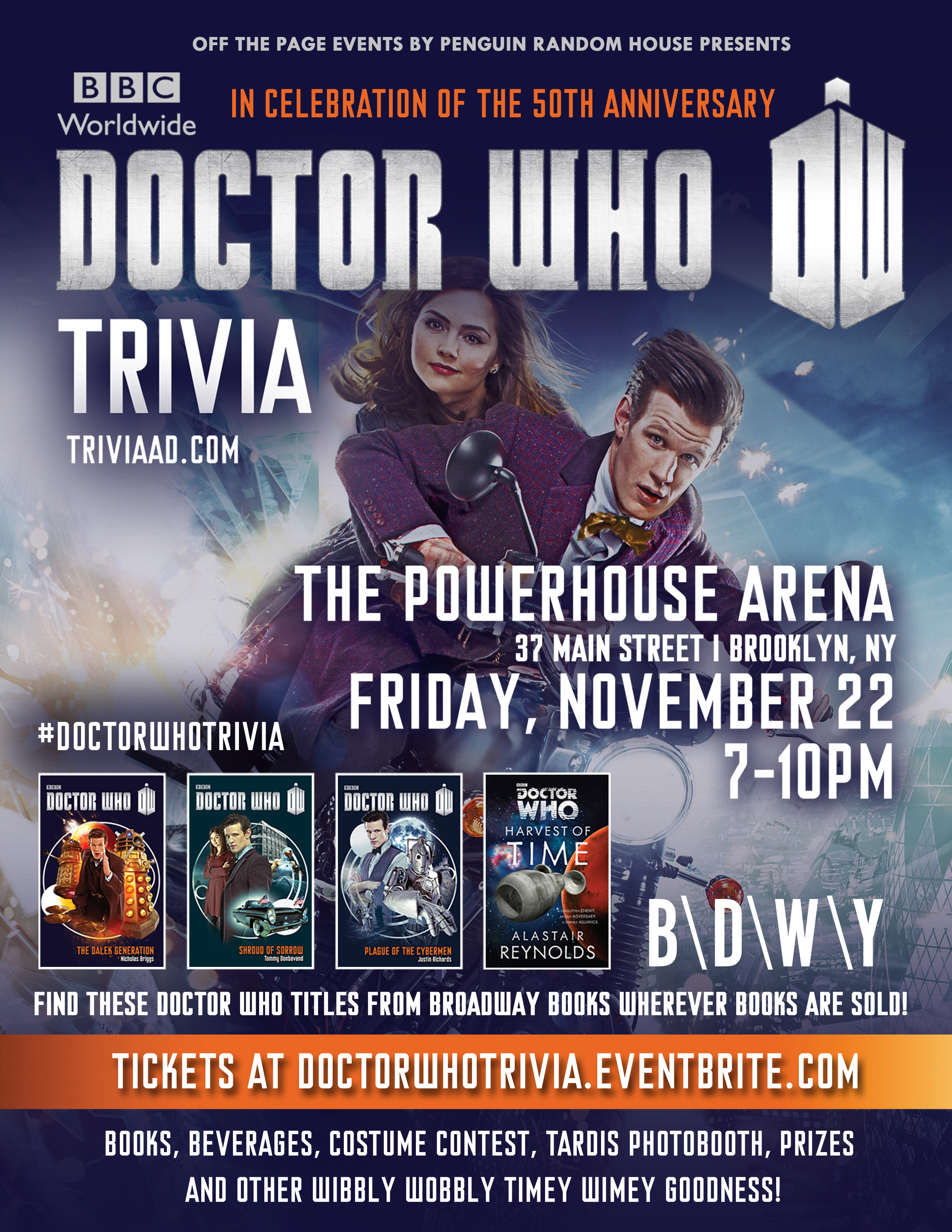 Friday Nov 22, 2013
7:00 pm - 10:00 pm
THE POWERHOUSE ARENA [Dumbo]
37 Main Street
Brooklyn, NY 11201
Tickets are required and can be purchased at doctorwhotrivia.eventbrite.com
For more information, please contact John Clinton at jclinton@randomhouse.com
---
Calling all Time Lords and their companions, dust off your bow ties & straighten your fezzes (fezzes are cool)!  In celebration of the 50th Anniversary Doctor Who Trivia & More is materializing at The POWERHOUSE Arena in Brooklyn, NY on Friday, November 22nd starting at 7PM. GERONIMO!!
A ticket to this historic event not only guarantees you admission, but also includes a healthy smattering of Doctor Who-related goodies. Everyone in attendance will:
– Receive a FREE copy of a Doctor Who Book of their choice, provided by Broadway Books (These are NEW Doctor Who stories written by authors with special associations to the BBC TV series!)
– Secure a spot in the night's featured activity, a spectacular Doctor Who Trivia Contest hosted by renowned trivia experts, Trivia A.D. (DW prizes from BBC Worldwide and Broadway Books for winners!! Everything you've ever learned about wibbly wobbly, timey wimey…stuff…will be paying off.)
– Dark Horse Wine is the official wine sponsor for the event and all 21+ Time Lords/Companions will be offered a COMPLIMENTARY glass of wine.
– Get FREE access to an on-site Doctor Who-Themed Photo Booth, along with other fun show-themed components
– Have the option to enter our Doctor Who Costume Contest – come dressed as your favorite DW character, wow your fellow DW fans, go home a winner!
– One Girl Cookies will also be on site with a variety of delicious treats available for purchase, including Tardis-blue cupcakes and bags of jammy dodgers.
---