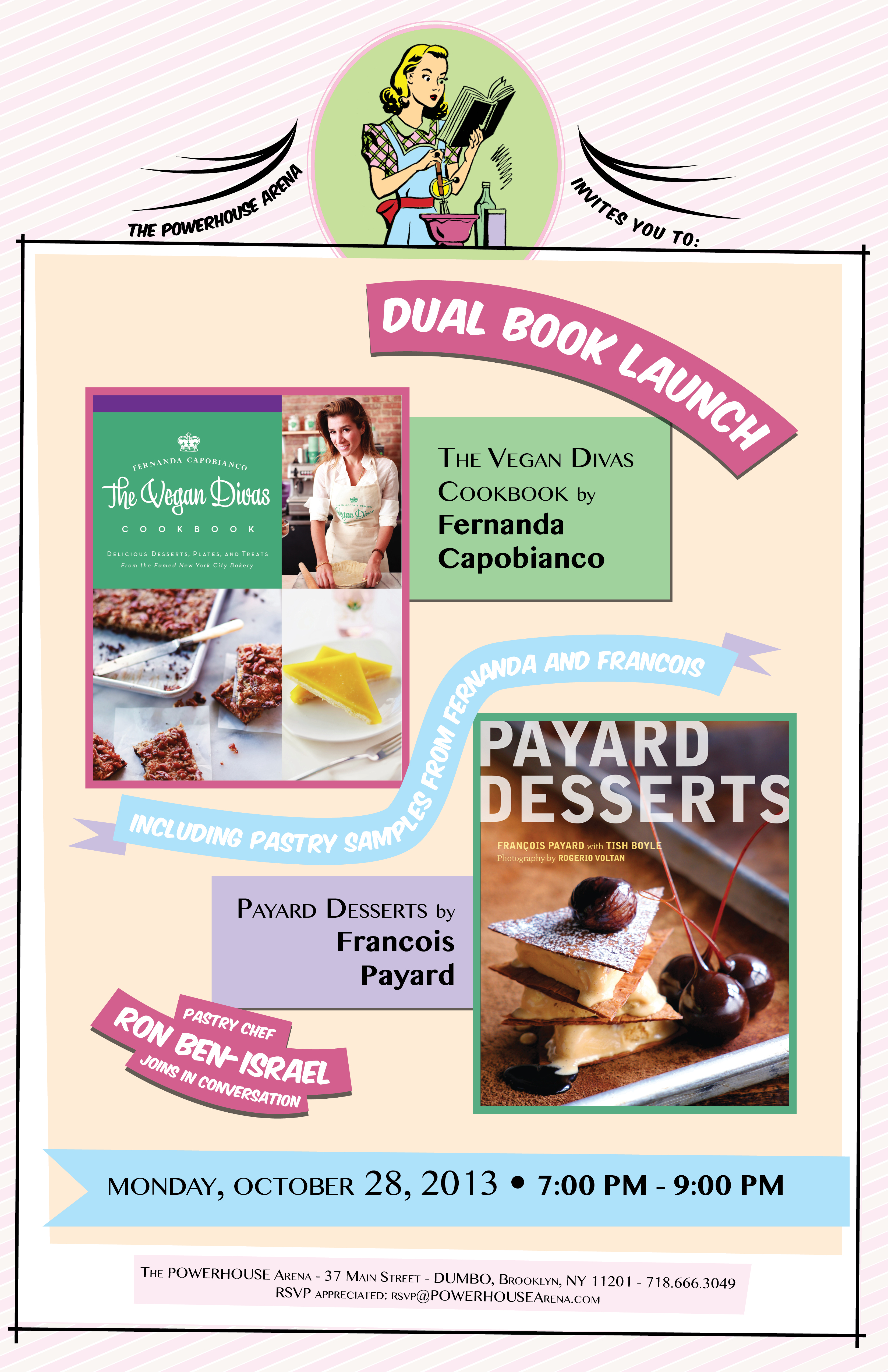 Monday Oct 28, 2013
7:00 pm - 9:00 pm
THE POWERHOUSE ARENA [Dumbo]
37 Main Street
Brooklyn, NY 11201
For more information, please call 718.666.3049
RSVP appreciated: RSVP@powerHouseArena.com
-or-
Please fill out the "Bookings" form at the bottom of this page.
---
One of the most prominent and unique couples in the culinary world – a vegan restaurateur and a renowned pastry chef – celebrate the releases of their divergent cookbooks. Pastry chef Ron Ben Israel joins them in conversation.
About THE VEGAN DIVAS COOKBOOK:
For Fernanda Capobianco, eating vegan doesn't mean sacrificing divine taste. A vegan since she was seventeen, the native Brazilian chef and wife of acclaimed French Chef François Payard founded Vegan Divas, a New York City dessert company specializing in utterly decadent yet supremely healthy, vegan desserts. Her cruelty-free fare has been featured everywhere from Vogue to New York Magazine's "Grub Street," and her much buzzed-about low-cal, mini-desserts have been included in events for institutions like Martha Stewart, the New York Times, and Soul Cycle. In her first book, she shares more than 75 recipes for both sweet and savory dishes that are high in protein and fiber but low in fat and calories.  Filled with dozens of four-color photos, THE VEGAN DIVAS COOKBOOK: Delicious Desserts, Plates, and Treats from the Famed New York City Bakery includes:
• Delectable treats like Mango-Pineapple Cake, Espresso-Lemon Panna Cotta, Spicy Carrot Cake, Chocolate Mousse, Spelt Brownies, and Gingersnap Cookies
• Brunch favorites like Peanut Butter and Jelly Scones, Eggless Scrambled Eggs, Sweet Potato Pancakes, and Detox Granola
• Hearty breads (some gluten-free) like Jalapeño Corn Bread, Spiced Pumpkin Bread, Eggless Whole Wheat Challah, and Tomato-Basil Country Bread
• Light lunches such as Smoky Tomato-Bean Soup, Walnut Paté Apple Sandwich, Roasted Pumpkin with Peanut Sauce, and Blue Potato Kale Salad
THE VEGAN DIVAS COOKBOOK also offers tips for creating a vegan kitchen, such as pantry essentials; basic recipes like for pie crust, whipped topping, and icing; and easy swaps for healthier cooking and baking, including how to replace animal-based oils and fats, chocolate, and thickening agents, for healthier and lower-calorie versions. Fernanda also provides entertaining and decorating tips for creating perfect plates and beautiful baked goods the Vegan Diva way.
About PAYARD DESSERTS:
Legendary pastry chef François Payard is known around the world for creating beautifully plated desserts bursting with flavor—each one a work of art to delight the eye as well as the palate. With great passion, immense talent, and the simple core philosophy, "to capture great flavor, you must use ingredients as they come into season," Payard has worked his way from young pastry chef in France to top positions in some of the finest kitchens in Paris and New York to culinary icon and entrepreneur with acclaimed patisseries in New York, Las Vegas, Japan, and Korea.
PAYARD DESSERTS is a breathtaking look at the evolution of Payard's craft, developed over twenty years and featuring nearly 100 of his most stunning creations. Payard reveals his secrets for creating a truly great dessert—the interplay of taste, texture, and temperature—focusing on the highest-quality ingredients. Readers will learn the thought process behind Payard's remarkable pairing of flavors—balancing sweet and rich with musky, tart, or acidic and adding herbal and floral notes for unexpected twists on classic combinations. Brown Butter Roasted Pear with Maple Syrup and Vanilla-Prune Ice Cream and Chestnut Ice Cream Napoleon with Whipped Cream and Chocolate Ginger Sauce are just a few examples of Payard's imaginative confections.
Many recipes have components that can be prepared ahead, making this book accessible for both professional chefs and dedicated home bakers. A clever "whisk rating system" from one to three whisks lets readers know which recipes are relatively simple and which are more involved. With wine and drink pairings for each dessert as recommended by Olivier Flosse, wine director of A Voce restaurants in New York, this book is a complete guide for a truly delicious, memorable, and unique culinary experience.
PAYARD DESSERTS is an inspirational compendium of upscale dessert recipes—from cakes, tarts, soufflés, and macarons to custards, mousses, and ice creams. Additional highlights include:
Anecdotes from Payard's time in world-renowned restaurants such as Le Bernardin and Daniel
Testing of each restaurant-quality recipe in a conventional home oven to ensure success
Unique desserts such as Dark Chocolate Soufflé with Pistachio Ice Cream, Pyramid of Gianduja with Hibiscus Berry Gelée and Hibiscus Sauce, and Blueberry Pavlova with Warm Blueberry Coulis
"The Cheese Course," a mouthwatering chapter on savory desserts—Black Olive Macaron with Gorgonzola Ice Cream and Poached Seckel Pear with Pomegranate, Cabrales Cheese, and Szechuan Pepper Ice Cream
A "Basics" chapter covering must-know doughs, sauces, creams, and garnishes
About the Authors:
Brazilian-born Fernanda Capobianco was a manager and owner of the Payard Restaurant and Pastry shops in Rio de Janeiro before founding Vegan Divas, a premium line of vegan, animal-free, non-cholesterol, low-calorie, organic, kosher and parve baked goods and desserts. She has served as a board member of the New York Coalition of Healthy School Foods. She lives with her husband, world-renowned pastry chef François Payard, in New York City.
FRANÇOIS PAYARD is a third-generation pastry chef who has worked at some of the world's most prestigious restaurants, including Le Bernardin and Daniel in New York City. He currently owns pastry shops in New York and Las Vegas, while licensed Payard pastry shops operate all over the world, including in Japan, Korea, and Brazil.
Named the King of Cakes by Modern Bride magazine, Ron Ben-Israel has been a favorite among celebrities and the style-conscious since 1993. A popular guest on TV, Ron often appears on Martha, the Late Show with David Letterman, Bravo's Top Chef Just Desserts, and, of course, The Food Network. His cakes have been featured in The New York Times, New York magazine, In Style, and Vogue, among others. Ron has received numerous gold medals and awards in culinary competitions, and shares his passion, techniques, and secrets with the students of the French Culinary Institute in New York.
---
For more information, please contact
Justin Levine
email: justin@powerhousearena.com
powerHouse Arena, 37 Main Street, Brooklyn, NY 11201
tel: 212-604-9074 x109
RSVP
Bookings are closed for this event.