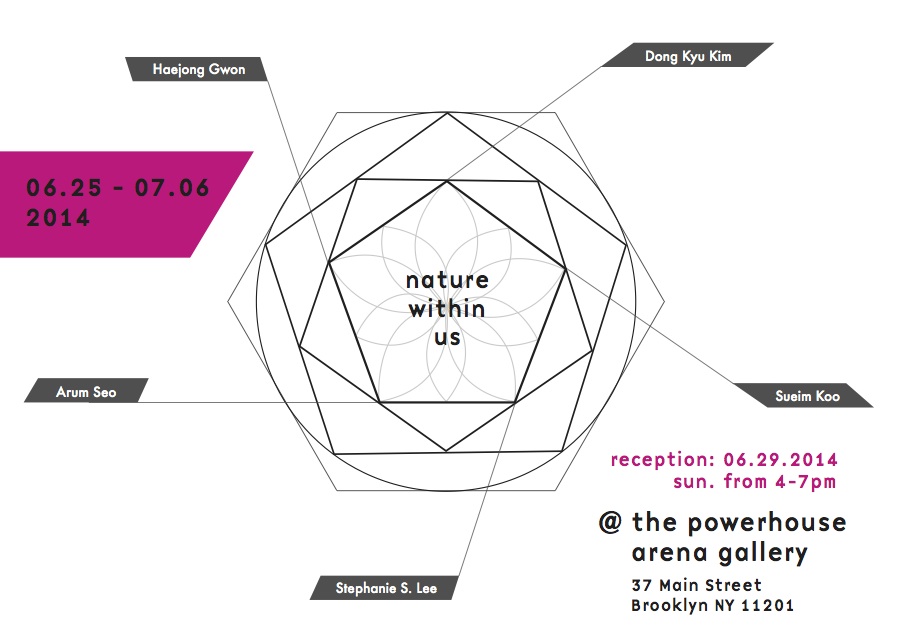 Sunday Jun 29, 2014
4:00 pm - 7:00 pm
THE POWERHOUSE ARENA [Dumbo]
37 Main Street
Brooklyn, NY 11201
Category(ies)
For more information, please call 718.666.3049
RSVP appreciated: RSVP@powerHouseArena.com
-or-
Please fill out the "Bookings" form at the bottom of this page.
---
About Nature Within Us:
This exhibition will feature various interpretations of nature defined by five artists of The Drawing Room. The participating artists believe that all human beings begin from nature and at last return to nature. While living our individual lives in mother nature, we sometimes attempt to build our own order and harmony that feel 'natural' for ourselves as a result of our personal experiences. And whether we are aware of it or not, we continue to adjust our philosophies and belief systems to live harmoniously in nature. Inevitably surrounded by nature, we ponder, we struggle, and we seek the way to live in and along with the nature. In this exhibition, the artists will share their perspectives and cogitations about what they perceived about nature through their work.
Haejong Gwon will portray the perfection and harmony in nature through minimalistic approach by purposely limiting the color ranges and tones in his photographs.
Dongkyu Kim will illustrate the meaning of nature by surveying his family heritage. Kim will present portraits of his family members in his water color paintings with simplified brush strokes.
Sueim Koo will present mixed media paintings portraying her mother using rays of lively colored abstract collage and her unusually long poetic titles, such as "Now Mom is Standing at the End of Eighty-Sixth Year Old Memories, but Mom is Contended."
Stephanie S. Lee will present series of paintings of flowers that reflect the essence and consolidation of life.
Arum Seo will engage in interpreting nature through her attempt to understand human behavior by depicting memories and traces of her son in her sketches.
About The Drawing Room:
The Drawing Room is a gathering of people who treasure art. Members originally came together and created this organization in hopes of spreading positive energy with their artwork.
---
RSVP
Bookings are closed for this event.