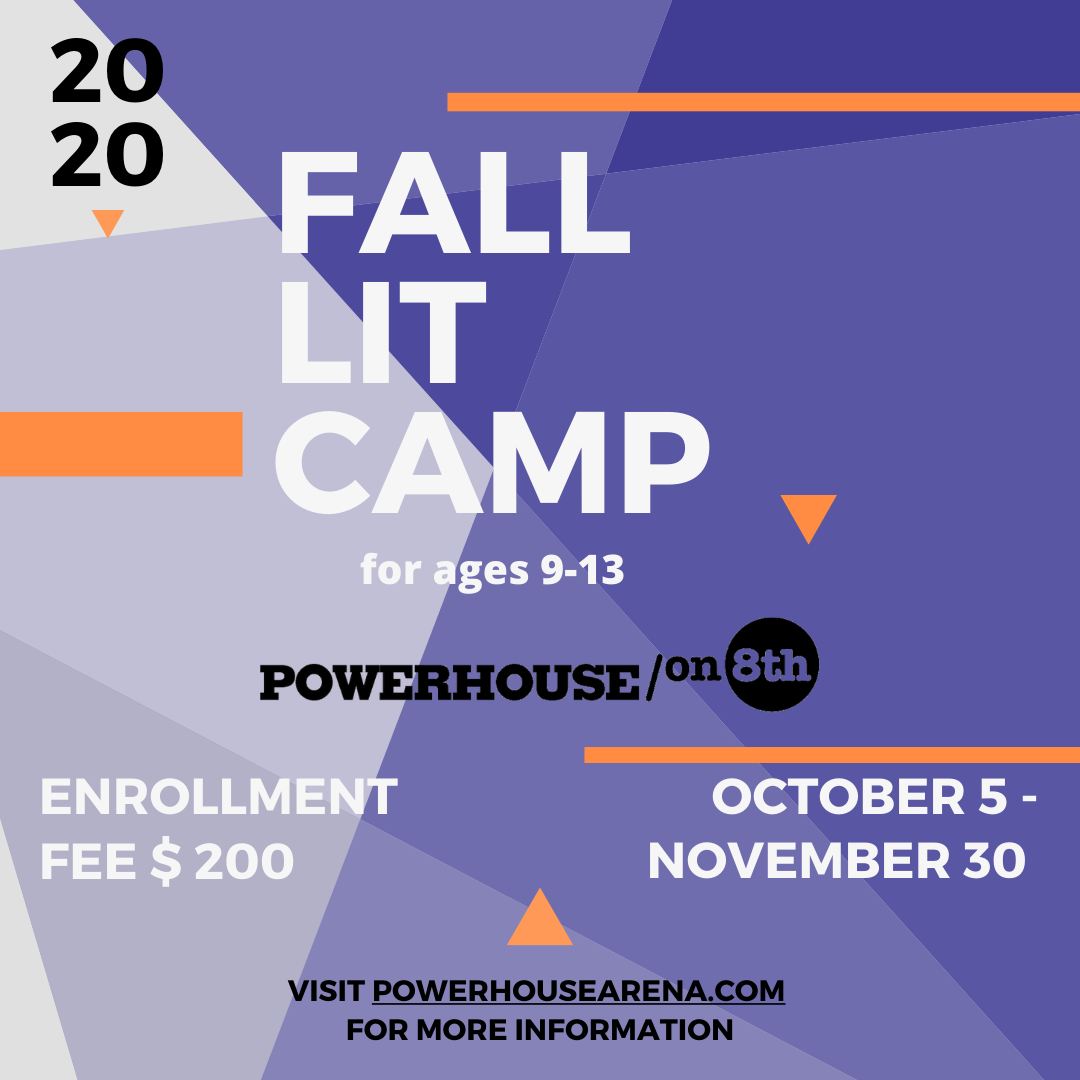 Monday Oct 05, 2020 - Monday Nov 30, 2020
5:00 pm - 6:30 pm
RSVP required – registration is $200 and includes five pre-selected book club books!
Please register here if you plan on attending – we will send Zoom invites and communications about the program to the e-mail you use, so please double check that this information is correct. The link here is to register for the FULL event series, which includes all five amazing books and access to the author talks with all five authors. If you would like to sign up for one, or several of the authors individually, you may do so by clicking on their individual links down below. 
---
About the Event:

Running from October 5th through November 30th Fall Lit Camp includes virtual book club meetings every two weeks to discuss five brand-new middle-grade novels. The discussion will be led by Brittany, our beloved Children's Book Specialist, and as an extra bonus, campers have the unique opportunity to do a Q&A with the author directly. 
Each discussion takes place on Monday's from 5:00-6:30 p.m. via Zoom. The first half of the event is a book discussion with the author followed by a Q&A where everyone has the chance to ask the author any burning questions. The second half is a book club led discussion with our bookseller to further delve into the topics and themes of the novel. 
The enrollment fee for the Fall Lit Camp 2020 is $200 and includes the five pre-selected book club books and admission into each virtual discussion. We will ship the five books to you as soon as you register (or make them available for pickup in either of our store locations), so that the kids can have a chance to read a few ahead. This is an opportunity for kids to connect with other readers their age and have a thought-provoking discussion around a series of diverse books ranging from social issues to futuristic settings and even explore fantasy worlds alongside the author of each chosen book. 
You can now register for each author's event separately as well as for the whole program! Each author event is $40 and includes a copy of their newly released hardcover, access to their Zoom event, and shipping anywhere in the US! 
To register for JUST Jess Redman's Quintessence, click here!
To register for JUST Jerry Craft's Class Act, click here! 
To register for JUST Remy Lai's Fly on the Wall, click here! 
To register for JUST Jake Burt's Cleo Porter and the Body Electric, click here! 
To register for JUST Margaret Dilloway's Five Things about Ava Andrews, click here! 
Book List 
Quintessence by Jess Redman 
When: Monday Oct. 5, 5-6:30 p.m. EST
Author of The Miraculous, Jess Redman's latest novel Quintessence is an extraordinary story about friendship, self-discovery, interconnectedness, and the inexplicable elements that make you you.
Twelve-year-old Alma has just moved to the town of Four Points. She's homesick and friendless and every day she feels less and less like herself.One day she finds a telescope in the town's junk shop, and through its lens, she watches a star—a star that looks like a child—fall from the sky and into her backyard. Alma knows what it's like to be lost and afraid and she knows that it's up to her to save the star.
Class Act by Jerry Craft (Graphic Novel)

When: Monday Oct. 19, 5-6:30 p.m. EST
New York Times bestselling author Jerry Craft returns with a companion book to New Kid. This time, it's Jordan's friend Drew who takes center stage in another laugh-out-loud funny, powerful, and important story about being one of the few kids of color in a prestigious private school.
Eighth grader Drew Ellis is no stranger to the saying "You have to work twice as hard to be just as good." But what if he works ten times as hard and still isn't afforded the same opportunities that his privileged classmates take for granted? To make matters worse, Drew begins to feel as if his good friend Liam might be one of those privileged kids. As the pressures mount, will Drew find a way to bridge the divide so he and his friends can truly accept each other? And most important, will he finally be able to accept himself?
Fly On The Wall by Remy Lai
When: Nov. 12, 5-6:30 p.m. EST
From the award-winning author of Pie in the Sky, Remy Lai takes readers on a hilarious forbidden adventure halfway around the world with twelve-year-old Henry Khoo.
Henry's family treats him like a baby. He's not allowed to go anywhere without his sister/chaperone/bodyguard. And he definitely CAN'T take a journey halfway around the world all by himself, but that's EXACTLY his plan! Determined to prove his independence and avoid punishment for his crimes, Henry embarks on the greatest adventure everrr. . . hoping it won't turn into the greatest disaster ever.
Cleo Porter and the Body Electric by Jake Burt
When: Monday Nov. 16, 5-6:30 p.m. EST
Jake Burt's Cleo Porter and the Body Electric presents a future forever changed by a pandemic, where a girl survives in total isolation. 
Like everyone else, twelve-year-old Cleo and her parents are sealed in an apartment without windows or doors. They never leave. So they're safe. Safe from the disease that nearly wiped humans from the earth. Safe from everything. The trade-off? They're alone. Thus, when they receive a critical package meant for someone else's survival Cleo knows the clock is ticking. But people don't leave their units. Not ever. Until now.
Five Things About Ava Andrews by Margaret Dilloway
When: Monday Nov. 30, 5-6:30 p.m. EST
From Margaret Dilloway, author of Summer of a Thousand Pies, comes a heartfelt and funny story about a shy eleven-year-old who learns to manage her anxiety through improv classes—and discovers her activist voice.
Ava is shocked when her writing abilities impress her classmates and they invite her to join their improv group, making up stories onstage. Determined to prove she can control her anxiety, she joins—and discovers a whole new side of herself, and what it means to be on a team.
Anti-Harassment Policy:
We expect all participants to maintain an atmosphere of respect and fairness.
Anyone who violates this standard of behavior, including engaging in any form of harassment, or otherwise disrupts the event, may, at the discretion of the organizers, be immediately removed. Participants removed as a result of their behavior will not receive any refund.