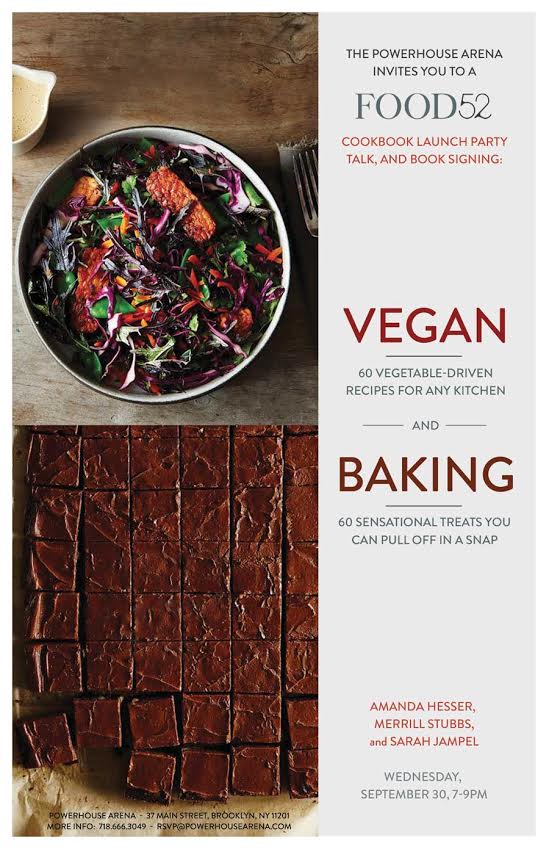 Wednesday Sep 30, 2015
7:00 pm - 9:00 pm
THE POWERHOUSE ARENA [Dumbo]
37 Main Street
Brooklyn, NY 11201
For more information, please call 718.666.3049
RSVP appreciated: RSVP@powerHouseArena.com
-or-
Please fill out the "Bookings" form at the bottom of this page.
---
IACP Award winning website Food52 celebrates the launch of two new cookbooks.  Both collections present new spins on culinary classics, from Baked Cardamom French Toast to a plant based recipe for Ginger Roasted Pears with Vanilla Ice Cream.
About Food52 Baking:
Whether it's the chocolate cake at every child's birthday, blondies waiting for you after school, or hot dinner rolls smeared with butter at Thanksgiving dinner, homemade baked goods hold a place in many of our best memories. And that's why baking shouldn't be reserved for special occasions.
With this book, curated by the editors of Food52, you can have homemade treats far superior to the store-bought variety, even when it feels like you're too busy to turn on the oven. From Brown Butter Cupcake Brownies to "Cuppa Cuppa Sticka" Peach and Blueberry Cobbler, these sixty reliable, easy-to-execute recipes won't have you hunting down special equipment or hard-to-find ingredients or leave you with a kitchen covered in flour and a sink piled high with bowls.
These recipes are not ordinary or ho-hum, either: ingredients you've baked with before (and some you haven't – like black sesame, coconut oil, and lavender) come together to create new favorites like Baked Cardamom French Toast and Olive Oil and Sesame Crackers. Filled with generations' worth of kitchen wisdom, beautiful photography, and tips you'll return to, Baking is the new go-to collection for anyone who wants to whip up something sweet every day.
About Food52 Vegan:
Omnivore or vegan (or anywhere in between), we're all looking for memorable, flavorful dishes to cook for ourselves and the people we care about. If those recipes happen to be healthful, nourishing, and friendly to vegetarians and vegans, even better.
With her wildly popular New Veganism column on Food52, Gena Hamshaw has inspired home cooks to incorporate plant-based recipes into their everyday routine – and even gained some nutritional yeast and cashew cheese converts. This vibrant collection of sixty all-new recipes plus beloved favorites from the column – along with exquisite photography and helpful tips throughout – will show all of us innovative ways to cook with fresh produce and whole foods.
From Savory Breakfast Polenta to Cauliflower and Oyster Mushroom Tacos to Ginger Roasted Pears with Vanilla Ice Cream, these recipes are delicious, dependable, and deeply satisfying. Cook from this book just a couple of times and you'll soon find yourself stocking up on coconut oil, blending your own nut milks, seeking the sweetest tomatoes at the market, and looking at plant-based dishes in a whole new way.
About the Editors:
Amanda Hesser grew up with a mom who cooked local, seasonal food. She and her brother and sisters went crabbing, picked blueberries in the woods and wild asparagus by the roadside (it grows by the corn fields in Maryland). Before she and Merrill started Food52, Amanda cooked in Europe and got her first "real job" as a Feature Writer and Food Editor at The New York Times. She wrote Cooking for Mr. Latte: A Food Lover's Courtship, with Recipes and The Cook and the Gardener, and edited the essay collection, Eat, Memory. Her last book, The Essential New York Times Cookbook, was a Times bestseller and the winner of a James Beard Award. But the best part of this book project was getting to meet Merrill, who she's now been working with for 10 years! Amanda has been named one of the 50 most influential women in food by Gourmet, played herself in the Nora Ephron film, Julie & Julia, created the Twitter app Plodt, and was recently appointed by President Obama to the Commission on White House Fellowships.
---
Merrill Stubbs was raised not on Gerber but on vitello tonnato and coeur à la creme, made by her mother, who was an excellent cook.  Before she and Amanda started Food52, Merrill was a freelance food editor and writer, with pieces in T Magazine, Body + Soul and Edible Brooklyn, among other publications. She learned how to wield a knife at Le Cordon Bleu in London and then put her chopping skills to use in the test kitchen at Cook's Illustrated and behind the counter at Flour Bakery in Boston, at the same time running her own catering business. Not long after, Merrill met Amanda, who tapped her to help with research and recipe testing for The Essential New York Times Cookbook. A great friendship, and the seeds of a big idea—Food52—were born.
---

Food52 was founded by Amanda Hesser and Merrill Stubbs in 2009 and has become the premier online community for cooks of all levels, with more than thirty-five thousand recipes, a hotline, and a kitchen and home shop. It was named Best Food Publication at the 2012 James Beard Awards and Best Culinary Website at the 2013, 2014, and 2015 IACP Awards.
RSVP
Bookings are closed for this event.