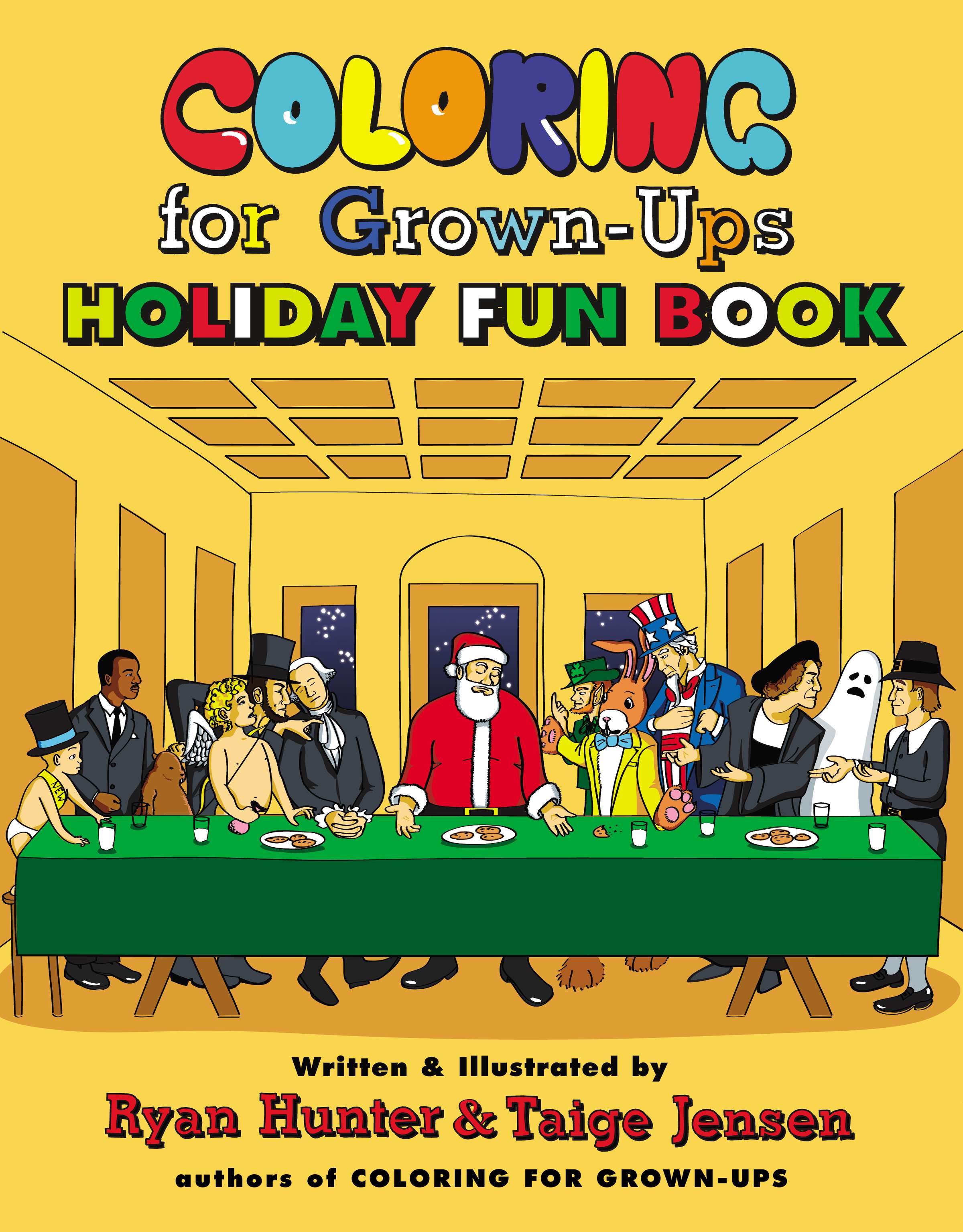 Wednesday Dec 11, 2013
7:00 pm - 9:00 pm
THE POWERHOUSE ARENA [Dumbo]
37 Main Street
Brooklyn, NY 11201
For more information, please call 718.666.3049
RSVP appreciated: RSVP@powerHouseArena.com
-or-
Please fill out the "Bookings" form at the bottom of this page.
---
A new adult activity book that will help even the most cynical celebrator make it through the holiday season in good cheer.
About COLORING FOR GROWN-UPS HOLIDAY FUN BOOK:
Coloring for Grown-Ups is back for some holiday fun! For all of us who need some support to get through the holiday season in good cheer, here is a coloring book that walks the fine line between adult responsibility and childhood fun.  COLORING FOR GROWN-UPS HOLIDAY FUN BOOK injects a bit of playfulness into the most celebrated dates on the calendar. It's as much fun for the kid inside each of us as the adult we've begrudgingly become.
Dreamed up by the creators of the massive YouTube hit, "Hipster Olympics," COLORING FOR GROWN-UPS was the ultimate F-you to growing up and now the HOLIDAY FUN BOOK is the much-needed rescue from the quality time-seeking clutches of families.
The activities in the book resemble typical, coloring-book-style pages, but with a slightly twisted perspective that offers an ironic look at the stereotypes, habits, and challenges of the holidays.  COLORING FOR GROWN-UPS HOLIDAY FUN BOOK has dozens of fun activities, games, and puzzles for adults including:
Construct You Own Non-Offensive Holiday Card
New Year's Day Walk-of-Shame Maze
Design Your Own Slutty Halloween Costume
St. Patrick's Day Puke-By-Numbers
…And many more amusements that combine the mindless joy of childhood coloring with the mind-numbing realities of corny holidays including the viral hit "I tolerate you" Valentine's Day e-card!
Depressingly realistic and fun for any season – COLORING FOR GROWN-UPS HOLIDAY FUN BOOK is the perfect stocking stuffer and indispensable gift for grinches and adults of any age…sober and otherwise.
About the Authors:
Ryan Hunter and Taige Jensen write and direct comedy for MTV, College Humor, Fremantle Media, Slate, Current TV, EUE Screen Gems, Next New Networks, MyDamnChannel, and Huffington Post Comedy/AOL.  Their YouTube channel, POYKPAC, has gotten 65 million views.  Their video "Hipster Olympics" received nearly more than 3.5 millions hits.
Ryan and Taige also wrote and directed "Good Morning Internet," a 15-episode original web series that aired on IFC and IFC.com. Both authors reside in New York City.
---
For more information, please contact
Justin Levine
email: justin@powerhousearena.com
powerHouse Arena, 37 Main Street, Brooklyn, NY 11201
tel: 212-604-9074 x109
RSVP
Bookings are closed for this event.