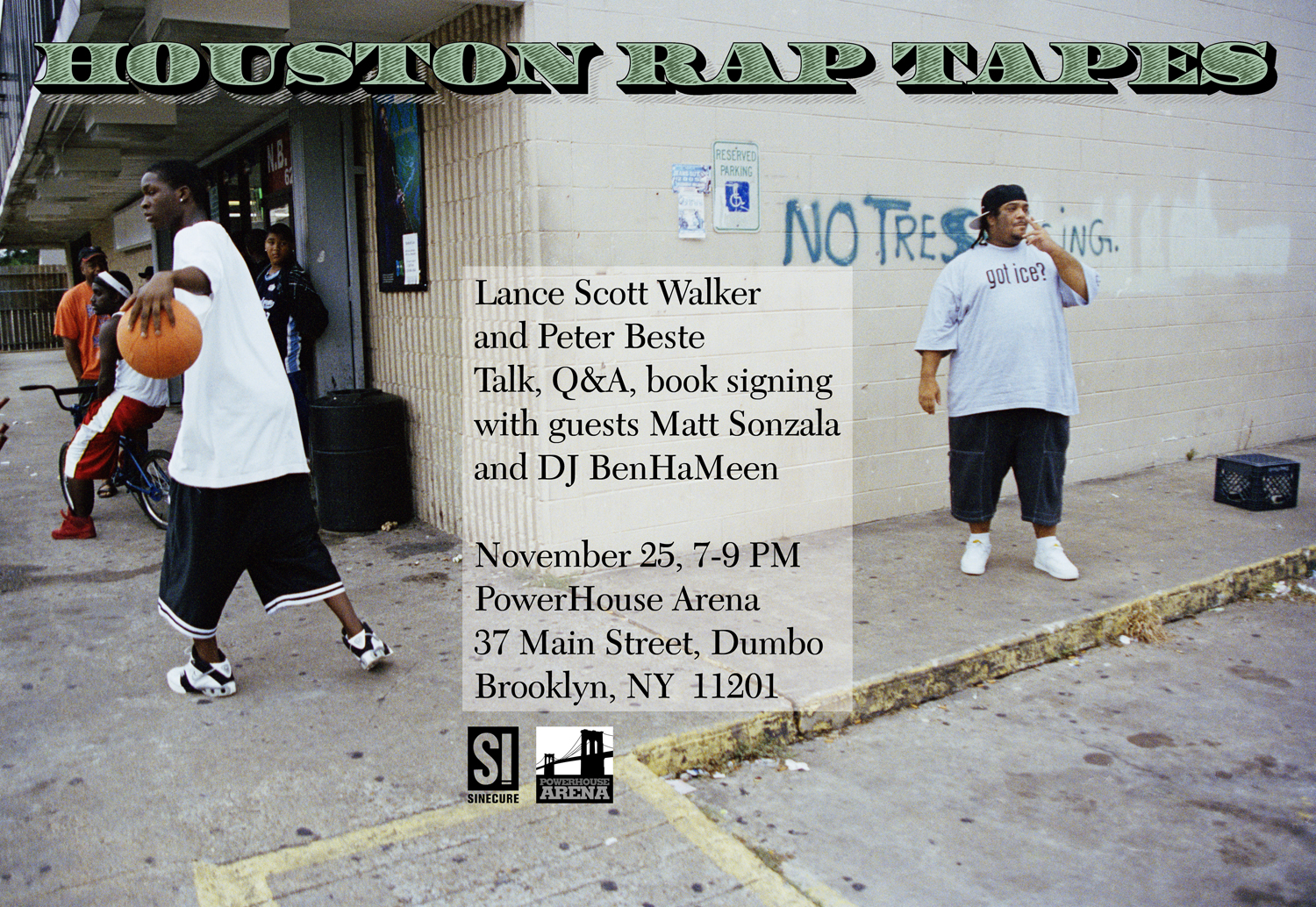 Tuesday Nov 25, 2014
7:00 pm - 9:00 pm
THE POWERHOUSE ARENA [Dumbo]
37 Main Street
Brooklyn, NY 11201
For more information, please call 718.666.3049
RSVP appreciated: RSVP@powerHouseArena.com
-or-
Please fill out the "Bookings" form at the bottom of this page.
---
Photographer Peter Beste and writer Lance Scott Walker share Houston Rap and Houston Rap Tapes, two books documenting the most influential style in twenty-first century hip hop.
About Houston Rap:
Houston Rap is an immersion into the everyday life of the Houston hip hop community. This hardcover 272 page book features the photography of Peter Beste, who spent 9 years documenting the culture alongside writer Lance Scott Walker. The book is edited by Johan Kugelberg who also worked with Peter on his previous book True Norwegian Black Metal (Vice) which to date has sold through 8 editions.
Houston Rap profiles noted artists such as Bun B of UGK, Z-Ro, Big Mike, K-Rino, Willie D of the Geto Boys, Lil' Troy, and Paul Wall, alongside reflections on the lives of departed legends such as DJ Screw, Pimp C, and Big Hawk. The book also features community leaders, rappers, producers, businessmen, and family members, all providing an astonishing and important insight into a great American cultural narrative.
About Houston Rap Tapes:

Houston Rap Tapes is the companion book to Houston Rap, by Peter Beste and Lance Scott Walker, an immersion in and documentation of the Houston Hip Hop community in neighborhoods such as Fifth Ward, Third Ward, and South Park.
Houston Rap Tapes features in-depth oral histories conducted by Walker, with exclusive interviews with producers and MCs such as Bun B., Willie D., Paul Wall, Z-Ro, Big Mike, DJ DMD, K-Rino, Salih Williams, and Lil' Troy, accompanied by a selection of Beste's black and white photography.
There are also creation myths told by old school masters like MC Wickett Crickett, and Rick Royal, as well as the life stories of an assortment of radio and club personalities, impresarios, ex-pimps, former drug dealers, and members of the community.
About the Authors: 
Peter Beste is a documentary photographer based in New Mexico and New York City.
Lance Scott Walker is a Texas-bred/NYC-based writer and host of Houston Rap Tapes Radio.
RSVP
Bookings are closed for this event.