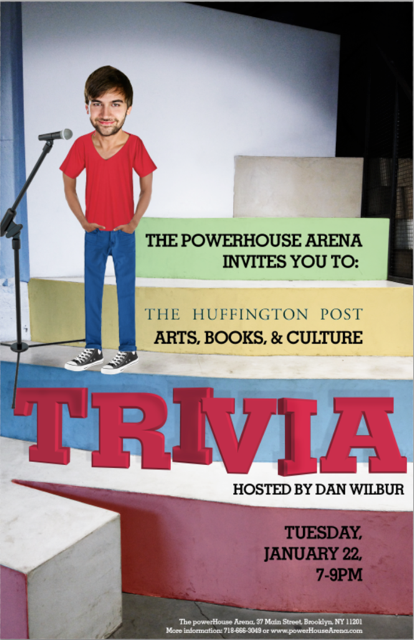 Tuesday Jan 22, 2013
7:00 pm - 9:00 pm
THE POWERHOUSE ARENA [Dumbo]
37 Main Street
Brooklyn, NY 11201
Join us for the Huffington Post's second annual ABC (Arts, Books, & Culture) trivia night, moderated by comedian Dan Wilbur, author of How Not to Read. Wine, books, smarty-pants wearing people, and prizes.
About the Host:
Dan Wilbur is a comedian, writer, and bookseller at Community Bookstore in Brooklyn. If you like Dan even a little, it's because you've seen his writing or you're his parents. His writing has been featured on College Humor, Mcsweeney's, and The Onion News Network on IFC. His first humor book, How Not To Read: Harnessing The Power of a Literature-Free Life is available now from Perigee.
---
For more information, please contact
Julie Buntin, Events Coordinator
email: julie@powerhousearena.com 
powerHouse Arena, 37 Main Street, Brooklyn, NY 11201
tel: 212-604-9074 x109
RSVP
Bookings are closed for this event.