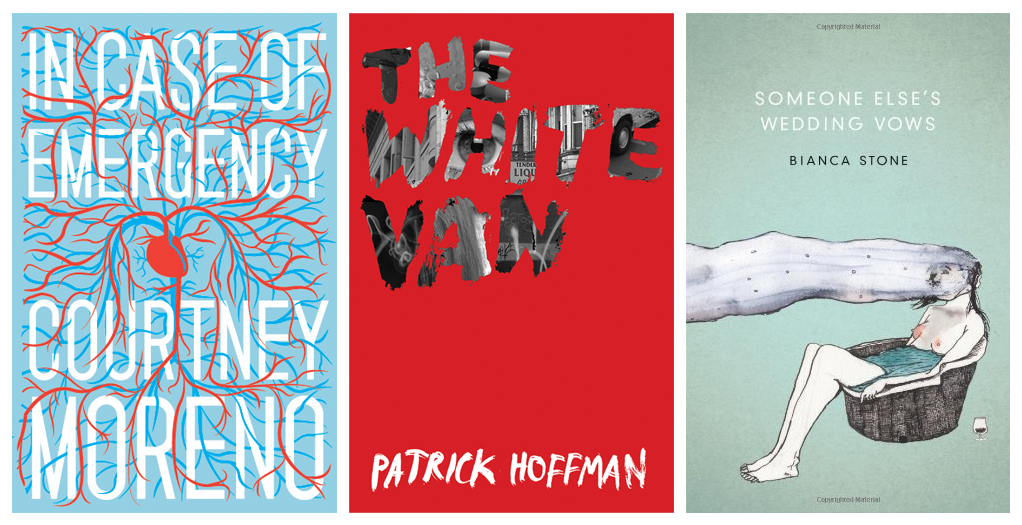 Thursday Sep 18, 2014
7:00 pm - 9:00 pm
THE POWERHOUSE ARENA [Dumbo]
37 Main Street
Brooklyn, NY 11201
For more information, please call 718.666.3049
RSVP appreciated: RSVP@powerHouseArena.com
-or-
Please fill out the "Bookings" form at the bottom of this page.
---
We're teaming up with McSweeney's, Grove Atlantic, and Tin House to celebrate the debut releases of three exciting new authors: Courtney Moreno, Patrick Hoffman, and Bianca Stone. This is an Official Brooklyn Book Festival Bookend Event.
About In Case of Emergency by Courtney Moreno: 
What do you do when you can't function? After rookie EMT Piper Gallagher responds to a call outside a Los Angeles shopping mall for a man who can only tell her, "I can't function," the question begins to haunt her. How will Piper continue to function despite the horror she sees working in South Central, and despite her own fractured past? And how will the woman Piper loves continue to function as she experiences the aftershocks of her time spent serving in Iraq? Piper's experiences as a rookie break her down and open her up as her genuine urge to help patients confronts the daily realities of life in the back of an ambulance and a hospital's hallways. This vivid and visceral debut is a rich study in trauma—in its causes and effects, in its methods and disguises, in its power and its pull.
About The White Van by Patrick Hoffman: 
At a dive bar drug-hustling Emily Rosario is drinking whiskey and looking for an escape from her desperate lifestyle. When she is approached by a Russian businessman, she thinks she might have found her exit. A week later—drugged, disoriented, and wanted for robbery—Emily finds herself on the run for her life.
A sharply drawn cast of characters—dirty cops, Russian drug dealers, Chinese black-market traders, street-smart Cambodians, and shady entrepreneurs—all take part in this terrifying tour through San Francisco's underbelly. Confronted with the intimate details of characters that blur the line between good and evil and twists that surprise until the end, readers of The White Van will find their own moral code challenged by the desperate decisions the characters are forced to make.
About Someone Else's Wedding Vows by Bianca Stone: 
Someone Else's Wedding Vows reflects on the different forms of love, which can be both tremendously joyous and devastatingly destructive. The title poem confronts a human ritual of marriage from the standpoint of a wedding photographer. Within the tedium and alienation of the ceremony, the speaker grapples with a strange human hopefulness. In this vein, Stone explores our everyday patterns and customs, and in doing so, exposes them for their complexities. Drawing on the neurological, scientific, psychological, and even supernatural, this collection confronts the difficulties of love and family. Stone rankles with a desire to understand, but the questions she asks are never answered simply. These poems stroll along the abyss, pointing towards the absurdity of our choices. They recede into the imaginative in order to understand and translate the distressing nature of reality. It is a bittersweet question this book raises: Why we are like this? There is no easy answer. So while we look down at our hands, perplexed, Someone Else's Wedding Vows raises a glass to the future.
About the Authors: 
Courtney Moreno's award-winning writing has been published in LA Weekly and Best American Nonrequired Reading. She received a B.S. in molecular biology from the University of California, Berkeley, and an M.F.A. in creative writing from the University of San Francisco. During the ten years in between, she worked as an entomologist's assistant, lab technician, clinical research coordinator, stagehand, set carpenter, modern and aerial dancer, EMT, and field training officer. She lives in San Francisco.
Patrick Hoffman is a writer and private investigator based in Hudson, New York. He recently moved to Hudson from San Francisco, where he worked as an investigator for the past nine years, with the last five spent at the San Francisco Public Defenders Office. The White Van is his first novel.
Heavily influenced by a family of writers and artists, including the late poet Ruth Stone, Bianca Stone began writing poems at a very early age. She collaborated with the poet and essayist Anne Carson on Antigonick, published by New Directions in 2012. She lives in New York City.
RSVP
Bookings are closed for this event.