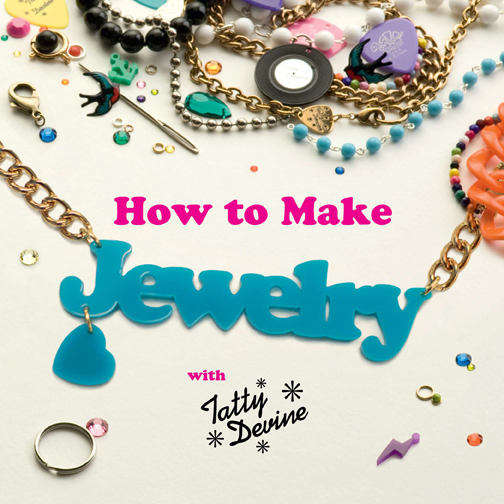 Wednesday Feb 06, 2013
7:00 pm - 9:00 pm
THE POWERHOUSE ARENA [Dumbo]
37 Main Street
Brooklyn, NY 11201
For more information, please call 718.666.3049
RSVP appreciated: RSVP@powerHouseArena.com
-or-
Please fill out the "Bookings" form at the bottom of this page.
---
The founders of Tatty Devine bring their accessory expertise to powerHouse for a jewelry-making workshop and launch party. Supplies will be provided with book purchase. Don't miss this chance to design your own quirky, creative jewelry with two masters of the craft.
About the Book:
What do Katy Perry, Jessie J, and Kelly Osbourne have in common? They've all been spotted wearing Tatty Devine jewelry, the cult classic of British fashion. This iconic jewelry brand—with its witty, offbeat designs—is perfect for those with their own unique sense of style. From name necklaces to quirky rings and bracelets, Tatty Devine's designs are made by hand in Tatty Devine's own workshops.
Now, Rosie Wolfenden and Harriet Vine, the founders of Tatty Devine, bring their accessory making expertise into your home with the DIY book HOW TO MAKE JEWELRY WITH TATTY DEVINE, a guide to making your own stunning jewelry.
Jewelry is all about self-expression, fun, and shiny things. But when most people think about making jewelry, they usually think about making chains and traditional beading. The much more thrilling truth is that people can make jewelry from just about ANYTHING: keys, playing cards, tape measures, pieces of a jigsaw puzzle, pages from magazines… The world is your DIY jewelry-making oyster.
HOW TO MAKE JEWELRY WITH TATTY DEVINE shows readers all the basic tools and techniques they need to get started, and most important, inspires readers to let their imaginations soar.
In no time at all, TATTY DEVINE readers will be whipping up:
tape measure rosettes
sharp-looking leather cuffs
music note charm bracelets
bow-tie necklaces
and more!
About the Authors:
Graduates of the Chelsea School of Art, Rosie Wolfenden and Harriet Vine started out by making wrist cuffs with some leather offcuts, which sold each week at Portobello and Spitalfield Markets in London. Together, Rosie and Harriet founded Tatty Devine jewelry company. They now have two stores in London, and their products are sold in retail stores across the US.
---
For more information, please contact
Julie Buntin, Events Coordinator
email: julie@powerhousearena.com
powerHouse Arena, 37 Main Street, Brooklyn, NY 11201
tel: 212-604-9074 x109
RSVP
Bookings are closed for this event.