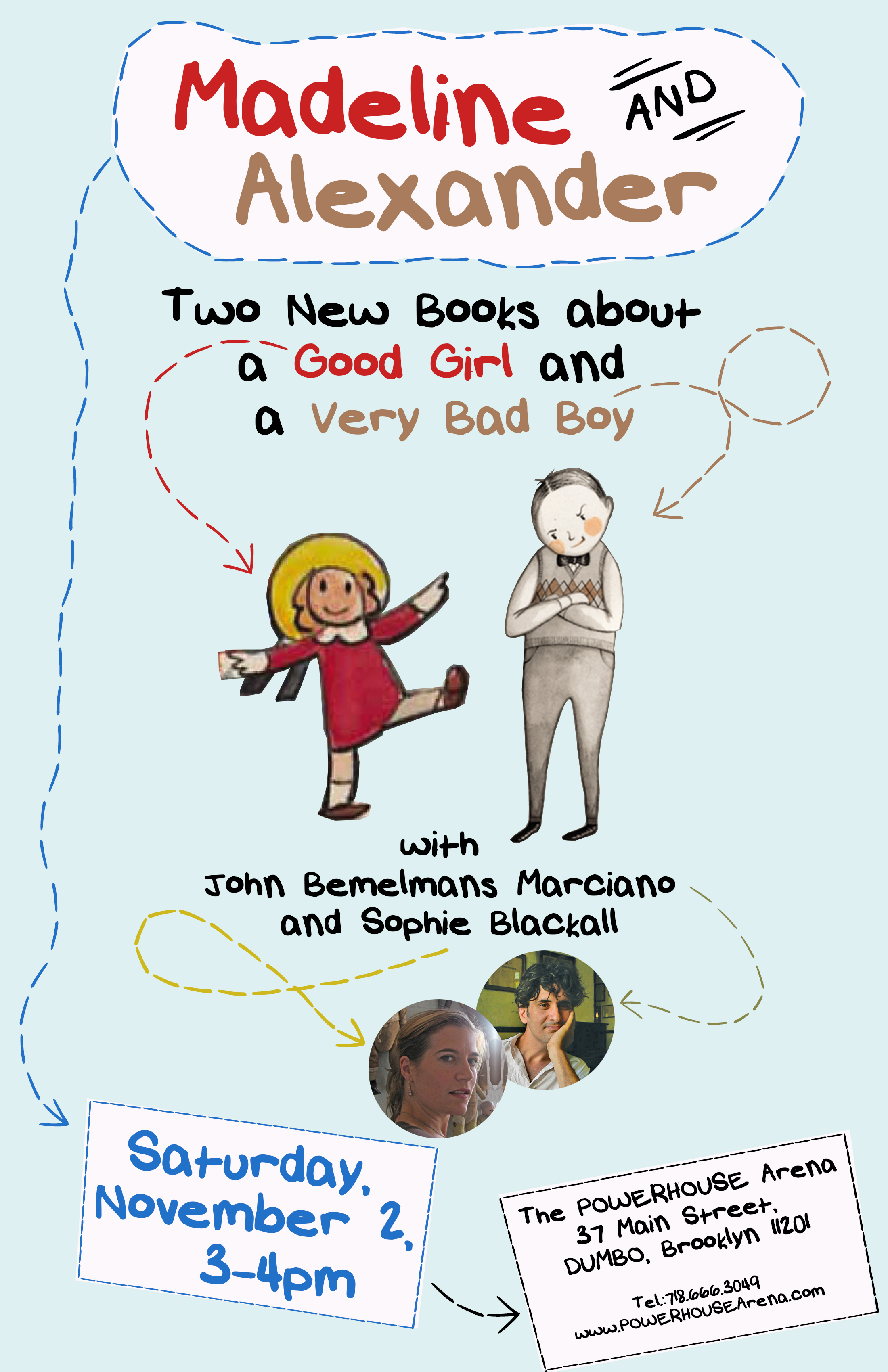 Saturday Nov 02, 2013
3:00 pm - 4:00 pm
THE POWERHOUSE ARENA [Dumbo]
37 Main Street
Brooklyn, NY 11201
Category(ies)
For more information, please call 718.666.3049
RSVP appreciated: RSVP@powerHouseArena.com
-or-
Please fill out the "Bookings" form at the bottom of this page.
---
Bestselling author John Bemelmans Marciano and illustrator Sophie Blackall celebrate the recent releases of Madeline and the Old House in Paris and The 9 Lives of Alexander Baddenfield.
About MADELINE AND THE OLD HOUSE IN PARIS:
Madeline's adventures have captured the hearts of children and parents for generations. In the latest book, MADELINE AND THE OLD HOUSE IN PARIS, John Bemelmans Marciano faithfully continues the tradition created by his grandfather, Ludwig Bemelmans, with a spirited mystery set in the old house in Paris. Madeline returns as she and her mischievous neighbor, Pepito, investigate strange noises in the attic.  They soon discover it is haunted by the ghost of an astronomer who lived many centuries before, who became a ghost while waiting to see a comet that reappears only every 321 years. The comet is about to return, but his telescope has gone missing, stolen by the wicked Lord Cucuface.  Madeline and Pepito, a fearless pair, set out to recover the missing telescope which will help put their new ghostly friend at rest.
Feisty and fearless as ever, Madeline just says "pooh-pooh" and her many fans will cheer with delight in sharing her newest adventure, filled with all the charm readers have come to expect from the beloved Madeline books.
About THE 9 LIVES OF ALEXANDER BADDENFIELD:
In THE 9 LIVES OF ALEXANDER BADDENFIELD, John Bemelmans Marciano tells a wickedly funny tale of an anti-hero you love to hate.  Witty pictures by the inimitable Sophie Blackall create the perfect complement to the clever, tongue-in-cheek text that will delight young readers everywhere.
Meet Alexander Baddenfield. He's a horrible boy—a really horrible boy—who is the last in a long line of lying, thieving scoundrels. His dastardly clan earned the scorn and disgust of everyone they encountered, and due to some poor choices (for example, provoking a lion), they often met untimely deaths. So when Alexander learns that his cat, Shaddenfrood, has nine lives and he himself only one, he grows determined to have the cat's extra lives—he only needs to find a scientist mad enough to conduct the experiment. Once he does, he sets about using his lives up, attempting the most outrageous feats he can imagine. Only when his lives start running out does he realize how reckless he's been…
Darkly comic and clever, THE 9 LIVES OF ALEXANDER BADDENFIELD will entertain fans of Roald Dahl, Lemony Snicket, and readers will laugh out loud with Alexander's wild antics.
About the Author and Illustrator:

John Bemelmans Marciano, like his grandfather Ludwig Bemelmans, is a talented artist as well as a writer of both adult and children's books. As he carries on the Madeline legacy, John faithfully evokes the style and spirit of the original books, while adding his own unique stamp to the story and pictures. His previous Madeline books include Madeline at the White House, Madeline and the Cats of Rome, and Madeline Says Merci. He is also the author of The 9 Lives of Alexander Baddenfield, illustrated by Sophie Blackall. John grew up on a horse farm in Three Bridges, New Jersey, and attended Columbia University in New York City. He lives in Brooklyn with his wife, Andromache, who is a set designer, and their daughter, Galatea.
Sophie Blackall is also a New York Times bestselling illustrator. She is originally from Australia and has illustrated over twenty-five books for children. Her books include the Ivy and Bean series, as well as Big Red Lollipop, a New York Times Best Illustrated Book of the Year. Sophie also lives in Brooklyn.
---
For more information, please contact
Justin Levine
email: justin@powerhousearena.com
powerHouse Arena, 37 Main Street, Brooklyn, NY 11201
tel: 212-604-9074 x109
RSVP
Bookings are closed for this event.