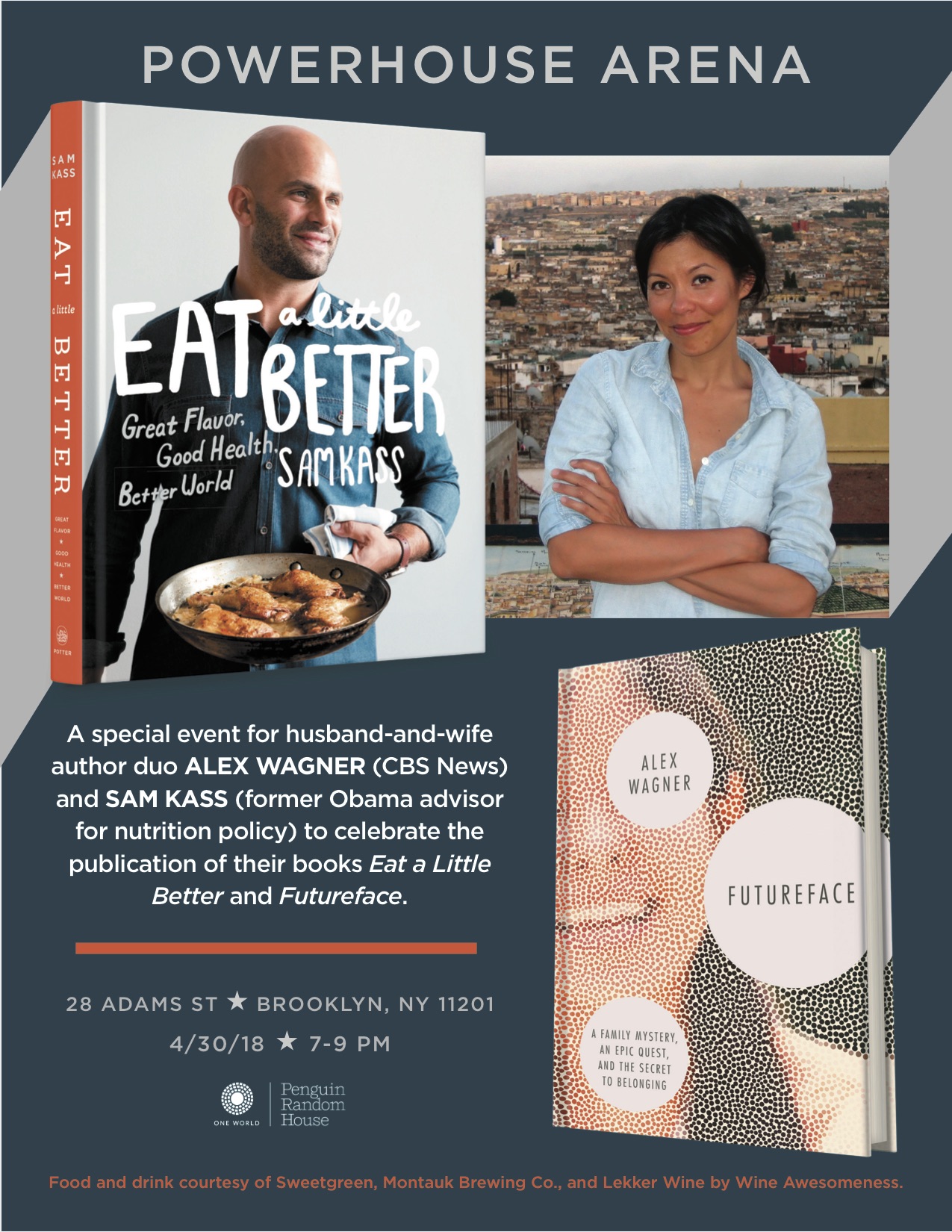 Monday Apr 30, 2018
7:00 pm - 9:00 pm
POWERHOUSE @ the Archway
28 Adams Street (Corner of Adams & Water Street @ the Archway)
Brooklyn , NY 11201
RSVP appreciated. Please fill out the form at the bottom of this page if you plan on attending.
PLEASE NOTE: Submitting an RSVP for this event DOES NOT guarantee entrance. This is a free-access event — entrance will be on a first-come, first-served basis.
---
Free Book Event!
Brooklyn Book Event for Futureface by Alex Wagner & Eat a Little Better by Sam Kass!
Food and refreshments courtesy of Sweetgreen, Montauk Brewing Co., and Lekker Wine by Wine Awesomeness.
---
About Futureface.
An acclaimed journalist travels the globe to solve the mystery of her ancestry, confronting the question at the heart of the American experience of immigration, race, and identity: Who are my people?
Alex Wagner has always been fascinated by stories of exile and migration. Her father's ancestors immigrated to the United States from Ireland and Luxembourg. Her mother fled Rangoon in the 1960s, escaping Burma's military dictatorship. In her professional life, Wagner reported from the Arizona-Mexico border, where agents, drones, cameras, and military hardware guarded the line between two nations. She listened to debates about whether the United States should be a melting pot or a salad bowl. She knew that moving from one land to another—and the accompanying recombination of individual and tribal identities—was the story of America. And she was happy that her own mixed-race ancestry and late twentieth-century education had taught her that identity is mutable and meaningless, a thing we make rather than a thing we are.
When a cousin's offhand comment threw a mystery into her personal story–introducing the possibility of an exciting new twist in her already complex family history—Wagner was suddenly awakened to her own deep hunger to be something, to belong, to have an identity that mattered, a tribe of her own. Intoxicated by the possibility, she became determined to investigate her genealogy. So she set off on a quest to find the truth about her family history.
The journey takes Wagner from Burma to Luxembourg, from ruined colonial capitals with records written on banana leaves to Mormon databases and high-tech genetic labs. As she gets closer to solving the mystery of her own ancestry, she begins to grapple with a deeper question: Does it matter? Is our enduring obsession with blood and land, race and identity, worth all the trouble it's caused us?
The answers can be found in this deeply personal account of her search for belonging, a meditation on the things that define us as insiders and outsiders and make us think in terms of "us" and "them." In this time of conflict over who we are as a country, when so much emphasis is placed on ethnic, religious, and national divisions, Futureface constructs a narrative where we all belong.
About Alex Wagner.
Alex Wagner is a senior editor at The Atlantic and special correspondent for CBS News. She was formerly the host of MSNBC's Emmy-nominated NOW with Alex Wagner. Wagner makes frequent TV appearances, from MSNBC's Morning Joe, to the Today show, Real Time With Bill Maher and more. She has been profiled by Vogue, Glamour, Elle and Details magazines. She lives in Brooklyn, New York.
---
About Eat a Little Better.
Sam Kass, former chef to the Obamas and White House food policy advisor, makes it easier to do a little better for your diet–and the environment–every day, through smart ways to think about shopping, setting up your kitchen so the healthy stuff comes to hand most naturally, and through 90 delicious, simple recipes.
This book lays out Kass's plan to eat a little better. Knowing that sustainability and healthfulness come most, well, sustainably when new habits and choices seem appealing rather than drastic and punitive, Kass shares his philosophy and methods to help make it easy to choose, cook, and eat delicious foods without depriving yourself of agency or pleasure. He knows that going organic, local, and so forth all the time is just not realistic for most people, and that's OK—it's all about choosing and doing a little better, and how those choices add up to big change. It's the philosophy he helped the Obamas instill in their home, both in Chicago and that big white one in Washington.
About Sam Kass.
Sam Kass was senior policy advisor for nutrition policy in the Obama administration and is currently senior food analyst for NBC News, as well as an advisor to several food technology start-ups. One of the former First Lady's longest-serving advisors, Sam was the executive director of her Let's Move initiative, and helped her create the first major vegetable garden at the White House since Eleanor Roosevelt's Victory Garden. He is a graduate of the University of Chicago and was trained as a chef by one of Austria's greatest chefs, Christian Domschitz in Vienna.
RSVP
Bookings are closed for this event.