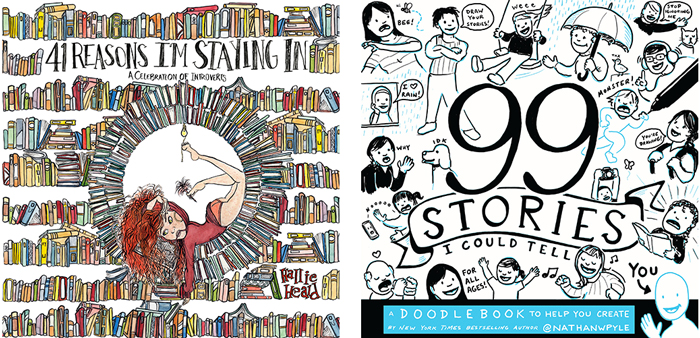 Thursday Jan 31, 2019
7:00 pm - 9:00 pm
POWERHOUSE @ the Archway
28 Adams Street (Corner of Adams & Water Street @ the Archway)
Brooklyn , NY 11201
RSVP encouraged & appreciated.
Please fill out the form at the bottom of this page if you plan on attending. Facebook event found here.
PLEASE NOTE: Submitting an RSVP for this event DOES NOT guarantee entrance. This is a free-access event — entrance will be on a first-come, first-served basis.
---
About the Books.
In a world of seemingly unending social obligations, we could all use a night off to relax, reflect, and be one with our number one. In 41 REASONS I'M STAYING IN: A CELEBRATION OF INTROVERTS, Brooklyn-based illustrator and self-proclaimed introvert Hallie Heald imaginatively portrays engaging and sometimes outlandish excuses to avoid leaving home.
Inspired by season 1, episode 4 of Seinfeld entitled "Male Unbonding," in which Jerry and Elaine invent excuses to avoid an unwanted lunch date: jury duty, choir practice, etc., each page of Hallie's beautifully illustrated debut envisions a new room and character pursuing their obsessions, hobbies, interests, and sudden whims with gusto: plotting world takeover, learning magic, mooning over a crush, evading taxes, and beyond. This humorous and at times dark celebration of introverts offers a unique look into their private worlds and reminds us of the deep fulfillment and joy we can find while spending time alone in the comfort of the spaces we know best.

_____

From the bestselling author of NYC BASIC TIPS AND ETIQUETTE Nathan W. Pyle comes 99 STORIES I COULD TELL: A DOODLEBOOK TO HELP YOU CREATE, a guided journal with 99 prompts plus a customizable cover. Within the doodlebook, Nathan takes journalers for a creative ride through the wonderfully illustrated pages of this dynamic product–each prompt comes with a mix of black lines (solid boundaries to color) and blue lines (to trace and use as a jumping off point for further imagination. The prompts move from extremely supportive toward the start of the journal (giving the journaler lots of structure so as not to intimidate them) to more free-form, the idea being that the journaler's skills will increase the more they progress.
About the Authors.
HALLIE HEALD (@hehyea) is a freelance book illustrator and portrait painter in New York City. Hallie was born a lone introvert in a family of nine kids and spent her early days painting and listening to audiobooks. Years later, she's doing the same things, only with a different hair color. Hallie is the illustrator for the book THE WOMEN WHO MADE NEW YORK and has been featured in The New York Times, New York Magazine, The Cut, The Voice, Elle, and Brain Pickings. 41 REASONS I'M STAYING IN is her first book.
Nathan W. Pyle is the New York Times bestselling author of NYC BASIC TIPS AND ETIQUETTE. He is a former staff writer and illustrator for Buzzfeed, and he not travels the country speaking on creativity and storytelling.
RSVP
Bookings are closed for this event.