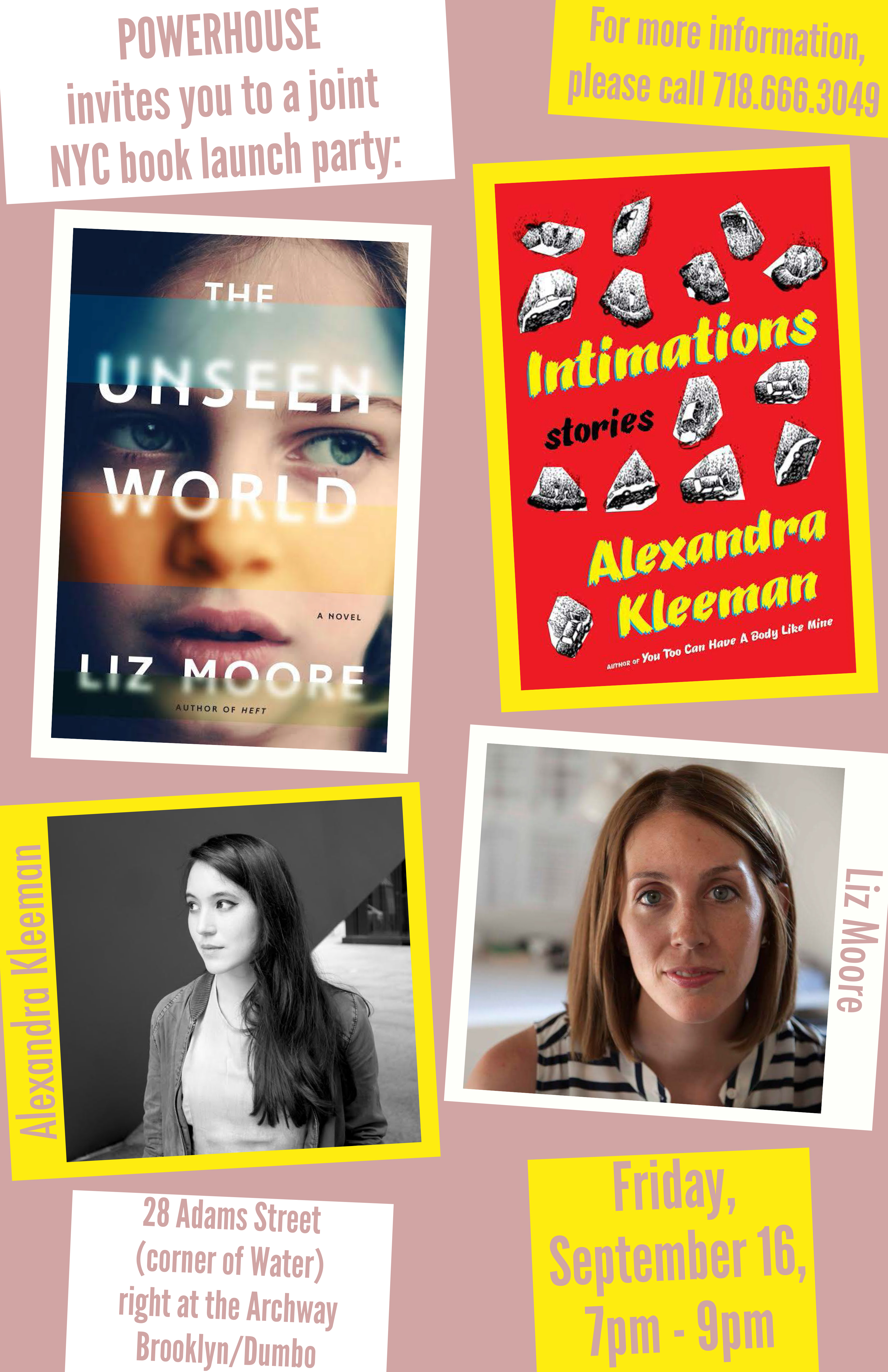 Friday Sep 16, 2016
7:00 pm - 9:00 pm
POWERHOUSE @ the Archway
28 Adams Street (Corner of Adams & Water Street @ the Archway)
Brooklyn , NY 11201
For more information, please call 718.666.3049
RSVP appreciated: RSVP@powerHouseArena.com
-or-
Please fill out the "Bookings" form at the bottom of this page.
---
Join us for a joint book launch featuring Alexandra Kleeman and Liz Moore's new titles!
About Intimations:
Alexandra Kleeman's debut novel You Too Can Have a Body Like Mine earned her comparisons to Thomas Pynchon, Don DeLillo, Ben Marcus, and Tom Perrotta. It was praised by the New York Times as "a powerful allegory of our civilization's many maladies, artfully and elegantly articulated, by one of the young wise women of our generation." 

In her second book, a collection of twelve stories irresistibly seductive in their strangeness, she explores human life from beginning to end: the distress of birth into a world already formed; the brief and confusing period of "living" where we understand what is expected of us and struggle to do it; and the death-y period toward the end where we sense it is ending and will end only partially understood, at best.

The title is taken from one of the stories ("Intimation"), but is also a play on Wordsworth's "Intimations of Immortality"—only in this case it's not clear exactly what is being intimated, but it's nothing so gleaming and good as Immortality. The middle, "Living" section of the book, is fleshed out with a set of stories that borrow more from traditional realist fiction to illustrate the inner lives of the characters. 

At once familiar and mysterious, these stories have an eerie resonance as its characters find themselves in new and surprising situations. An unnamed woman enters a room with no exit and a ready-made life; the disappearance of people, objects, and memory creates an apocalypse; the art of dance is used to try to tame a feral child; the key to surviving a house-party lies in knowing the difference between fake and real blood. 

Elegant, surprising, wondrous, and haunting, Intimations is an utterly transporting collection from one of our most ingenious and brilliant young writers.
About the Author and Moderator:

Alexandra Kleeman is the author of the novel You Too Can Have a Body Like Mine, winner of the 2016 Bard Fiction Prize. Her fiction has been published in The Paris Review, Zoetrope, Guernica, and other publications. Her nonfiction has appeared in Harper's, Tin House, n+1, and The Guardian. She lives on the North Shore of Staten Island, New York.
About The Unseen World:
In a world where artificial intelligence is a reflection of humanity rather than a threat, where virtual reality will serve to connect humans, not to alienate and distance them—one daughter must navigate The Unseen World in order to discover the truth about her father's hidden past. Brilliantly crafted and deeply moving, Liz Moore's new novel explores the complex bonds between a daughter and her father, spanning decades from the 1950s all the way to an imagined foreseeable future.
When we first meet Ada Sibelius in the 1980s, she is a painfully shy twelve-year-old prodigy being raised by her single father David, who heads a prestigious computer science lab at the Boston Institute of Technology. David and his colleagues are hard at work on ELIXIR, a self-teaching "chatbot" program that aims to have the ability to naturally converse with humans, and to continue conversations using ever-accumulating data. Homeschooled, Ada accompanies her father to work every day and contributes regularly to the lab's work on ELIXIR. While the lab begins to gain acclaim, Ada begins to notice signs of David's faltering mind, his brilliance turning into perpetual forgetfulness, and his actions becoming more and more mysterious. Eventually, to Ada's and everyone's shock, David is forced to reveal that he has been diagnosed with early-onset Alzheimer's. Seeing as David is the only family Ada has, David's close friend and colleague Diana Liston offers to become Ada's legal guardian, but through the paperwork process they discover that David may not be who he says he is. As her father's memory fades, Ada gradually begins to discover that his past is filled with secrets, until eventually his entire identity comes into question.
The narrative follows Ada through her childhood, which she spends learning to interact with other children for the first time, into young adulthood, and then into middle age in a distant future as she seeks to uncover the truth of her father's past. It also turns back to give us glimpses of David's youth in the 1950s and reveals the harrowing secrets of his life, based in part on a real chapter of American history that only recently has come to light.. In adulthood, Ada pioneers The Unseen World, an advanced virtual reality program that enables users to go anywhere in the world, past or present, and feel, smell, taste, and experience what they see in their headsets, with no consequences in the real world. It is only as Ada becomes a mother herself, after decades of searching and living through generations of various technologies from ELIXIR to The Unseen World, that she is finally able to unlock the mystery that is her father and reconcile with the man who taught her everything. Along Ada's and David's personal journeys, readers will fall in love with Moore's unique, unforgettable characters and become engrossed in her vivid, warm prose.
Though the story spans decades and contains numerous interwoven plotlines, Moore keeps the novel sharply focused on universal themes of family, love, and identity, offering powerful meditations on the sacrifices we make to hold onto all three. In her incredible final twist, Moore brings together the novel's past and present narratives into a beautiful culmination that will leave readers pondering the role of technology in our world. While there have been many fictional works about the connection between people and AI, Moore's book is a refreshing alternative that treats machines not as the driving force of a dystopic society, but as an evolving and complex partner to humans. For Moore, machines can be programmed to listen and learn. And isn't this what all of us humans are constantly training ourselves to do? In a vein akin to Spike Jonze's acclaimed film Her, The Unseen World is a timely tale about the deep connections between technology and the human desire to communicate and love.
About the Author:
Liz Moore is the author of the novels The Words of Every Song and the much-acclaimed Heft. A winner of the 2014 Rome Prize in Literature, she is a professor at Holy Family University in Philadelphia, where she lives. For more about Liz and her work, visit www.lizmoore.net.
RSVP
Bookings are closed for this event.