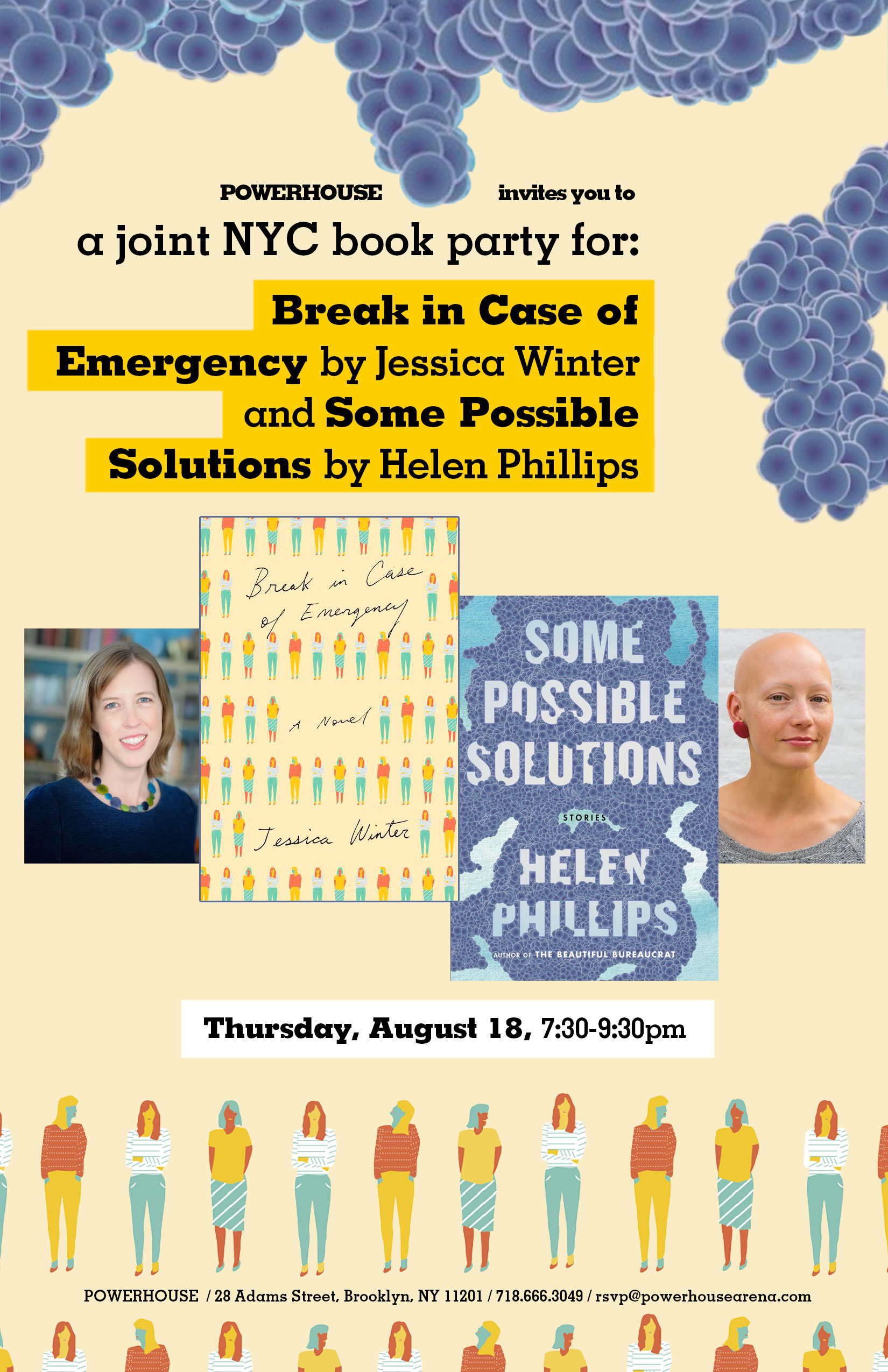 Thursday Aug 18, 2016
7:30 pm - 9:30 pm
POWERHOUSE @ the Archway
28 Adams Street (Corner of Adams & Water Street @ the Archway)
Brooklyn , NY 11201
For more information, please call 718.666.3049
RSVP appreciated: RSVP@powerHouseArena.com
-or-
Please fill out the "Bookings" form at the bottom of this page.
---
Debut novelist Jessica Winter teams up with celebrated author Helen Phillips to discuss and delve into their two new releases.
About Break in Case of Emergency:
An irreverent and deeply moving comedy about friendship, fertility, and fighting for one's sanity in a toxic workplace.
Jen has reached her early thirties and has all but abandoned a once-promising painting career when, spurred by the 2008 economic crisis, she takes a poorly defined job at a feminist nonprofit. The foundation's ostensible aim is to empower women, but staffers spend all their time devising acronyms for imaginary programs, ruthlessly undermining one another, and stroking the ego of their boss, the larger-than-life celebrity philanthropist Leora Infinitas. Jen's complicity in this passive-aggressive hellscape only intensifies her feelings of inferiority compared to her two best friends—one a wealthy attorney with a picture-perfect family, the other a passionately committed artist—as does Jen's apparent inability to have a baby, a source of existential panic that begins to affect her marriage and her already precarious status at the office. As Break in Case of Emergency unfolds, a fateful art exhibition, a surreal boondoggle adventure in Belize, and a devastating personal loss conspire to force Jen to reckon with some hard truths about herself and the people she loves most.
Jessica Winter's ferociously intelligent debut novel is a wry satire of celebrity do-goodism as well as an exploration of the difficulty of navigating friendships as they shift to accommodate marriage and family, and the unspoken tensions that can strain even the strongest bonds.
About the Author:
Jessica Winter is features editor at Slate and the former culture editor of Time. Her writing has appeared in The New York Times, The Guardian, Bookforum, The Believer, and many other publications. She lives in Brooklyn.
---
About Some Possible Solutions:
"This stunning collection establishes Helen Phillips as one of the most interesting and talented writers working today." —Emily St. John Mandel, author of Station Eleven
"I love Helen Phillips's wild, brilliant, eccentric brain…Every single story has a freshness to it that comes as a shock to the reader's system." —Lauren Groff, author of Fates and Furies
Helen Phillips's fiction has been called "wickedly funny" (The New York Times), "bizarre and painfully human…unique" (NPR), and "bewitching" (Vanity Fair) and she counts Ursula K. Le Guin, Karen Russell, Kelly Link, Joshua Ferris and Jenny Offill among her fans. In her highly anticipated story collection Some Possible Solutions we are treated to the wit, wild imagination, and unexpected turns of a writer at the height of her powers.
Some Possible Solutions offers an idiosyncratic series of "what ifs": What if you knew the exact date of your death? What if everyone had transparent skin? What if your perfect hermaphrodite match existed on another planet? What if your town was peopled with doppelgängers of you?  
Phillips wrote this collection over a period of ten formative years, in which she got married, had children, and lost a very close family member, making this collection a sort of documentation of life stages. She set out to use elements of science fiction, magic, and surrealism to give concrete form to unspeakable emotions as she explores these basic human experiences that feel at once profoundly personal and universal.
Her characters strive for intimacy and struggle to resolve their fraught relationships with each other, with themselves, and with their place in the natural world. Intensely physical experiences like sex, childbirth, and illness serve both to alienate characters from their physical selves and to bring them back into harmony with their bodies. We meet a wealthy woman who purchases a high-tech sex toy in the shape of a man, a window-washer of indeterminate gender hired as a rich girl's babysitter, and orphaned twin sisters who work as futuristic strippers. Phillips's characters search for solutions to the problem of how to survive in irrational, infinitely strange worlds that are exaggerated versions of our own.
About the Author:
Helen Phillips is the author of four books, including the novel The Beautiful Bureaucrat (a New York Times Notable Book and a finalist for the L.A. Times Book Prize and the New York Public Library Young Lions Fiction Award). She is the recipient of a Rona Jaffe Foundation Writer's Award and the Italo Calvino Prize. Her work has appeared in The Atlantic, The New York Times and Tin House, and on Selected Shorts. An assistant professor at Brooklyn College, she lives in Brooklyn with her husband and children.
RSVP
Bookings are closed for this event.