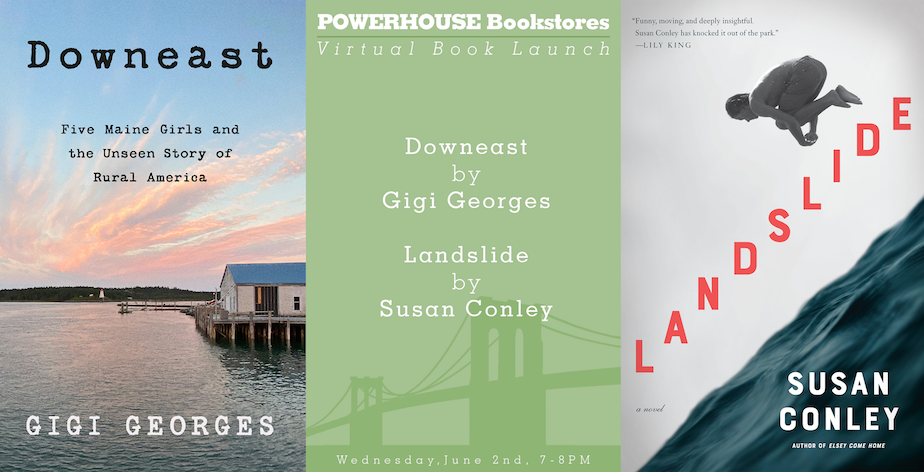 Wednesday Jun 02, 2021
7:00 pm - 8:00 pm
POWERHOUSE @ the Archway
28 Adams Street (Corner of Adams & Water Street @ the Archway)
Brooklyn , NY 11201
This event is virtual!  Registration link here!
PLEASE NOTE: Submitting an RSVP for this event DOES NOT guarantee entrance. This is a free-access event — entrance will be on a first-come, first-served basis.
---
Two new books about Maine from two incredible authors – join them in a virtual event at POWERHOUSE!
About Downeast.
About Landslide.
From the author of Elsey Come Home, a stunning novel about a mother caring for her two teenage sons while the crumbling fishing industry her New England community relies on threatens to collapse around them.
After a fishing accident leaves her husband hospitalized across the border in Canada, Jill is left to look after her teenage boys—"the wolves"—alone. Nothing comes easy in their remote corner of Maine: money is tight; her son Sam is getting into more trouble by the day; her eldest, Charlie, is preoccupied with a new girlfriend; and Jill begins to suspect her marriage isn't as stable as she once believed. As one disaster gives way to the next, she begins to think that it's not enough to be a caring wife and mother anymore–not enough to show up when needed, to nudge her boys in the right direction, to believe everything will be okay. But how to protect this life she loves, this household, this family?
With remarkable poise and startling beauty, Landslide ushers us into a modern household where, for a family at odds, Instagram posts, sex-positivity talks, and old fishing tales mingle to become a kind of love language. It is a beautiful portrait of a family, as compelling as it is moving, and raises the question of how to remain devoted when the eye of the storm closes in.
About Gigi Georges.

Gigi Georges, Ph.D., has had an extensive career in politics, public service, and academia. A former White House special assistant to President Bill Clinton and communications director for the New York City Department of Education under Mayor Michael Bloomberg, she has taught political science at Boston College and Saint Anselm College and served as program director for the Harvard Kennedy School's Innovation Strategies Initiative. As a Kennedy School Visiting Fellow, Georges was a contributing author to The Power of Social Innovation: How Civic Entrepreneurs Ignite Community Networks for Good. Her commentary and research-based articles have appeared in several publications, including The New York Times, Governing.com, M.I.T.'s Innovations Journal, Social Space (international journal of the Singapore Management University), and Harvard's Government Innovators blog. Georges is a longstanding advisory board member of Harvard's Nieman Foundation for Journalism. She and her family live in New Hampshire and Downeast Maine.
About Susan Conley.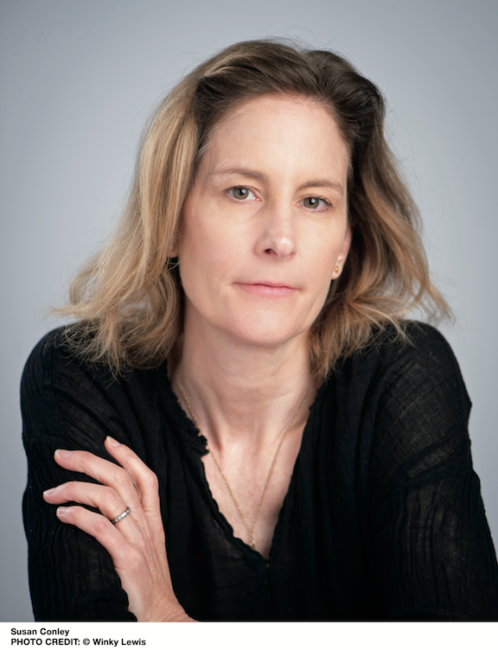 Susan Conley is the author of five critically acclaimed books, including her recent novel Landslide. Her previous novel, Elsey Come Home, was a Most Anticipated/Best Book at Oprah Magazine, Marie Claire, Amazon, Pop Sugar, Huffington Post, Southern Living, Fodors, and others. Her writing has appeared in The New York Times Magazine, The Paris Review, The Virginia Quarterly Review, The Harvard Review, and others. She's been awarded multiple fellowships from the MacDowell Colony, as well as fellowships from the Bread Loaf Writers' Conference, The Maine Arts Commission, and the Massachusetts Arts Council. She's won the Maine Book Award and the Maine Award for Publishing Excellence and has been a featured Tedx Speaker, where her talk the "Power of Story," has been viewed widely. She's taught at many colleges and arts residencies including Emerson College, Colby College, The University of Massachusetts, as the Jack Kerouac Visiting Fellow, The Haystack School, The Spannochia Foundation, La Napoule Foundation, and The Beijing Hutong. She's on the faculty of the Stonecoast MFA Program and is co-founder of the Telling Room, a youth writing center in Portland, Maine.