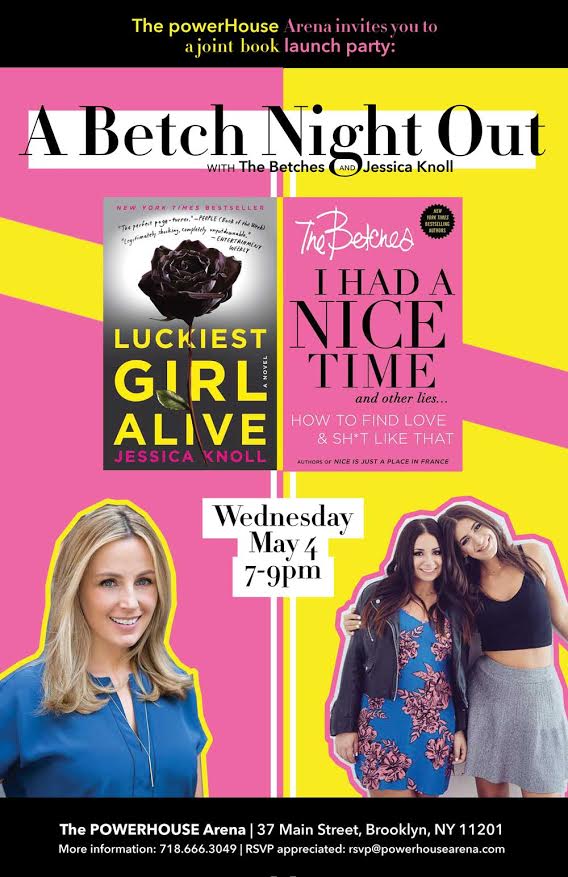 Wednesday May 04, 2016
7:00 pm - 9:00 pm
THE POWERHOUSE ARENA [Dumbo]
37 Main Street
Brooklyn, NY 11201
For more information, please call 718.666.3049
RSVP appreciated: RSVP@powerHouseArena.com
-or-
Please fill out the "Bookings" form at the bottom of this page.
---
New York Times bestselling authors The Betches unveil their second book, which tackles dating in the modern age, and are joined by the bestselling debut novelist of 2015 Jessica Knoll, who will present the paperback edition of her novel.
About I Had a Nice Time and Other Lies:
In their new book, I Had a Nice Time and Other Lies… the Betches tackle dating and relationships in the modern age. In a world of online dating apps, texting, and social media, the dating game has grown complex and confusing. Cue the Betches (with some insight from their Best Bro Friend, the Head Pro).  
With their trademark sassy wit, the Betches lead the way through every stage of the dating process:
Starting with You: get your sh*t together, aka get over your ex.

How to Meet Someone: online, going out, and ugh – set ups.  

How to Flirt: in person, via text, on social media.

The Early Stages:  when it's too early to show your crazy side.

Make It or Break It: the dating process & dealbreakers.

Lock That Sh*t Down: defining the relationship in the 21

st

century.

The Serious Relationship: putting a ring on it.
Hilarious, modern, and sometimes brutally honest, I Had a Nice Time and Other Lies… is a must read for any young woman navigating her way through a maze of disastrous Tinder messages searching for the Jay-Z to her Beyoncé.
About Luckiest Girl Alive:
Her perfect life is a perfect lie. Meet Ani Fanelli, who's spent years glossing over the public and private humiliations she endured at prep school. She's got the great job, perfect fiancé, and closet full of designer bags—but her story is nothing like you've read before. Jessica Knoll's razor-sharp best-selling debut, Luckiest Girl Alive, takes the familiar tropes of women's fiction and turns them on their heads, giving us a biting anti-heroine and dark, unexpected twists you won't see coming.
Ani lives the life most women covet. But just when it looks like she'll get everything she's ever wanted, her meticulously crafted veneer starts to crack, and secrets from her past threaten to reveal themselves. Ani's story spans the most crucial periods of her life—from her teenage years at the Bradley School, where she endured a shocking public trauma as well as more private humiliations, to the cushy new life she's tirelessly constructed in New York City. Knoll pens a story that is "at turns funny, shocking, violent, and heart-rending" (Miranda Beverly-Whittemore, Bittersweet). It touches on hot-button issues for today's young adults: bullying, rape, peer pressure, and the mercurial dynamics of women's relationships. Past and present collide in Luckiest Girl Alive, as readers see how these issues continue to haunt Ani in adulthood, endangering her hard fought façade of a perfect life.
A veteran of the magazine world, Jessica Knoll has previously worked at Cosmopolitan and Self. She drew from many of her own experiences in writing Luckiest Girl Alive. "Like Ani, I attended a prestigious private high school, and also like Ani, I was an outlier. I think when you grow up not really belonging, you are more acutely attuned to all the ways in which you present as 'The Other,' and in order to fit in, you have to become a little bit of a hustler." In Ani, Knoll wanted to create a female version of our favorite TV anti-heroes: Tony Soprano, Don Draper, and Frank Underwood. "Ani's voice is distinct and biting," she says. "She's shrewdly observant, and she doesn't always do the right thing, but you come to learn that she's also compassionate and loyal to a select few, viciously funny, and that she's got a lot of heart."
Ani FaNelli is a new kind of protagonist: she's judging your handbag, yes, but there's no one she's judging more harshly than herself. You don't see a lot of this woman in fiction—and yet, in real life, she's all around you.
Weaving classic threads from women's fiction with a series of shocking twists, Luckiest Girl Alive provides a unique new voice to the conversation about the social norms and expectations of women. It's a twisted tale of how we try to reinvent ourselves—or lose it all in the attempt. In the end, we must choose between real happiness and the illusion we've been chasing all along.
About the Authors:
In February 2011, college roommates created a small WordPress blog out of their apartment at Cornell. They called the site Betches Love This and within months it had become viral enough that they decided to make writing their jobs.  Though the core of the site is the flagship column "The Betch List," which describes the loves and hates and exotic signifiers of a betch, Betches has evolved into a larger niche humor website with columns on topics ranging from celebrities, health and fitness, politics, and TV and movie recaps, to advice.  Their first book, Nice is Just a Place in France, was a New York Times Best Seller, and their Instagram @betches has garnered 3.8 million followers.  They've been featured in the New York Times, Jezebel, The London Times, Telegraph, Vogue, Rolling Stone, Cosmopolitan, and many others.
Jessica Knoll has been the Articles Editor of SELF and a senior editor at Cosmopolitan. During her five years at Cosmo, her byline appeared over 200 times ("208," grumbles the poor intern who had to color copy every single clip). Jessica grew up in the suburbs of Philadelphia. She graduated '02 from The Shipley School in Bryn Mawr, PA, and '06 from Hobart and William Smith Colleges in Geneva, New York. She lives in New York City with her husband.
RSVP
Bookings are closed for this event.