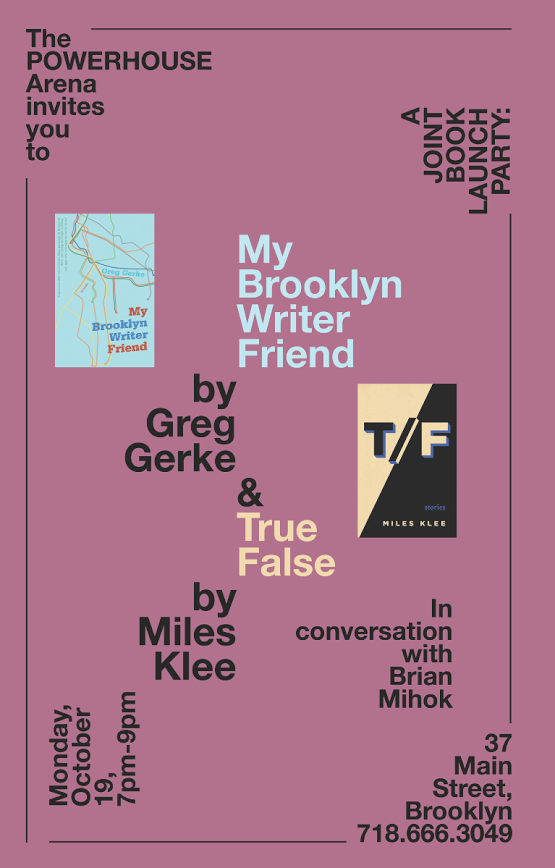 Monday Oct 19, 2015
7:00 pm - 9:00 pm
THE POWERHOUSE ARENA [Dumbo]
37 Main Street
Brooklyn, NY 11201
For more information, please call 718.666.3049
RSVP appreciated (but Not Required): RSVP@powerHouseArena.com
-or-
Please fill out the "Bookings" form at the bottom of this page .
---
Two fresh voices team up to launch two their new short fiction collections, which are filled with succinct yet haunting pieces.
About My Brooklyn Writer Friend:
"How is it that Greg Gerke's short fiction collection makes dislocation, miscommunication, and the anxious knots of the mind seem absolutely worthwhile and even kind of fun? Friends, sort-of-friends, lovers and sort-of-lovers tangle with the loneliness of being apart/together. Get prepared for a writer who wonderfully navigates bumbling, ordinary life with smart, sharp writing and a big dose of compassion." Victoria Redel, author of Make Me Do Things
Gloriously meta, My Brooklyn Writer Friend ventures inside the many minds of the writer. Laying bare the struggle with beginnings, the trouble with endings, and every hard-earned narrative step in between, Greg Gerke appreciates that whether writing into truth or lie, what matters is character. Neurotic and funny, earnest and obscure, the voices that echo in these short short stories resound with a clarion honesty that remains—and provokes and teases and endears—long after the final page is turned.
About True False:
"Miles Klee demonstrates a delightfully prehensile grasp of the more oblique peculiarities of sentience. Very highly recommended." —William Gibson
Klee's last book, his first, was variously hailed as "sharply intelligent" (Publishers Weekly) and "harsh, spastic" (Justin Taylor): we like to think of True False as intelligently spastic, or sharply harsh—disquieting and funny. A collection of stories that range from the very short to the merely short, these forty-four tales evoke extraordinary scenes in an understated manner that's marked Klee one of today's most intriguing writers. From the apocalyptic to the utopic, from a haunted office building to a suburban pool that may be alive, a day in the mind of a demi-god Pythagoras to a secret race to develop artificial love, True False captures a fractured reality more real than our own.
About the Authors and Moderator:
Greg Gerke's fiction and non-fiction has appeared in Tin House, The Kenyon Review Online, Denver Quarterly, Quarterly West, Mississippi Review, LIT, Film Quarterly, Paris Review Daily and others. He lives in Brooklyn.
---
Miles Klee was born in Brooklyn. He studied at Williams College under writers Jim Shepard, Andrea Barrett and Paul Park, and now lives in Manhattan. His debut novel, Ivyland (OR Books 2012), drew glowing reviews and was likened to "J.G. Ballard zapped with a thousand volts of electricity" by the Wall Street Journal, later becoming a finalist in the 2013 Tournament of Books. Klee is an editor at the web culture site The Daily Dot; his essays, satire, and fiction have appeared in Lapham's Quarterly, Vanity Fair, 3:AM, Salon, The Awl, The New York Observer, The Millions, The Village Voice, The Brooklyn Rail, Flavorwire and elsewhere.
---
Brian Mihok lives in New York City and writes fiction. His novel The Quantum Manual of Style was published by Aqueous Books in 2013. He also makes videos and designs book covers.
RSVP
Bookings are closed for this event.