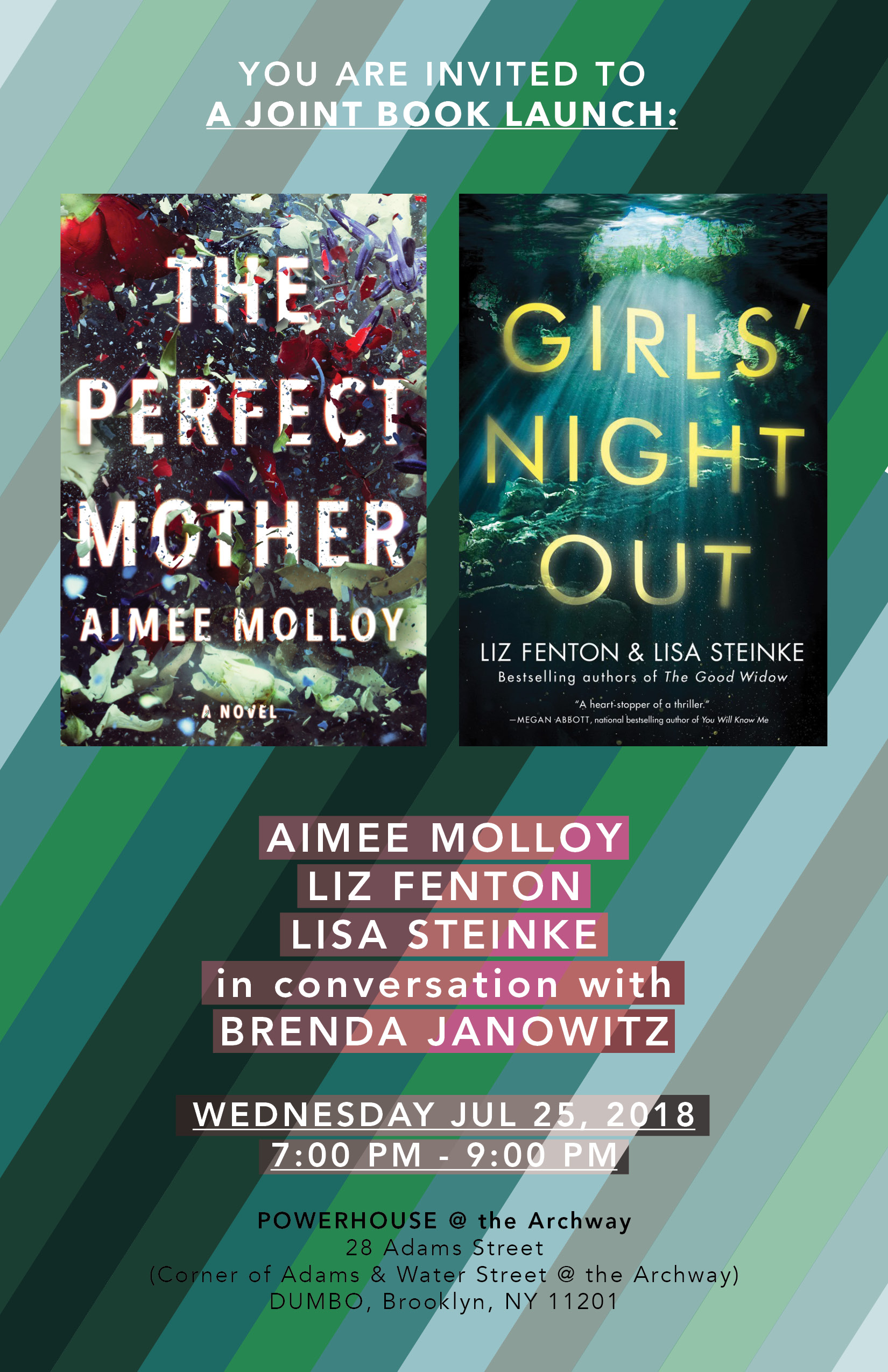 Wednesday Jul 25, 2018
7:00 pm - 9:00 pm
POWERHOUSE @ the Archway
28 Adams Street (Corner of Adams & Water Street @ the Archway)
Brooklyn , NY 11201
RSVP encouraged & appreciated.
Please fill out the form at the bottom of this page if you plan on attending. Facebook event found here.
PLEASE NOTE: Submitting an RSVP for this event DOES NOT guarantee entrance. This is a free-access event — entrance will be on a first-come, first-served basis.
---
About The Perfect Mother by Aimee Molloy.
An addictive psychological thriller about a group of women whose lives become unexpectedly connected when one of their newborns goes missing
A night out. A few hours of fun. That's all it was meant to be.
They call themselves the May Mothers—a group of new moms whose babies were born in the same month. Twice a week, they get together in Brooklyn's Prospect Park for some much-needed adult time.
When the women go out for drinks at the hip neighborhood bar, they want a fun break from their daily routine. But on this hot Fourth of July night, something goes terrifyingly wrong: one of the babies is taken from his crib. Winnie, a single mom, was reluctant to leave six-week-old Midas with a babysitter, but her fellow moms insisted everything would be fine. Now he is missing. What follows is a heart-pounding race to find Midas, during which secrets are exposed, marriages are tested, and friendships are destroyed.
Thirteen days. An unexpected twist. The Perfect Mother is a "true page turner" (B.A. Paris, author of Behind Closed Doors).
Aimee Molloy
is the author of the New York Times bestseller
However Long the Night: Molly Melching's Journey to Help Millions of African Women and Girls Triumph
and the coauthor of several nonfiction books. She lives in Brooklyn with her husband and two daughters.
The Perfect Mother
is her first novel.
About Girls' Night Out by Liz Fenton & Lisa Steinke.
For estranged friends Ashley, Natalie, and Lauren, it's time to heal the old wounds between them. Where better to repair those severed ties than on a girls' getaway to the beautiful paradise of Tulum, Mexico? But even after they're reunited, no one is being completely honest about the past or the secrets they're hiding. When Ashley disappears on their girls' night out, Natalie and Lauren have to try to piece together their hazy memories to figure out what could have happened to her, while also reconciling their feelings of guilt over their last moments together.
Was Ashley with the man she'd met only days before? Did she pack up and leave? Was she kidnapped? Or worse—could Natalie or Lauren have snapped under the weight of her own lies?
As the clock ticks, hour by hour, Natalie and Lauren's search rushes headlong into growing suspicion and dread. Maybe their secrets run deeper and more dangerous than one of them is willing—or too afraid—to admit.
Liz Fenton
and
Lisa Steinke
have been best friends for thirty years. They've survived high school, college, and the publishing of four novels together, including the bestselling novel
The Good Widow
. Liz lives in San Diego, California, with her husband and two children. Lisa, a former talk-show producer, now lives in Chicago, Illinois, with her husband, daughter, and two bonus children. They're huge animal lovers — between them, they have seven rescue dogs.
About the Moderator.
Brenda Janowitz is the author of five novels, including The Dinner Party (St. Martin's April 2016). She is the Books Correspondent for PopSugar. Her work has also appeared in The New York Times, The Washington Post, Salon, Redbook, USA Today, Bustle, The Forward, the New York Post, Publisher's Weekly, Hello Giggles, Writer's Digest Magazine, WritersDigest.com, and xojane.
RSVP
Bookings are closed for this event.