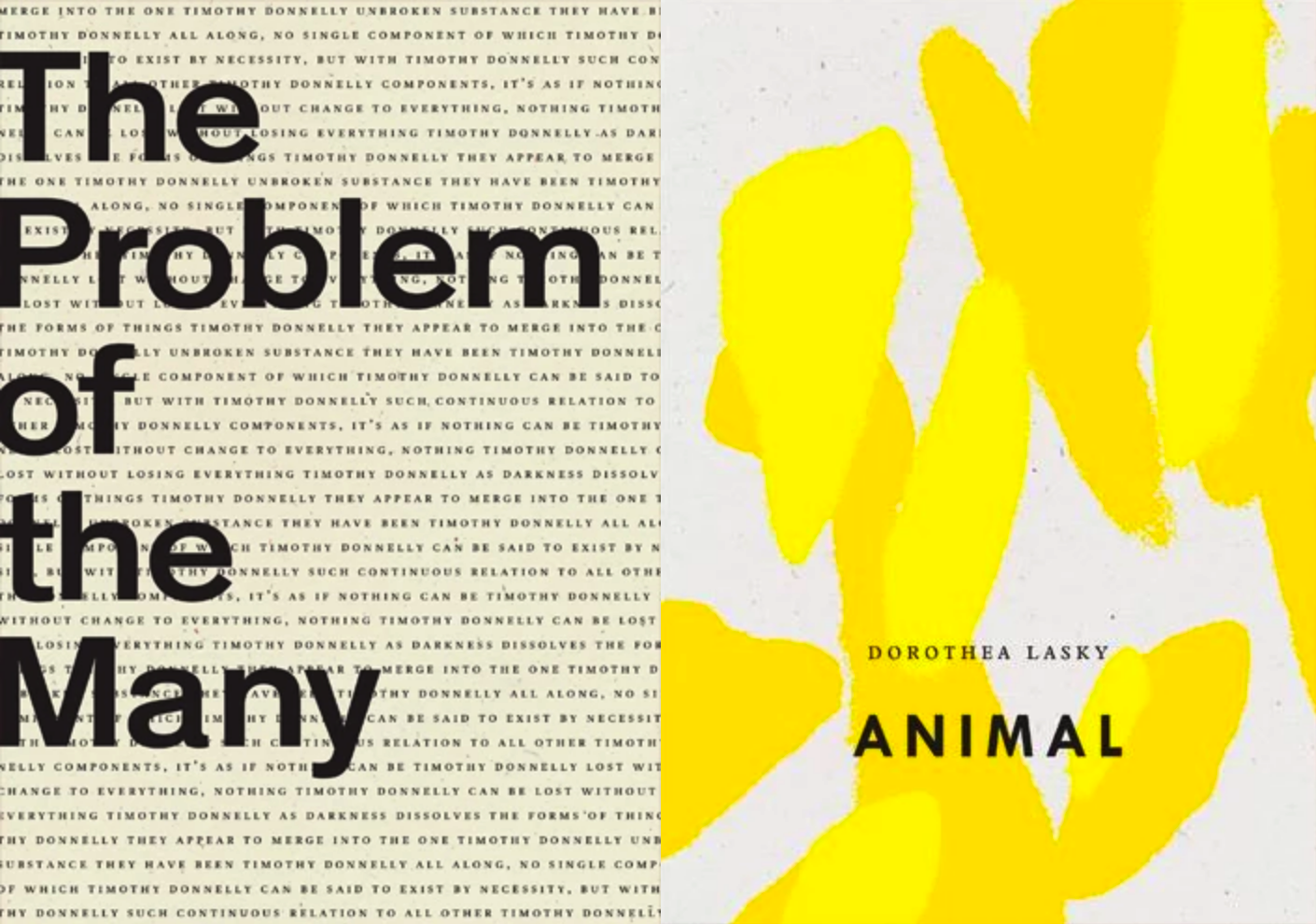 Friday Sep 27, 2019
7:00 pm - 9:00 pm
POWERHOUSE @ the Archway
28 Adams Street (Corner of Adams & Water Street @ the Archway)
Brooklyn , NY 11201
RSVP encouraged & appreciated.
Please fill out the form at the bottom of this page if you plan on attending. Facebook event found here.
PLEASE NOTE: Submitting an RSVP for this event DOES NOT guarantee entrance. This is a free-access event — entrance will be on a first-come, first-served basis.
---
About the Event.
Join acclaimed poets Timothy Donnelly and Dorothea Lasky at Powerhouse for the launch of their new releases from Wave Books: The Problem of the Many and Animal. Featuring a reading, author talk, audience Q&A, and book signing.
If The Cloud Corporation is, as John Ashbery called it, "the poetry of the future, here, today," then Timothy Donnelly's third collection, The Problem of the Many, is the poetry of the future yet further pressed to the end of history. In astonishingly textured poems powerful and adroit in their negotiation of a seeming totality of human experience, Donnelly confronts—from a contemporary vantage point—the clutter (and devastation) that civilization has left us with, enlisting agents as far flung as Prometheus, Flamin' Hot Cheetos, Jonah, NyQuil, and, especially, Alexander the Great.
Constellating four central topics—ghosts, colors, animals, and bees—in highly attuned prose, Dorothea Lasky explores the powers and complexities of the lyric, "metaphysical I," which she exposes as one of the central expressions of human wildness. In deceptively simple language carrying profound insights—with a sense that is at once bold and subtle—Lasky serves as an encouraging guide through the startling, sometimes dangerous, always exhilarating landscapes of feral poetic imagination. Published in the Bagley Wright Lecture Series.
About the Authors.
Timothy Donnelly's most recent book of poetry is The Problem of the Many (Wave Books, 2019). His other collections include Twenty-seven Props for a Production of Eine Lebensezeit (Grove, 2003) and The Cloud Corporation (Wave, 2010), winner of the 2012 Kingsley Tufts Poetry Prize. With John Ashbery and Geoffrey G. O'Brien, he is coauthor of Three Poets (Minus A Press, 2012) and his chapbook Hymn to Life was published in 2014 by Factory Hollow Press. His poems have appeared in American Poetry Review, The Believer, The New Yorker, The Nation, The New Republic, The Paris Review, Poetry, Poetry London, and elsewhere, as well as in the Best American Poetry and Pushcart Prize anthologies. Donnelly is a recipient of a Columbia Distinguished Faculty Award, the Poetry Society of America's Alice Fay di Castagnola Award, and Paris Review's Bernard F. Connors Prize as well as fellowships and residencies from the Guggenheim Foundation, the Lannan Foundation, the T. S. Eliot Foundation, and New York State's Writers Institute. He lives in Brooklyn with his family. 


Dorothea Lasky is the author, most recently, of Animal, (Wave Books, 2019). She is also the author of five full-length collections of poetry: Milk (Wave Books, 2018), Rome (Liveright/W.W. Norton, 2014), Thunderbird (Wave Books, 2012), Black Life (Wave Books, 2010), and AWE (Wave Books, 2007). She is also the author of six chapbooks: Matter: A Picturebook (Argos Books, 2012), The Blue Teratorn (Yes Yes Books, 2012), Poetry is Not a Project (Ugly Duckling Presse, 2010), Tourmaline (Transmission Press, 2008), The Hatmaker's Wife (2006), Art (H_NGM_N Press, 2005), and Alphabets and Portraits (Anchorite Press, 2004). Born in St. Louis in 1978, her poems have appeared in American Poetry Review, Boston Review, Columbia Poetry Review, Gulf Coast, The Laurel Review, MAKE magazine, Phoebe, Poets & Writers Magazine, The New Yorker, Tin House, The Paris Review, and 6×6, among other places. She is the co-editor of Open the Door: How to Excite Young People About Poetry (McSweeney's, 2013) and is a 2013 Bagley Wright Lecturer on Poetry. She holds a doctorate in creativity and education from the University of Pennsylvania, is a graduate of the MFA program for Poets and Writers at the University of Massachusetts-Amherst, and has been educated at Harvard University and Washington University. She has taught poetry at New York University, Wesleyan University, and Bennington College. Currently, she is an Assistant Professor of Poetry at Columbia University's School of the Arts and lives in New York City.

RSVP
This event is fully booked.