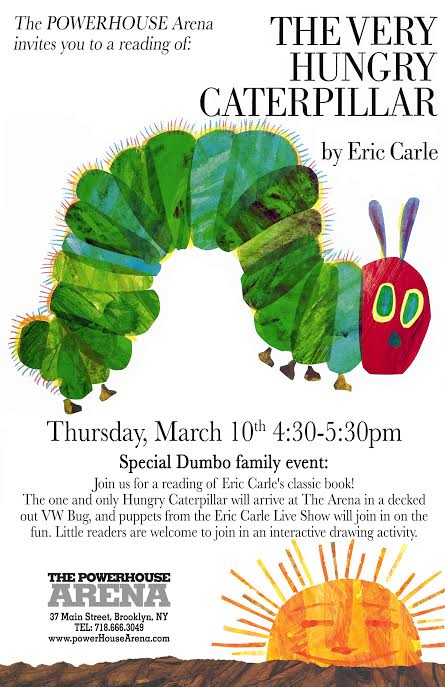 Thursday Mar 10, 2016
4:30 pm - 5:30 pm
THE POWERHOUSE ARENA [Dumbo]
37 Main Street
Brooklyn, NY 11201
For more information, please call 718.666.3049
RSVP appreciated: RSVP@powerHouseArena.com
-or-
Please fill out the "Bookings" form at the bottom of this page.
---
The Very Hungry Caterpillar is coming to Dumbo in its decked out VW Bug to visit the Arena!  Join us for a special reading of Eric Carle's classic book, meet the one and only Hungry Caterpillar, and stay for an interactive drawing activity.  Puppets from the Eric Carle Live Show will also be in attendance.  Purchase the book and get a chance to win a family pack of four tickets to The Very Hungry Caterpillar Show in New York City!
About The Very Hungry Caterpillar:
Eric Carle's classic story begins one sunny Sunday, when the caterpillar was hatched out of a tiny egg. He was very hungry. On Monday, he ate through one apple; on Tuesday, he ate through three plums–and still he was hungry. Strikingly bold, colorful pictures and a simple text in large, clear type tell the story of a hungry little caterpillar's progress through an amazing variety and quantity of foods. Full at last, he made a cocoon around himself and went to sleep, to wake up a few weeks later wonderfully transformed into a butterfly!
Brilliantly innovative designer and artist Eric Carle has dramatized the story of one of Nature's commonest yet loveliest marvels, the metamorphosis of the butterfly, in a picture book to delight as well as instruct the very youngest reader or listener. Cleverly die-cut pages show what the caterpillar ate on successive days, graphically introducing sets of up to 10 objects and also the names of the days of the week in rotation, as well as telling the central story of the transformation of the caterpillar. The final, double-page picture of the butterfly is a joyous explosion of color, a vibrant affirmation of the wonder and beauty of Nature.
About the Author:
Eric Carle is acclaimed and beloved as the creator of brilliantly illustrated and innovatively designed picture books for very young children. His best-known work, The Very Hungry Caterpillar, has eaten its way into the hearts of literally millions of children all over the world and has been translated into more than 62 languages and sold over 38 million copies. Since the Caterpillar was published in 1969, Eric Carle has illustrated more than 70 books, many best sellers, most of which he also wrote.
RSVP
Bookings are closed for this event.