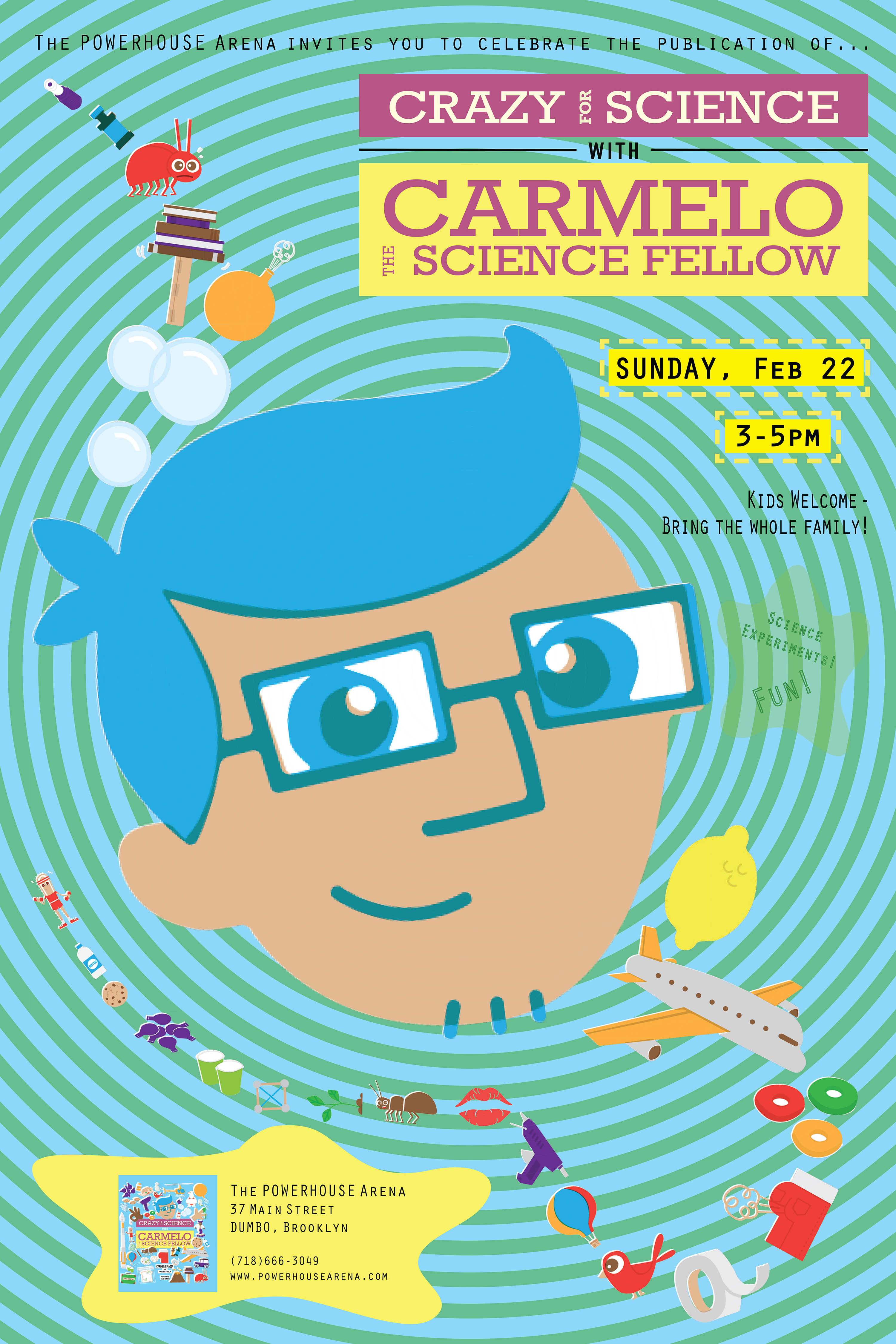 Sunday Feb 22, 2015
3:00 pm - 5:00 pm
THE POWERHOUSE ARENA [Dumbo]
37 Main Street
Brooklyn, NY 11201
For more information, please call 718.666.3049 RSVP appreciated: RSVP@powerHouseArena.com -or- Please fill out the "Bookings" form at the bottom of this page.
---
Did you ever think you could teach kids to uncover the layers of the earth using clay, together time, and five simple steps? What if they learned with jokes, vibrant colors, and animated illustrations? Would you guide them with a book filled with fact boxes, real-world applications, and boundless humor? Well then, check out Crazy for Science with Carmelo the Science Fellow, a book that fosters kids' interest in scientific observation, exploration, and investigation through do-it-yourself experiments!
About Carmelo:
Carmelo "the Science Fellow" Piazza has been teaching science for more than 16 years, and has become locally famous for his signature high-energy, funny, charismatic style. "The Science Fellow" has a bachelor's in elementary education and a master's in environmental science. Carmelo has taught thousands of kids, and will emphatically do so for years to come. Due to overwhelming popularity, Carmelo opened New York City's first Preschool of Science in 2013. He has been featured in The New York Times, Scholastic, Discover, Time Out New York, and many other prestigious publications.
About the Author:
Jim Buckley, Jr. is the author of more than 25 books for kids, and has contributed hundreds of articles to dozens of national magazines. Formerly editor of two national children's magazines, Jim was also senior editor with NFL Publishing and editorial projects manager for Sports Illustrated. Jim lives in San Diego, CA.