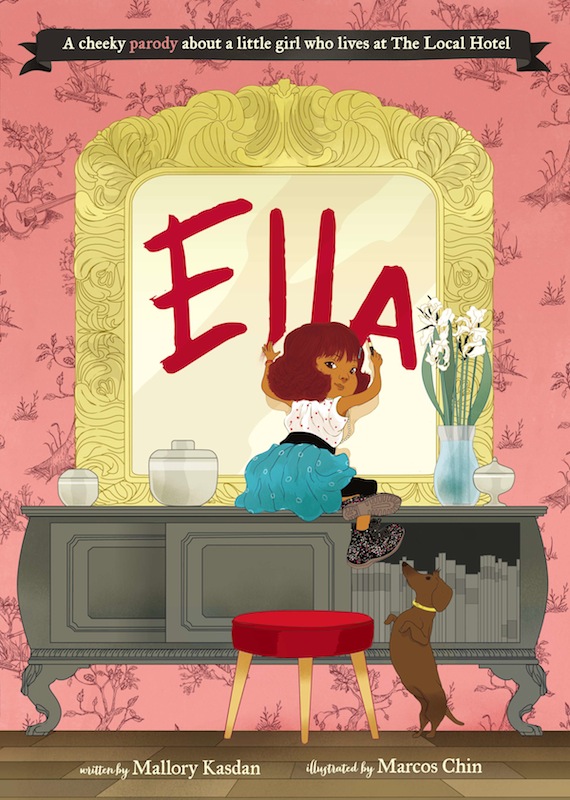 Sunday Jan 25, 2015
3:00 pm - 5:00 pm
THE POWERHOUSE ARENA [Dumbo]
37 Main Street
Brooklyn, NY 11201
For more information, please call 718.666.3049
RSVP appreciated: RSVP@powerHouseArena.com
-or-
Please fill out the "Bookings" form at the bottom of this page.
---
Mallory Kasdan and Marcos Chin present their brilliant parody of Kay Thompson's spunky heroine Eloise, updating her for the tiny hipsters of Brooklyn, Austin, Portland, and beyond.
About Ella: 
"Kasdan name checks urban standbys from edamame to Zumba, while fellow first-timer Chin's funny full-color vignettes of a multicultural downtown scene and a heedlessly energetic child are loving tributes to Hilary Knight's originals."–Publishers Weekly
Meet Ella. She is six years old. She lives at the Local Hotel. She has a nanny called Manny. He has tattoos for sleeves and he might go in with some guys to buy a grilled cheese truck. She weaves purses out of Ziploc bags and reclaimed twine. (She is artsy, of course.) She has a dog named Stacie and a fish named Rasta. Altogether she has been to 62 events (including that Hillary Clinton fundraiser).
Kasdan's pitch-perfect voice propels our pint-size trendsetter through her day of interactions with a host of characters, including Judith, her tutor who has a PhD from Harvard; Maverick, the bouncer from the rooftop bar; and Topher, the hotel's Artist in Residence. Chin's vibrant illustrations follow Ella as she zips from page to page on her scooter (which is very important for getting everywhere she needs to be).  If Ella and Eloise got together for a play date, they would have a very good time indeed.
About the Author and Illustrator: 
Mallory Kasdan is a writer and voice actor.  She writes about parenting and pop culture, and does voiceovers for television and radio. Her work has appeared on NPR and Studio 360.  Kasdan lives in Brooklyn with her family – unfortunately not in a hotel.  Ella is her first book.
Marcos Chin is an illustrator living in Brooklyn.  His drawings have appeared in The New York Times, Scientific American, The Atlantic, Rolling Stone, The Washington Post, OUT Magazine, Fortune China, and many others.  Chin teaches illustration at the School of Visual Arts in New York City.
RSVP
Bookings are closed for this event.