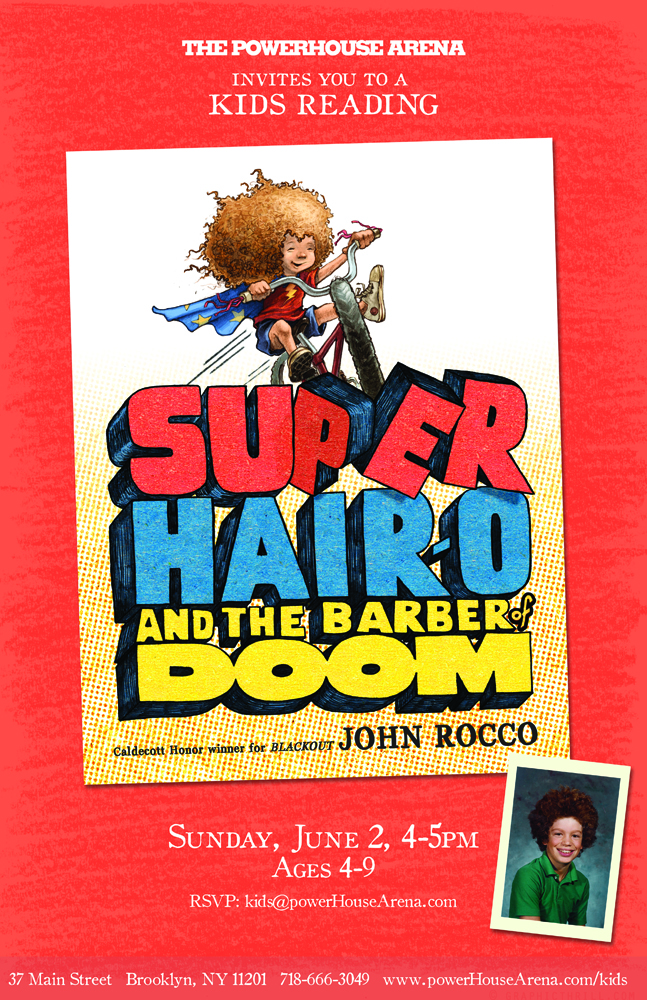 Sunday Jun 02, 2013
4:00 pm - 5:00 pm
THE POWERHOUSE ARENA [Dumbo]
37 Main Street
Brooklyn, NY 11201
Category(ies)
For more information, please call 718.666.3049
RSVP appreciated: RSVP@powerHouseArena.com
-or-
Please fill out the "Bookings" form at the bottom of this page.
---
Caldecott Honoree John Rocco returns to our space to share his newest picture book: a story of a boy a boy and his hair.
 About Super Hair-O and the Barber of Doom:
Every super hero gets his powers from somewhere. The young hero of this book, Rocco, thinks his abilities come from his shock of red hair, and the longer it gets, the stronger he becomes. He even has a posse of super friends with wild hair of their own. Our hero is unstoppable–until the day he's dragged to the super evil villain's lair and robbed of his powers. How will he face his friends? Will he ever regain his super hero-ness? A girl who has been watching all along offers the gang a chance to save the day and get their groove back.
With bold images that burst with energy from white backgrounds and narration as earnest as Superman himself, SUPER HAIR-O AND THE BARBER OF DOOM is a feel-good and funny book for emergent comic book fans and parents who grew up on them.
John Rocco (www.roccoart.com) studied illustration at Rhode Island School of Design and The School of Visual Arts. In addition to writing and illustrating four of his own picture books, including the Caldecott Honor-winning and New York Times bestselling Blackout, he has created all of the cover art for Rick Riordan's best-selling Percy Jackson, Kane Chronicles, and Heroes of Olympus series. He has also illustrated books by Whoopi Goldberg and Katherine Patterson. Before becoming a full-time children's book creator, he worked as an art director on "Shrek" for Dreamworks, and for Disney Imagineering. He lives in Los Angeles with his wife and daughter.
---
For more information, please contact
Susanne König
email: susanne@powerhousearena.com
powerHouse Arena, 37 Main Street, Brooklyn, NY 11201
tel: 212-604-9074 x109
RSVP
Bookings are closed for this event.