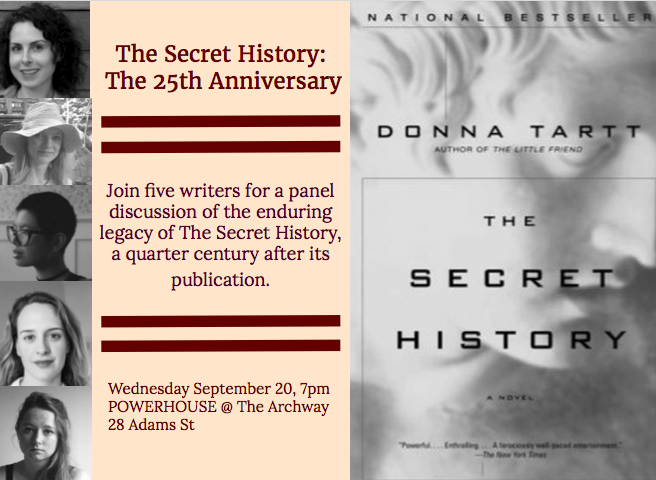 Wednesday Sep 20, 2017
7:00 pm - 9:00 pm
POWERHOUSE @ the Archway
28 Adams Street (Corner of Adams & Water Street @ the Archway)
Brooklyn , NY 11201
RSVP appreciated:
Please fill out the "Bookings" form at the bottom of this page.
-or-
Send the name of the event and number of attendees to our RSVP email.
*Disregard the notification that will appear after Booking.*
PLEASE NOTE: Submitting an RSVP for this event DOES NOT guarantee entrance. This is a free-access event — entrance will be on a first-come, first-served basis.
---
When The Secret History was published in 1992, Michiko Kakutani called the book "a group portrait of the banality of evil," and compared it to the work of Dostoyevsky, Euripides, and Evelyn Waugh. Twenty five years later, Donna Tartt has won a Pulitzer Prize and become a stoic, if elusive, pillar of contemporary literary fiction. Join five New York writers for a panel discussion on the book and it's enduring legacy, the genre of the campus novel, and how The Secret History has affected the panelists work a quarter century after it's publication.
About the Panel:
Emily Gould helps run Emily Books, an imprint of Coffee House Press and independent ebookstore that publishes first person work by women. She is the author of Friendship and And The Heart Says Whatever.
Charlotte Shane is an essayist, author, and co-founder of TigerBee Press. The Guardian likened her written work to Charles Dickens, and Vice called her book Prostitute Laundry "addictive [and] intimate." Just like an opium den.
Becca Schuh publishes literary criticism and author interviews with Bookforum, Electric Literature, 3:AM Magazine, and The Fanzine. She is working on a book based on the nontraditional social atmosphere of a small alternative college.
Ruby Brunton is a New Zealand-raised writer, poet and performer who now lives in Brooklyn. She's had poems in Fanzine, Hobart, Witchcraft and Metatron, and essays in Hazlitt, Real Life, The New Inquiry and Mask Magazine where she is a contributing editor. Find her on twitter & tumblr @rubybrunton
Larissa Pham writes essays and criticism for outlets like The Nation, The Paris Review Daily, Broadly, and elsewhere. She is the author of FANTASIAN, a novella from Badlands Unlimited.
RSVP
Bookings are closed for this event.