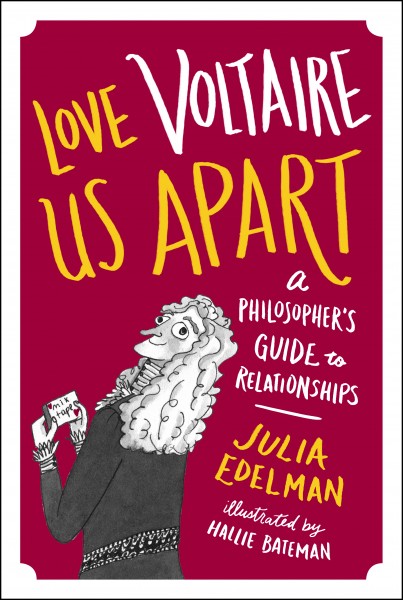 Thursday Nov 17, 2016
7:00 pm - 9:00 pm
POWERHOUSE @ the Archway
28 Adams Street (Corner of Adams & Water Street @ the Archway)
Brooklyn , NY 11201
For more information, please call 718.666.3049
RSVP appreciated: RSVP@powerHouseArena.com
-or-
Please fill out the "Bookings" form at the bottom of this page.
---
Have you always wondered what famous philosopher's would have to say about modern relationships? Find out from this smart, witty, illustrated guide to love, relationships, and philosophy.
About Love Voltaire Us Apart:
"One day soon you will meet a man, and he will rise like a phoenix from the ashes, and it is my greatest hope that he will not give you syphilis." Friedrich Nietzsche

What would Kant's sexts look like? How would Jean-Paul Sartre and Simone de Beauvoir break up? What would Confucius think of Tinder?
Comedy writer Julia Edelman's New Yorker article 'Excerpts from Philosophers Breakup Letters' was a viral hit in 2015. From that same font of wisdom comes a hilarious spoof relationship guide with a philosophical edge.
Including essential information in chapters like "Getting (Meta)physical" and "5 Ways To Know Your Man is Writing a Manifesto" – which gives the advice you need to avoid losing a relationship to revolution – Love Voltaire Us Apart is funny, smart, refreshingly original, and brought to life with charming illustrations from Hallie Bateman.
About the Author:
Julia Edelman is a comedy writer, and a graduate of McGill University. She has written for the New Yorker, Playboy, the Atlantic, CollegeHumor, Funny or Die, McSweeney's Internet Tendency and the Believer. She lives in Brooklyn, New York and is available for interview.
RSVP
Bookings are closed for this event.