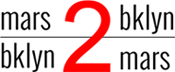 Tuesday Apr 30, 2013 - Sunday May 05, 2013
All Day
THE POWERHOUSE ARENA [Dumbo]
37 Main Street
Brooklyn, NY 11201
mars2bklyn is an ongoing platform for collaboration and discovery between artists and cultural venues from Brooklyn, New York and Marseille, France. Curated  by Erika Latta, Bertie Ferdman, and Claire Hallereau.
Brooklyn is to Manhattan what Marseille is to Paris: a large, prodigious, liberal, exceptionally diverse, and slightly rebellious, melting pot with strong social and cultural contrasts. As both Paris and Manhattan get more clogged and artists priced out, a shift in what is the center of creation is in the making. Brooklyn and Marseille no longer represent the "outskirts" or "the margins" of some other place: they have themselves become the centers of artistic and cutting edge innovation.
mars2bklyn / bklyn2mars aims to highlight these centers of creation, draw parallels between them, and initiate links between the two cities, within the context of an ongoing platform.
The platform will offer performances, concerts, and exhibitions, as well as panel discussions in both cities. It will initiate collaborations between artists, venues, residencies and curators from the two cities, and commission artists to inspire themselves from the 'other' city.
The platform will focus on artists whose work blends cultures, and integrate the essence of their city or neighborhood, or one particular aspect of it in the work. The objective is to bring about collaboration between these two port communities and highlight the locality of each city via the arts.