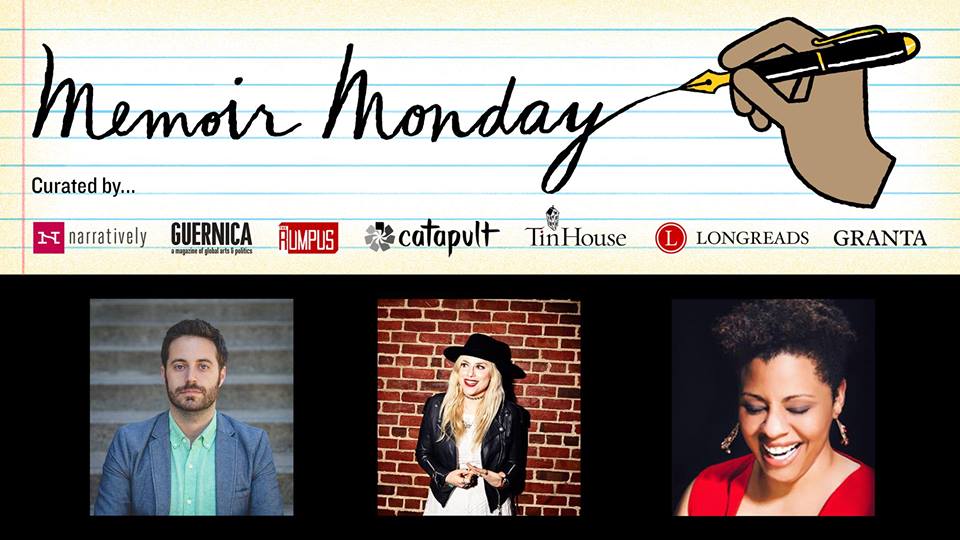 Monday Dec 17, 2018
7:00 pm - 9:00 pm
POWERHOUSE @ the Archway
28 Adams Street (Corner of Adams & Water Street @ the Archway)
Brooklyn , NY 11201
RSVP encouraged & appreciated.
Please fill out the form at the bottom of this page if you plan on attending. Facebook event found here.
PLEASE NOTE: Submitting an RSVP for this event DOES NOT guarantee entrance. This is a free-access event — entrance will be on a first-come, first-served basis.
---
About the Series
Memoir Monday is a collaboration between Narratively, Catapult, Tin House, The Rumpus, Granta, Guernica, and Longreads to bring the very best first-person writing together in a weekly newsletter and a monthly reading series!
All events are free, and there will be wine.
Learn more about Memoir Monday and sign up for the newsletter here: http://narrative.ly/memoir-monday/
About this month's Readers:

GARRARD CONLEY is the author of the New York Times bestselling memoir BOY ERASED, which has been translated in over a dozen languages and is now a major motion picture. Conley is also a creator and producer of the podcast UnErased, which explores the history of conversion therapy in America through interviews, historical documents, and archival materials provided by the Mattachine Society of Washington, D.C. His work can be found in The New York Times, TIME, VICE, CNN, BuzzFeed, Them, Virginia Quarterly Review, and The Huffington Post, among other places. Conley lives in New York City with his husband, and is currently at work on a novel about queer 18th century lives. He can be found online @gayrodcon and garrardconley.com.
LANE MOORE is an award-winning comedian, writer, actor, and musician. Her critically acclaimed comedy show "Tinder Live!" tours worldwide, and was praised by the New York Times, who called it "ingenious." Her comedy and her band, It Was Romance, have been praised everywhere from Vogue to Pitchfork, and her writing has appeared everywhere from The New Yorker to The Onion. She is one of Paste Magazine's "Funniest People On Twitter" and has appeared on HBO's GIRLS. She is the former Sex & Relationships editor at Cosmopolitan, where she received a GLAAD Award for her groundbreaking work expanding the magazine's queer coverage. Her new book, HOW TO BE ALONE, was published by Atria Books in November.
TRACEY LYNN LLOYD is a writer, a marketer, a feminist and a sarcastic smartypants. She lives in New York City and writes mostly about relationships, mental health and all the intersections of her identity. Her work has appeared in The Washington Post, Cosmopolitan, The Establishment and Ravishly. Tracey has an MBA from Duke, which she never uses, and a BA in English from Yale, proving that she should have been a writer all along. She spends her time in Upper Manhattan drinking coffee and trying to keep cats off her laptop. Tell her that her hair looks cute today.
RSVP
Bookings are closed for this event.