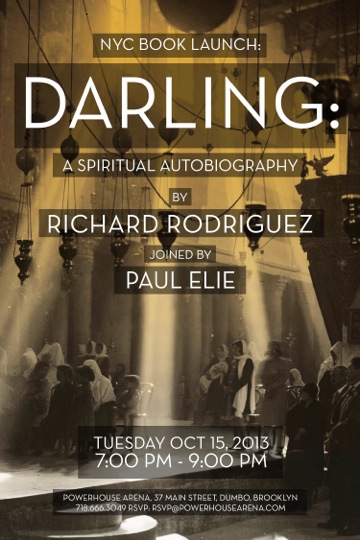 Tuesday Oct 15, 2013
7:00 pm - 9:00 pm
THE POWERHOUSE ARENA [Dumbo]
37 Main Street
Brooklyn, NY 11201
For more information, please call 718.666.3049
RSVP appreciated: RSVP@powerHouseArena.com
-or-
Please fill out the "Bookings" form at the bottom of this page.
---
The Pulitzer Prize-finalist examines religion, place, and sexuality in his stylish new memoir, his first book in a decade. Writer Paul Elie joins Rodriguez in conversation.
About DARLING:
Hailed in The Washington Post as "one of the most eloquent and probing public intellectuals in America," Richard Rodriguez now considers religious violence worldwide, growing public atheism in the West, and his own mortality.
Rodriguez's stylish new memoir—the first book in a decade from the Pulitzer Prize finalist—moves from Jerusalem to Silicon Valley, from Moses to Liberace, from Lance Armstrong to Mother Teresa. Rodriguez is a homosexual who writes with love of the religions of the desert that exclude him. He is a passionate, unorthodox Christian who is always mindful of his relationship to Judaism and Islam because of a shared belief in the God who revealed himself within an ecology of emptiness. And at the center of this book is a consideration of women—their importance to Rodriguez's spiritual formation and their centrality to the future of the desert religions.
Only a mind as elastic and refined as Rodriguez's could bind these threads together into this wonderfully complex tapestry.
About the Author and Contributor:
Richard Rodriguez is a journalist, essayist, and author whose books include Days of Obligation, Brown, and Hunger of Memory. He is a contributor to Harper's Magazine, Mother Jones, the Los Angeles Times, and Time. He lives in San Francisco.
Paul Elie, for many years a senior editor with FSG, is now a senior fellow at Georgetown University's Berkley Center for Religion, Peace, and World Affairs. His first book, The Life You Save May Be Your Own, received the PEN/Martha Albrand Prize and was a National Book Critics Circle award finalist in 2003. His most recent book is Reinventing Bach. He lives in New York City.
---
For more information, please contact
Justin Levine
email: justin@powerhousearena.com
powerHouse Arena, 37 Main Street, Brooklyn, NY 11201
tel: 212-604-9074 x109
RSVP
Bookings are closed for this event.