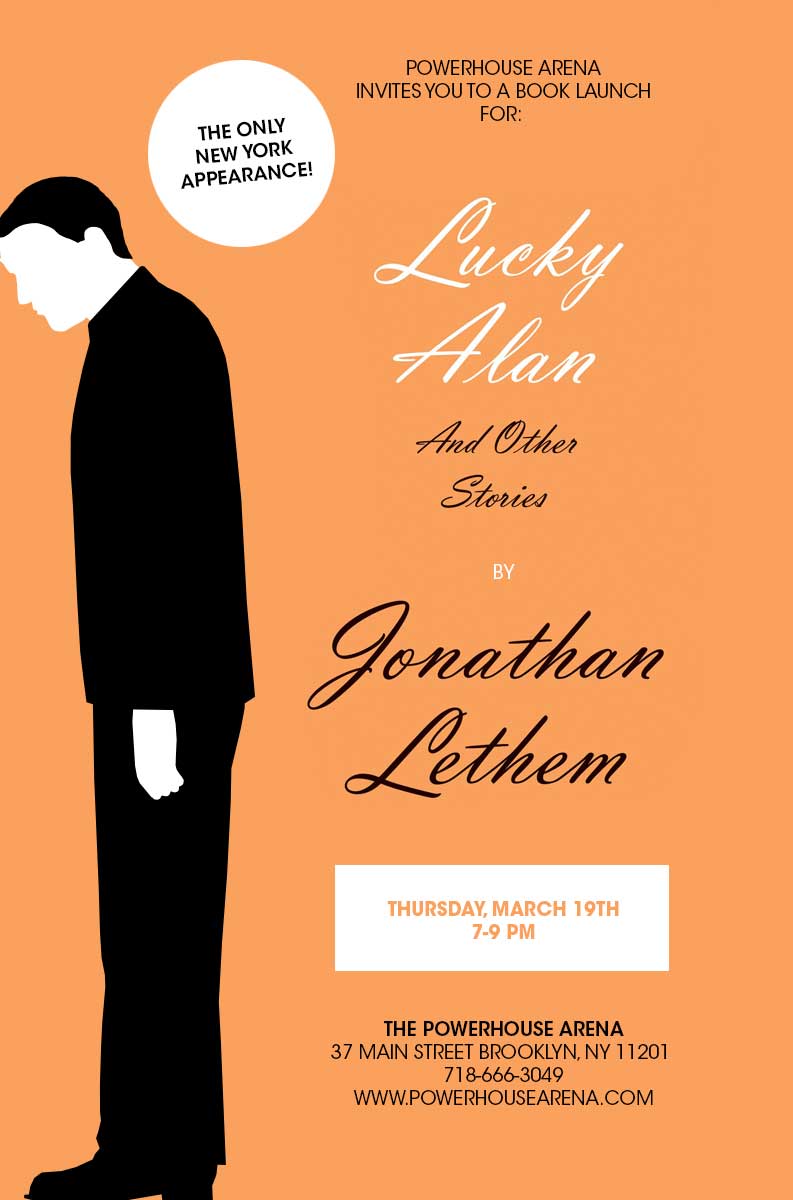 Thursday Mar 19, 2015
7:00 pm - 9:00 pm
THE POWERHOUSE ARENA [Dumbo]
37 Main Street
Brooklyn, NY 11201
For more information, please call 718.666.3049
RSVP appreciated: RSVP@powerHouseArena.com -or- Please fill out the "Bookings" form at the bottom of this page.
Can't make it to the event? Click here to order a pre-order a signed copy!
---
Celebrated author Jonathan Lethem returns to powerHouse Arena to release his latest short story collection, packed with tales full of his trademark candor, with, and human connectivity that made him a household name.
About Lucky Alan:
The incomparable Jonathan Lethem returns this winter with nine stories that demonstrate his mastery of the short form. A foundling child is rescued from the woods during a blizzard in "Traveler Home"; a political prisoner is found in a hole in a Brooklyn street in "Procedure in Plain Air"; characters from forgotten comics are stranded on a desert island in "Their Back Pages." Each tale in Lucky Alan and Other Stories locates itself squarely in a universe readers will recognize as entirely and uniquely Lethem-esque.
As with his celebrated novels, the stories in Lucky Alan reveal the uncanny lurking in the mundane, the irrational self-defeat seeping through our upstanding pursuits, and the tragic undertow of the absurd worlds in which we live. And, as we've come to expect in all his work, this volume also gives us humor and poignancy working in harmony, humans striving desperately for connection, and words finding themselves misaligned to deeds, all unfolding in sentence after glorious sentence.
About the Author:
Jonathan Lethem is the New York Times bestselling author of nine novels, including Dissident Gardens, Chronic City, The Fortress of Solitude, and Motherless Brooklyn, and of the essay collection The Ecstasy of Influence, which was a National Book Critics Circle Award finalist. A recipient of the MacArthur Fellowship and winner of the National Book Critics Circle Award for Fiction, Lethem's work has appeared in The New Yorker, Harper's Magazine, Rolling Stone, Esquire, and The New York Times, among other publications.
RSVP
Bookings are closed for this event.