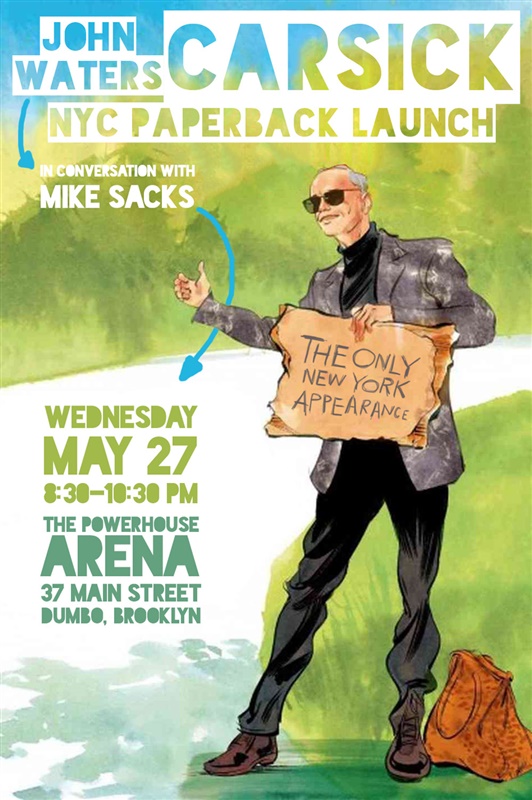 Wednesday May 27, 2015
8:30 pm - 10:30 pm
THE POWERHOUSE ARENA [Dumbo]
37 Main Street
Brooklyn, NY 11201
For more information, please call 718.666.3049
RSVP appreciated: RSVP@powerHouseArena.com
-or-
Please fill out the "Bookings" form at the bottom of this page.
---
Cult film legend John Waters recounts his trek from Baltimore to San Francisco, armed with a cardboard sign that reads "I'm Not Psycho." He meets some unexpected characters as he hits the open road.
About Carsick:
"Waters idiosyncratically cuts to the core of American diversity, finding the good (and bad) in any situation with biting wit…Waters devotees take note: this is required reading." –Publishers Weekly, starred
John Waters is putting his life on the line. Armed with wit, a pencil-thin mustache, and a cardboard sign that reads "I'm Not Psycho," he hitchhikes across America from Baltimore to San Francisco, braving lonely roads and treacherous drivers. But who should we be more worried about, the delicate film director with genteel manners or the unsuspecting travelers transporting the Pope of Trash?
Before he leaves for this bizarre adventure, Waters fantasizes about the best and worst possible scenarios: a friendly drug dealer hands over piles of cash to finance films with no questions asked, a demolition-derby driver makes a filthy sexual request in the middle of a race, a gun-toting drunk terrorizes and holds him hostage, and a Kansas vice squad entraps and throws him in jail. So what really happens when this cult legend sticks out his thumb and faces the open road? His real-life rides include a gentle eighty-one-year-old farmer who is convinced Waters is a hobo, an indie band on tour, and the perverse filmmaker's unexpected hero: a young, sandy-haired Republican in a Corvette.
Laced with subversive humor and warm intelligence, Carsick is an unforgettable vacation with a wickedly funny companion–and a celebration of America's weird, astonishing, and generous citizenry.
About the Author and Moderator:
John Waters is an American filmmaker, actor, writer, and visual artist best known for his cult films, including Hairspray, Pink Flamingos, and Cecil B. DeMented. He lives in Baltimore, Maryland.
Mike Sacks is an author, humor writer, and magazine editor based in New York City. Sacks is currently an editor at Vanity Fair and formerly worked for The Washington Post.
RSVP
Bookings are closed for this event.