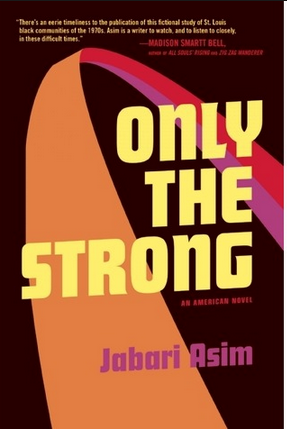 Monday May 11, 2015
7:00 pm - 9:00 pm
THE POWERHOUSE ARENA [Dumbo]
37 Main Street
Brooklyn, NY 11201
For more information, please call 718.666.3049
RSVP appreciated: RSVP@powerHouseArena.com
-or-
Please fill out the "Bookings" form at the bottom of this page.
---
This début novel from an acclaimed editor and writer explores urban life in the first years after the King assassination, using the masterfully intertwined stories of a retired "leg breaker," an aging kingpin, an altruistic pediatrician, and a foster child turned college student.
About Only the Strong:
Moved by the death of Martin Luther King, Jr., professional leg-breaker Lorenzo "Guts" Tolliver realizes that violence may not be the first, best option. He asks his boss and local kingpin Ananias Goode, if he can step down as the muscle in favor of a quieter life. Though Guts is given a respectable job as severance, his volatile past threatens to destroy a new romantic relationship—one he would do anything to keep. Meanwhile, Goode, prompted by a clandestine, off-and-on affair with the prominent Dr. Artinces Noel, is ready to walk the straight-and-narrow path as well. But the pressure of secrecy and the couple's respective reputations in the community force the doctor and the kingpin to revisit difficult chapters from their past. While the adults struggle to maintain their relationships, former foster child Charlotte Divine is off to college, where she falls hard for a brilliant fellow student prone to puzzling disappearances. Jabari Asim weaves these narratives together in subtle and surprising ways. Set against the grim backdrop of a deteriorating neighborhood in a small city, Only the Strong captivates with the warmth and joy Asim finds in his richly realized characters, whose stories are rooted deeply in the book's time and place. Asim has earned wide acclaim for his nonfiction and short stories, and this new book is sure to be recognized as one of the best début novels of 2015.
About the Author and Moderator:
Jabari Asim is the author of many works of fiction, nonfiction, essays, poetry, and drama. He is currently the executive editor of The Crisis, the official magazine of the NAACP. He contributes to the Washington Post and Bookforum, and is as an associate professor of creative writing at Emerson College.
Mike Sacks is an author, humor writer, and magazine editor based in New York City. Sacks is currently an editor at Vanity Fair and formerly worked for The Washington Post.
RSVP
Bookings are closed for this event.