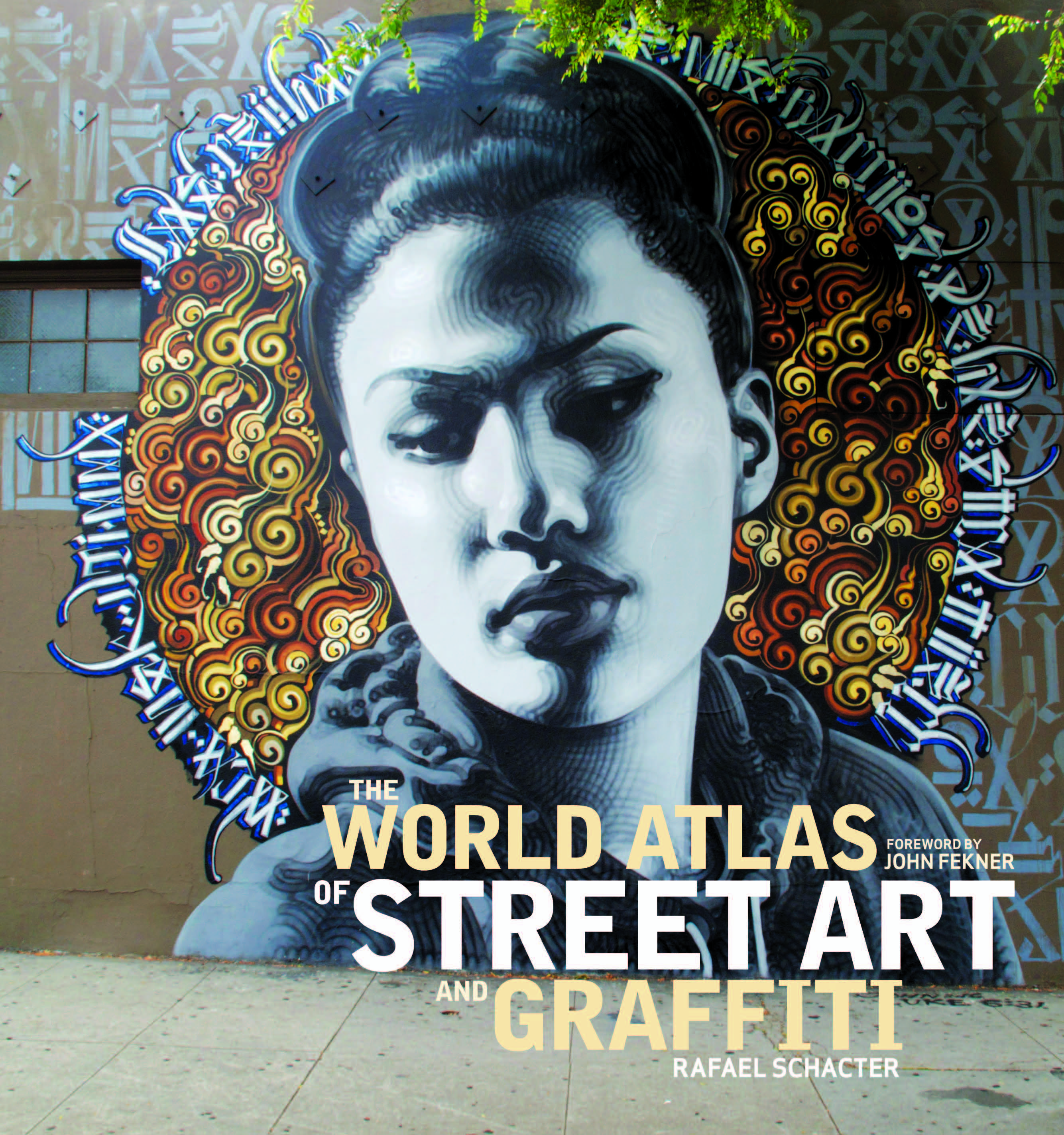 Wednesday Nov 20, 2013
7:00 pm - 9:00 pm
THE POWERHOUSE ARENA [Dumbo]
37 Main Street
Brooklyn, NY 11201
For more information, please call 718.666.3049
RSVP appreciated: RSVP@powerHouseArena.com
-or-
Please fill out the "Bookings" form at the bottom of this page.
---
An authoritative guide to the most significant artists, schools, and styles of street art and graffiti around the world. Ron English and  David "Chino" Villorente will join Schacter in conversation, and Katsu will also join via Skype.
PLUS: Music by DJ GetLive, brews from Tiger Beer, and Staple Design will give away t-shirts to the first 40 people that buy the book!
About The World Atlas of Street Art and Graffiti:
This definitive survey focuses on the world's most influential contemporary urban artists and artworks. With contributions by the foremost authorities on street art, this landmark publication provides a nuanced understanding of a widespread contemporary practice and emphasizes urban art's powerful commitment to a spontaneous creativity that is inherently connected to the architecture of the metropolis.
Richly illustrated with 750 color photographs, The World Atlas of Street Art and Graffiti is organized by country and city and profiles more than 100 artists alongside key examples of their work.
The evolution of street art and graffiti within each region is chronicled, providing essential historical context.
The volume includes twelve city maps, commissioned for this projec: New York by Momo; San Francisco by Jurne; Los Angeles by Augustine Kofie; Buenos Aires by Chu; London by Gold Peg; Paris by Honet; Berlin by Fase; Copenhagen by Affex Ventura; Helsinki by Egs; Barcelona by Sixeart; Athens by GPO;  and Melbourne by Lush.
About the Author and Contributors:
Rafael Schacter is honorary research fellow at the Department of Anthropology at University College, London. He was co-curator of the 2008 Street Art exhibition at the Tate Modern, London.
Katsu is a vandal, a conceptual vandal. He is not an artist, an illustrator, or a designer. He is, in his own words, a graffiti writer who seeks to "strategically execute systematic vandalism," to destroy, hack, and subvert the urban environment. A member of the famed Big Time Mafia (BTM), Katsu's work is not about appropriation, adaption, détournement, or decoration; his aesthetic is purely concerned with destruction and damage; it is an aesthetic formed to "promote crimes and disrupt the look of the city."
A street artist before street art existed, Ron English has been a chief architect of the culture-jamming movement since the 1980s. Agitation, reappropriation, and revolt are essential to his work. Famed for a very particular form of aesthetic expropriation—one that commandeers both space (billboard takeovers) and imagery (iconoclastic reformation of popular icons), English practices an impudently witty, defiant, yet always sanguine form of cultural bricolage. Deconstructing the boundaries between advertising and aesthetics, activism and art, pop culture and high culture, he uses his work to stage a willful rejection of modern US culture, a highly contemporary style of agitprop termed "Popaganda."
David Villorente is one of the foremost practitioners and ambassadors of graffiti art in the world. His ten-year-reign reign as the editor of both the "Bomb Shelter" and "Graf Flix" graffiti columns in The Source magazine cemented his position as an important arbiter within the graffiti community.  Before that, inside of the years 1983 up through 1988, Vilorente was a prolific graffiti artist known for "applying" his "Chino" moniker onto the interiors of IND and BMT subway trains governed by New York's Metropolitan Transit Authority. Vilorente's written work has appeared in magazines such as Complex, Mass Appeal, and YRB, while his firsthand knowledge of the graffiti movement and all its past, present and future players makes him an indispensable source for dozens of other publications. He is the co-author of Piecebook, Piecebook Reloaded, World Piecebook (all Prestel publishing), Mascots & Mugs: The Characters and Cartoons of Subway Graffiti, and is the co-curator  of Write of Passage, a graffiti and street art exhibit at Redbull Studios. Villorente currently resides in his native borough, beautiful Brooklyn, New York.
---
For more information, please contact
Justin Levine
email: justin@powerhousearena.com
powerHouse Arena, 37 Main Street, Brooklyn, NY 11201
tel: 212-604-9074 x109
RSVP
Bookings are closed for this event.