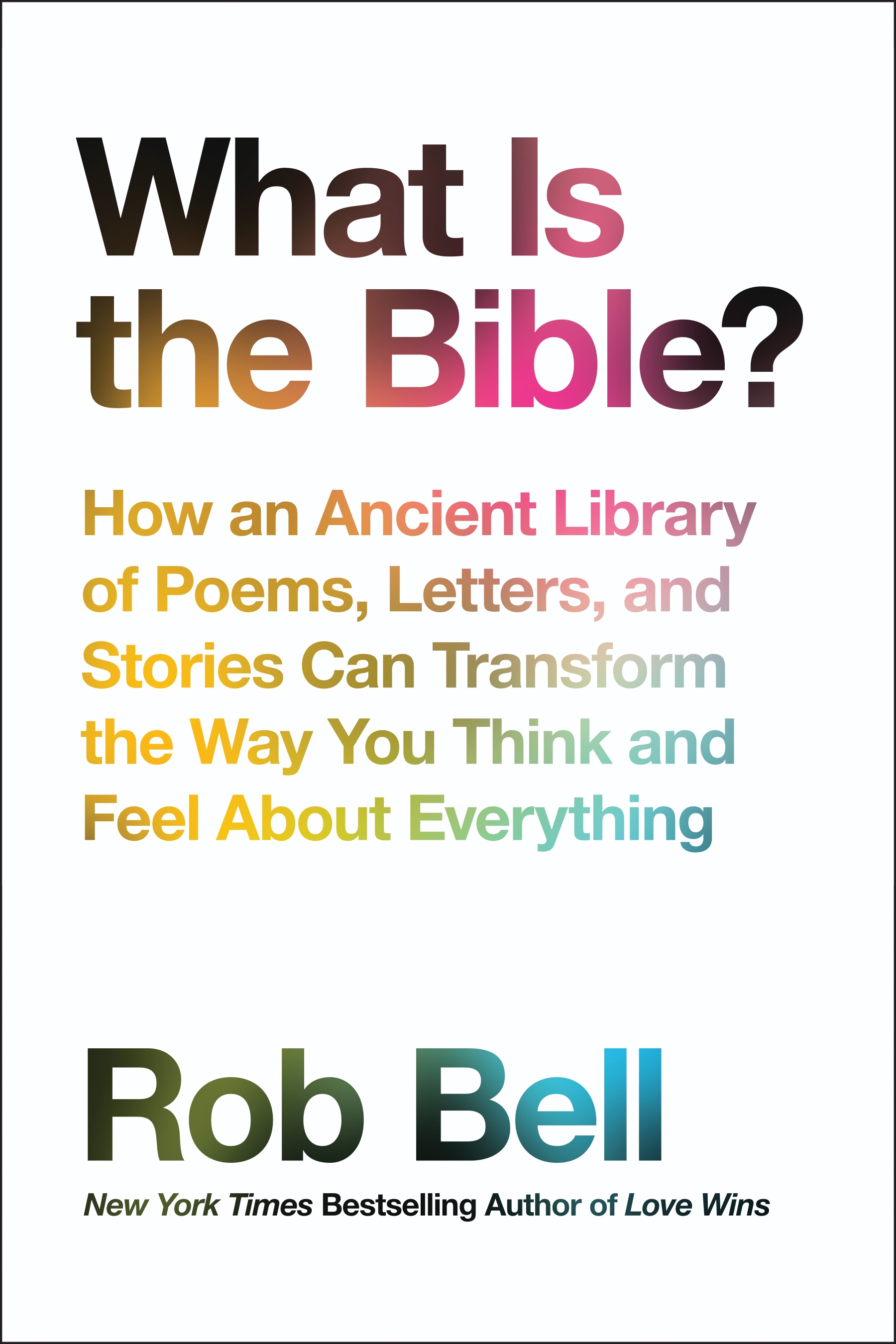 Thursday May 18, 2017
7:00 pm - 9:00 pm
POWERHOUSE @ the Archway
28 Adams Street (Corner of Adams & Water Street @ the Archway)
Brooklyn , NY 11201
Each $35 ticket comes with one copy of What is the Bible?, to be collected upon arrival at the event. Click here to purchase.
For parties of 2, we are offering $45 tickets that include two entries and one copy of What is the Bible? Click here to purchase.
Seating is on a first-come, first-served basis and not guaranteed.
---
Rob Bell, the New York Times bestselling author who tackled heaven and hell in his groundbreaking book Love Wins, now takes on one of the best known but perhaps least understood books in the world—the Bible.

About the Book:
The words and stories of the Bible have endured for centuries. People have turned to its pages time and again to find answers to their most pressing problems. But according to bestselling author Rob Bell, they may only be scratching the surface of its great depths. And much as he did in his pioneering book Love Wins—asking all the questions that everybody had but nobody would talk about—Bell now poses a series of probing and powerful questions to one of the world's most enduring sacred texts, helping readers see how it is much more revelatory, revolutionary, and relevant than we ever imagined.
The Bible isn't, as some might assume, a singular text stemming from one point of view. Instead, it is a library—a complex and multifaceted collection of poems, letters, and stories compiled over 1,500 years by over 40 contributors. A compilation written, assembled, and edited by people living in different times, functioning under different circumstances, and possessing differing opinions and agendas.  And this—the Bible's human element, its very humanity—is not just its most remarkable characteristic, it's how it must be read and understood for its words to continue to inspire, impact, and console modern-day readers.
In WHAT IS THE BIBLE?: How an Ancient Library of Poems, Letters, and Stories Can Transform the Way You Think and Feel About Everything (HarperOne), Rob Bell reveals the enduring humanity behind the ancient texts—helping readers to see the real people behind the stories, and illuminating the real questions and concerns they were trying to work out through these stories. Exploring well-known stories and lesser-known figures alike, Bell helps readers see the many layers and veiled messages in even the simplest of stories. From the epic tales of Abraham and Noah to the parables of Jonah and the Good Samaritan, the Bible is best understood as a reflection of the fear, doubt, anxiety, hate, love, and hope our ancient forebears wrestled with—the very same emotions we grapple with today.
Offering an in-depth analysis of its various texts, along with tips and tools to read, engage with, and better understand its stories, Bell creates guidelines to help anyone build a greater solidarity with the Bible.
Urging readers to read the Bible in a new way—to honor, respect, learn from, and enjoy its hidden depths and enduring truths—Bell, in WHAT IS THE BIBLE?, makes the powerful case for its lasting authenticity and significance in our lives today.

About the Author:
Rob Bell is The New York Times bestselling author of Love Wins, What We Talk About When We Talk about God, The Zimzum of Love, and his most recent book, How to Be Here. iTunes named his podcast, The RobCast, Best of 2015. He's been profiled in The New Yorker, he's toured with Oprah on her Life You Want Tour, and in 2011 Time Magazine named him one of the 100 Most Influential People in The World. He has a regular show at Largo, the legendary music and comedy club in West Hollywood. He and his wife Kristen have three children and live in Los Angeles. For more, please visit www.robbell.com.