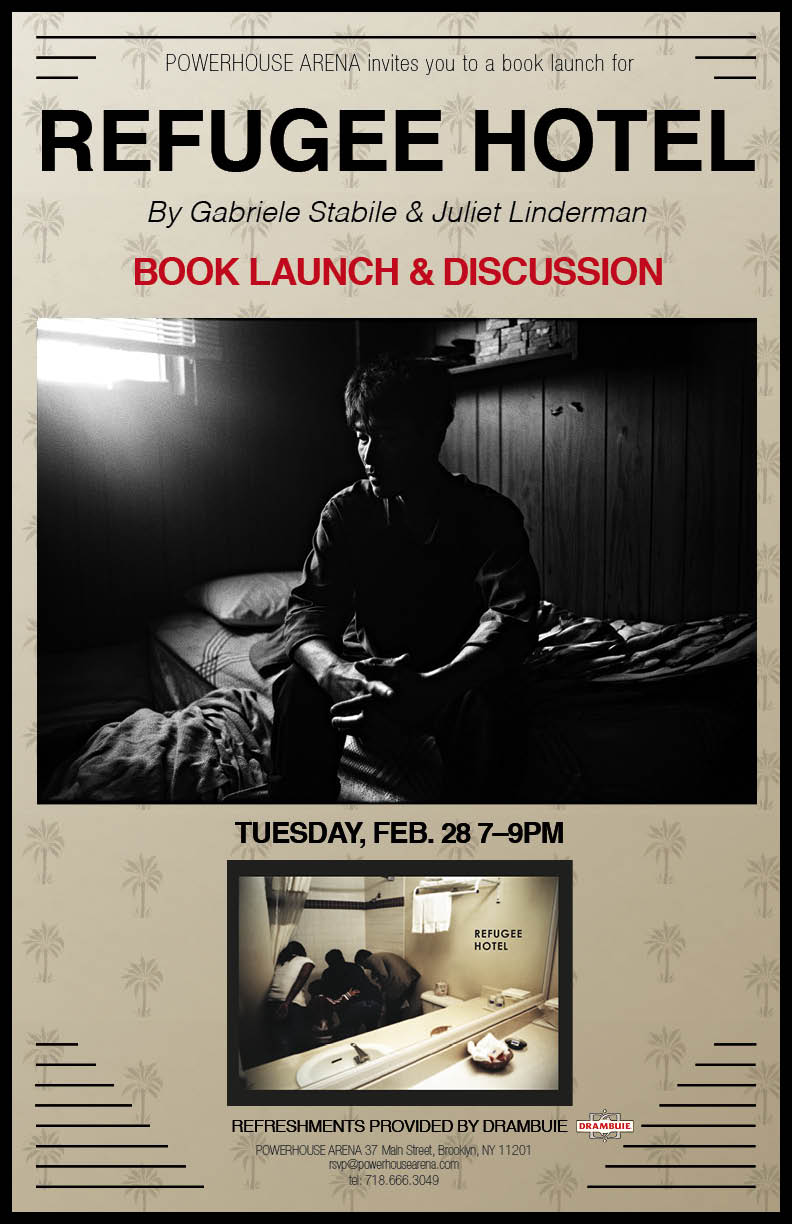 Tuesday Feb 26, 2013
7:00 pm - 9:00 pm
THE POWERHOUSE ARENA [Dumbo]
37 Main Street
Brooklyn, NY 11201
For more information, please call 718.666.3049
RSVP appreciated: RSVP@powerHouseArena.com
-or-
Please fill out the "Bookings" form at the bottom of this page.
---
Refugee Hotel is the newest book in the Voice of Witness oral history book series, published by McSweeney's. This groundbreaking collection of oral histories and photography documents the experiences of refugees in the US. Voice of Witness is a non-profit organization that uses oral history to illuminate contemporary human rights crises in the U.S. and around the world through its book series and Education Program.
---
About the Book:
In Refugee Hotel, evocative images are coupled with moving testimonies from men and women who have resettled in the United States from Burundi, Iraq, Burma, Somalia, Bhutan, and Ethiopia.  In their narratives, they describe their first days in the US, the lives they've left behind, and the communities they've since created. Woven together, these remarkable stories and images are a testament to the complexity and magnitude of the refugee experience.
About the Photographer:
Gabriele Stabile is an Italian photographer based in New York City. His photography has appeared in The New Yorker, The New York Times, and The Wall Street Journal.
About the Editor:
Juliet Linderman is a reporter living in Brooklyn. Formerly the editor of a small community newspaper, she has written for many publications, including The New York Times and Village Voice.
Among the Narrators:
PSAW WAH BAW, who was forced to flee her village in Burma amidst armed conflict. She describes how her family left their village with just five cups of rice, beginning an arduous journey toward resettlement that would take them through Bangkok, Tokyo, Illinois, and Texas.
PASTOR NOEL, who fled the civil war in Burundi in 1972 for a refugee camp in Congo. When war erupted in Congo in 1996, Noel was once again forced from his home. He now lives in Mobile, Alabama, and is a central figure in the African refugee community as he pursues citizenship.
FELIX, who joined the rebel army in South Sudan as a teenager but was forced to flee to a refugee camp in Kenya when fighting within the army threatened his life. After long delays and identity theft by fellow refugee, Felix now lives in Erie, Pennsylvania, where he works for Habitat for Humanity to assist African refugees in purchasing their own homes.
---
Refreshments provided by Drambuie.
---
For more information, please contact
Julie Buntin, Events Coordinator
email: julie@powerhousearena.com
powerHouse Arena, 37 Main Street, Brooklyn, NY 11201
tel: 212-604-9074 x109
RSVP
Bookings are closed for this event.