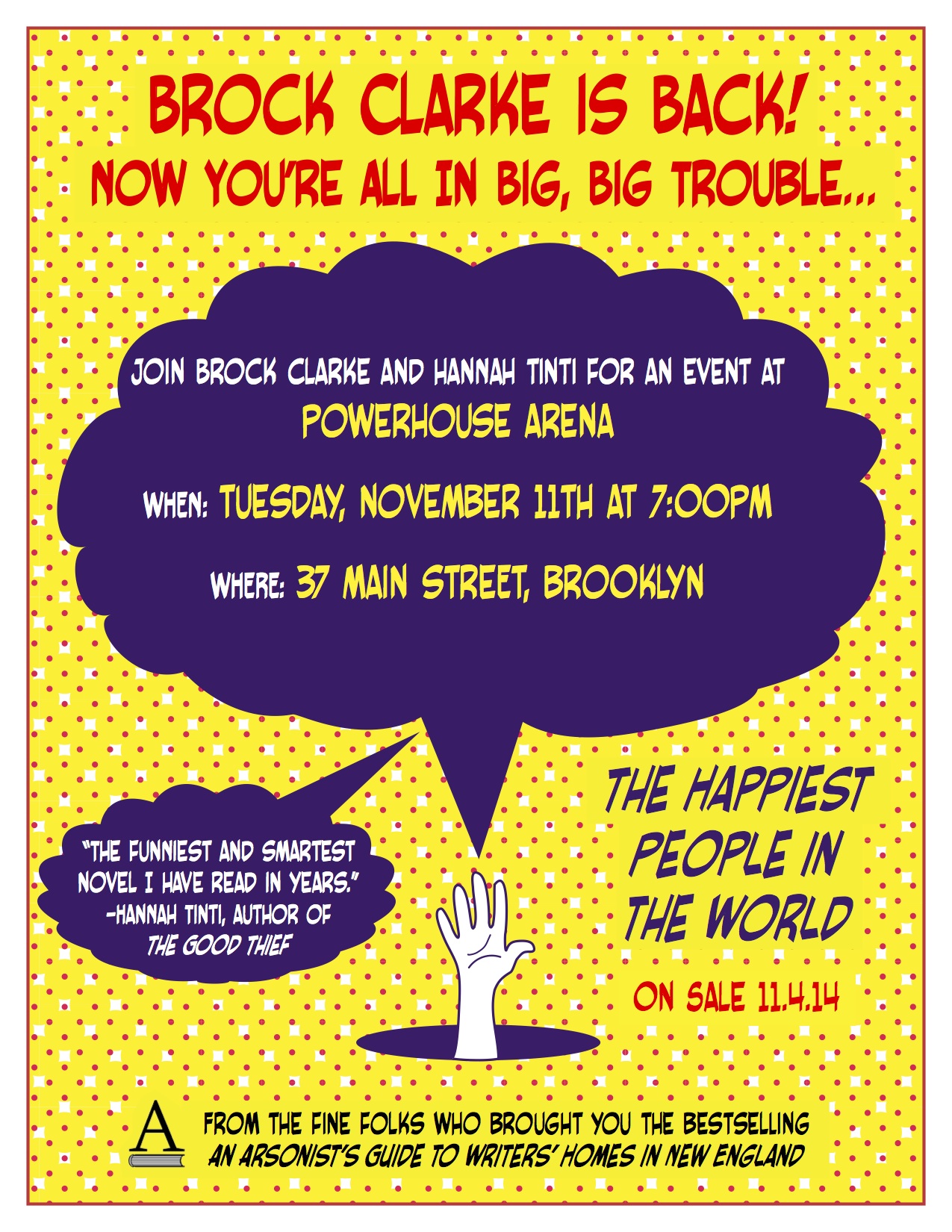 Tuesday Nov 11, 2014
7:00 pm - 9:00 pm
THE POWERHOUSE ARENA [Dumbo]
37 Main Street
Brooklyn, NY 11201
For more information, please call 718.666.3049
RSVP appreciated: RSVP@powerHouseArena.com
-or-
Please fill out the "Bookings" form at the bottom of this page.
---
A darkly funny tale of paranoia and the American obsession with security, Brock Clarke's new novel makes its NYC debut tonight! Hannah Tinti joins in conversation.
About The Happiest People in the World: 
Take the format of a spy thriller, shape it around real-life incidents involving international terrorism, leaven it with dark, dry humor, toss in a love rectangle, give everybody a gun, and let everything play out in the outer reaches of upstate New York—there you have an idea of Brock Clarke's new novel,The Happiest People in the World.
Who are "the happiest people in the world"? Theoretically, it's all the people who live in Denmark, the country that gave the world Hans Christian Andersen fairy tales and the open-face sandwich. But Denmark is also where some political cartoonists got into very unhappy trouble when they attempted to depict Muhammad in their drawings, which prompted protests, arson, and even assassination attempts.
Imagine, then, that one of those cartoonists, given protection through the CIA, is relocated  to a small town in upstate New York where he is given a job as a high school guidance counselor. Once there, he manages to fall in love with the wife of the high school principal, who himself is trying to get over the effects of a misguided love affair with the very CIA agent who sent the cartoonist to him. Imagine also that virtually every other person in this tiny town is a CIA operative.
The result is a darkly funny tale of paranoia and the all-American obsession with security and the conspiracies that threaten it, written in a tone that is simultaneously filled with wonder and anger in almost equal parts.
About the Author and Moderator: 

Brock Clarke is the author of An Arsonist's Guide to Writers' Homes in New England, which was a national bestseller and has appeared in a dozen foreign editions, and three other books. He lives in Portland, Maine, and teaches creative writing at Bowdoin College.

Hannah Tinti's work has appeared in magazines and anthologies, including The Best American Mystery Stories 2003. Her short-story collection, Animal Crackers, has been sold in fifteen countries, and was a runner-up for the PEN/Hemingway Award. She is the editor of One Story magazine.
RSVP
Bookings are closed for this event.