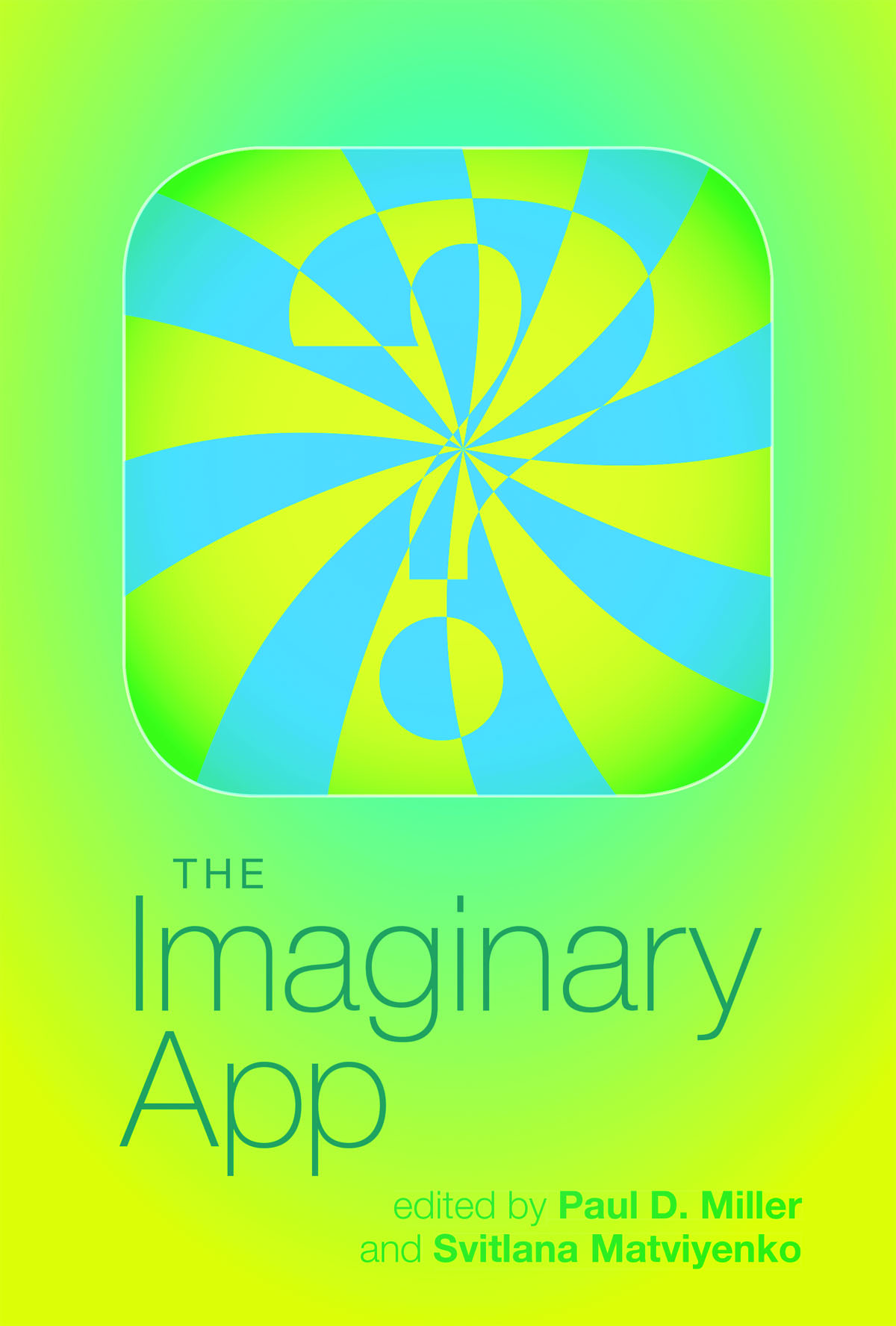 Sunday Sep 28, 2014
5:00 pm - 7:00 pm
THE POWERHOUSE ARENA [Dumbo]
37 Main Street
Brooklyn, NY 11201
For more information, please call 718.666.3049
RSVP appreciated: RSVP@powerHouseArena.com
-or-
Please fill out the "Bookings" form at the bottom of this page.
---
World-renowned artist, DJ, and visionary Paul D. Miller (aka DJ Spooky, That Subliminal Kid) and Svitlana Matviyenko celebrate the release of The Imaginary App, a provocative new anthology of writers, theorists, and artists exploring the cultural and technological shifts that have accompanied the emergence of the mobile app. This is a Dumbo Arts Festival event!
About The Imaginary App: 
Mobile apps promise to deliver (h)appiness to our devices at the touch of a finger or two. Apps offer gratifyingly immediate access to connection and entertainment. The array of apps downloadable from the app store may come from the cloud, but they attach themselves firmly to our individual movement from location to location on earth. In The Imaginary App, writers, theorists, and artists—including Stephen Wolfram (in conversation with Paul Miller) and Lev Manovich—explore the cultural and technological shifts that have accompanied the emergence of the mobile app. These contributors and interviewees see apps variously as "a machine of transcendence," "a hulking wound in our nervous system," or "a promise of new possibilities." They ask whether the app is an object or a relation, and if it could be a "metamedium" that supersedes all other artistic media. They consider the control and power exercised by software architecture; the app's prosthetic ability to enhance certain human capacities, in reality or in imagination; the app economy, and the divergent possibilities it offers of making a living or making a fortune; and the app as medium and remediator of reality.
Also included (and documented in color) are selected projects by art- ists asked to design truly imaginary apps, "icons of the impossible." These include a female sexual arousal graph using Doppler images; "The Ulti- mate App," which accepts a payment and then closes, without providing information or functionality; and "iLuck," which uses GPS technology and four-leaf-clover icons to mark places where luck might be found.
About the Authors: 
Paul D. Miller aka DJ Spooky is a composer, multimedia artist and writer whose work immerses audiences in a blend of genres, global culture, and environmental and social issues. His written work has been published by The Village Voice, The Source, and Artforum, among others, and he is the Editor of Origin Magazine. Miller's work has appeared in the Whitney Biennial; The Venice Biennial for Architecture; the Ludwig Museum in Cologne; Kunsthalle, Vienna; The Andy Warhol Museum in Pittsburgh, the Miami/Art Basel fair, and many other museums and galleries.
Miller's award-winning book "Rhythm Science" was published by MIT Press 2004, and was followed by "Sound Unbound," an anthology about electronic music and digital media, in 2008. "The Book of Ice", an experiential visual and acoustic portrait of the Antarctic, was published in 2011 by Random House. Miller has collaborated with a vast array of recording artists, ranging from Metallica to Chuck D; Steve Reich to Yoko Ono. His large scale, multimedia performance pieces include "Rebirth of a Nation" (now on DVD), "Terra Nova: Sinfonia Antarctica," which was commissioned by the Brooklyn Academy of Music for the Next Wave Festival 2009, and "Seoul Counterpoint", written during his residency at Seoul Institute of the Arts in 2014. Miller was the first Artist in Residence at the Metropolitan Museum of Art, where he premiered his work "A Civil War Symphony" in 2013. In 2014, Miller was named a National Geographic Emerging Explorer, an honor recognizing visionaries at the forefront of global problem solving. Upcoming commissions and releases include a new work for Dartmouth College, the CD release of "Rebirth of a Nation" on Cantaloupe Music, a new release from VP Records, and the publication of his fourth book "The Imaginary App" from MIT Press.
Svitlana Matviyenko is a media scholar. She has a PhD in Critical Theory, Media Theory and Psychoanalysis from the University of Missouri and she is now pursuing her second doctorate at the Centre for the Study of Theory and Criticism at Western. She writes on philosophy of technology, posthumanism, networking drive, and mobile media. Her work has been published and forthcoming in Digital Creativity, (Re)-Turn: A Journal of Lacanian Studies, Harvard Ukrainian Studies, Krytyka, Kino-Kolo. Currently, she serves as Associate Editor of (Re)-Turn: A Journal of Lacanian Studies. Svitlana curated several experimental dance performances and several art exhibitions at the Ukrainian Institute of America in NYC, Museum | London (Ontario), Artisphere (USA), and other venues. She is a co-editor (with Paul D. Miller) of The Imaginary App (MIT, 2014).
RSVP
Bookings are closed for this event.