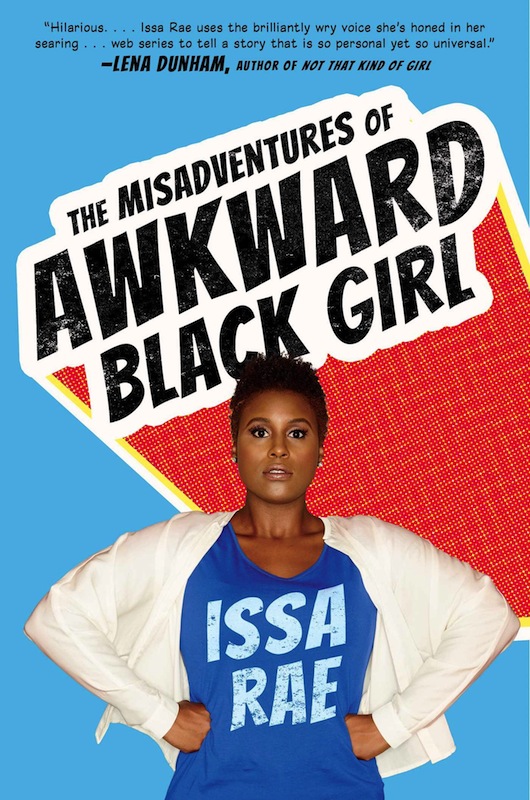 Monday Feb 16, 2015
7:00 pm - 9:00 pm
THE POWERHOUSE ARENA [Dumbo]
37 Main Street
Brooklyn, NY 11201
For more information, please call 718.666.3049 RSVP appreciated: RSVP@powerHouseArena.com -or- Please fill out the "Bookings" form at the bottom of this page.
Can't make it to the event? Click here to order a pre-order a signed copy!
---
Based on her award-winning web series, Issa Rae's essay collection recounts what it's like to be a hapless introvert in a PC world that equates "black," with "cool," and the hilarious and refreshingly self-aware results that ensue.
About The Misadventures of Awkward Black Girl:
"I loved this book. Issa Rae is brilliant, funny and loveably awkward." Mindy Kaling, Is Everyone Hanging Out without Me?
YouTube sensation Issa Rae has attracted over 20 million views and won the Shorty Award for Best Web Show. Now, her debut essay collection, The Misadventures of Awkward Black Girl, speaks to readers with the same candid, self-deprecating wit that won her a devoted online following and attracted the attention of superstars Pharrell Williams and Shonda Rhimes. What's it like to be awkward in a world that equates black with cool? Issa Rae tells all with razor-sharp observations and a no-holds-barred honesty that will speak to everyone who has ever felt they were on the outside looking in.
Issa Rae, born Jo-Issa Rae Diop (pronounced Jope), fell in love with the Internet thanks to her father's subscription to America Online. By age eleven, she was a self-described cyber ho: "It all began when I started catfishing – creating characters and transmitting them over the internet – though back then people just called it lying." Her parents didn't approve of her internet fixation: "If only [my dad], a native African, were like the tribal stereotypes I read about in my middle school history books, I would have gotten away with so much more."
Issa's family moved frequently and she changed school every two years – giving her the chance at endless reinvention: "Each school switch represented a new opportunity for me to try again; to be less awkward, to be a little bit cooler." At high school in South Central Los Angeles, her father was a "mini-celebrity" as the local pediatrician, a fact that didn't help anyone pronounce her African last name. In fact, his notoriety just made correcting people more awkward. And life just got more complicated from there on.
Her observations and struggles to make sense of the world — and her place in it — led to the epiphany that inspired her first episode of Misadventures of Awkward Black Girl: "It all made sense: my shyness, all the times I was dismissed for not being "black enough," my desire to reframe the images of black film and television […] these were all symptoms of my Awkward Blackness. This is an identity, I thought." She had found her voice. "If it weren't for YouTube, I'd still be at studios trying to convince executives that Awkward Black Girls really do exist." 
With her comical take on everything from evil co-workers, to connecting with other blacks ("The gamut of blackness is so wide."), to public displays of affection and weight loss, Issa Rae isn't just an awkward black woman: she's every woman.  Equal parts humor and heart, The Misadventures of Awkward Black Girl is the ultimate guide to self-acceptance.
About the Author:
Issa Rae's content has garnered over 20 million views and over 150,000 YouTube subscribers (and counting).  In addition to making Glamour magazine's "35 Under 35" list, Forbes' "30 Under 30" list, and winning the Shorty Award for Best Web Show for her hit series "The Misadventures of Awkward Black Girl," Issa Rae has worked on web content for Pharrell Williams, Tracey Edmonds, and numerous others.  She developed a television series with Shonda Rhimes for ABC and is currently developing a half-hour comedy for HBO with Larry Wilmore.  Issa has received national attention from major media outlets, including The New York Times, CNN, Elle, Seventeen, Rolling Stone, VIBE, Fast Company, MSNBC, Essence, Fader, and more.
RSVP
Bookings are closed for this event.