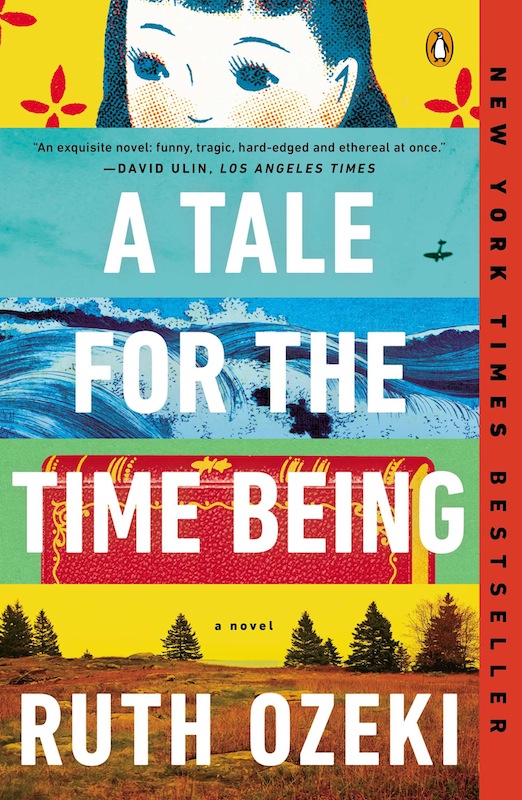 Thursday Jan 09, 2014
7:00 pm - 9:00 pm
THE POWERHOUSE ARENA [Dumbo]
37 Main Street
Brooklyn, NY 11201
For more information, please call 718.666.3049
RSVP appreciated: RSVP@powerHouseArena.com
-or-
Please fill out the "Bookings" form at the bottom of this page.
---
Ozeki's unforgettable story, which was shortlisted for the Booker Prize, centers around a novelist drawn into the diary and world of a 16 year-old Japanese girl. O, The Oprah Magazine editor Abbe Wright joins Ozeki in conversation.
About A TALE FOR THE TIME BEING:
Open up A TALE FOR THE TIME BEING and discover: an earthquake-causing catfish, French maid cafés in Tokyo's manga-crazed Akiba Electric Town, a hundred-and-four-year-old Buddhist nun, Pacific gyres, Zen philosophy, the infinite possibilities of time, and a story with a profound message about the connection between a writer and her reader.
A TALE FOR THE TIME BEING is the eagerly and long-awaited third novel from bestselling author Ruth Ozeki, author of My Year of Meats and All Over Creation. Rich and engaging, this novel is full of Ozeki's signature humor and intelligence.
Meet Nao—a sixteen-year-old girl living in Tokyo and chronicling the life of her great-grandmother Jiko, a Zen Buddhist nun. The diary where Nao keeps this history is the only solace in her otherwise cold and lonely world. Nao is the victim of vicious, relentless bullying at school and her father has become suicidal after losing his job. Creating a written record of Jiko's life is Nao's last act before she, too, attempts to end her life. Across the Pacific, on a small island off the coast of British Columbia, stymied novelist Ruth finds a Hello Kitty lunchbox washed up on the beach. Its mysterious contents include a bunch of letters, an antique watch, and a diary filled with handwriting in purple ink. Thinking the package may be debris from the 2011 tsunami, Ruth's writerly curiosity is piqued. As she reads, she is drawn into Nao's past and becomes fixated on trying to locate her in the present. Ruth's search for answers becomes a rope, anchored in another time and place, pulling her into the future.
Past and present; fact and fiction; the natural world and cyberspace; community and isolation—Ozeki weaves these opposites together in a tale that affirms the fundamental connectedness of humanity. Nao and Ruth are wonderfully imperfect guides and will inspire immediate loyalty.
About the Author and Contributor:
Ruth Ozeki, author of My Year of Meats and All Over Creation, is an award-winning writer and filmmaker, and Zen Buddhist priest. Her critically acclaimed independent films, including Halving the Bones, have been screened at Sundance and aired on PBS. She is affiliated with the Brooklyn Zen Center and the Everyday Zen Foundation. She lives in British Columbia and New York City.
Abbe Wright is an assistant editor at O, The Oprah Magazine where she contributes to the Reading Room and Live Your Best Life sections. She earned a B.A. in English from Denison University in Granville, OH. She was born and raised in Philadelphia and lives in Brooklyn, NY.
---
For more information, please contact
Justin Levine
email: justin@powerhousearena.com
powerHouse Arena, 37 Main Street, Brooklyn, NY 11201
tel: 212-604-9074 x109
RSVP
Bookings are closed for this event.