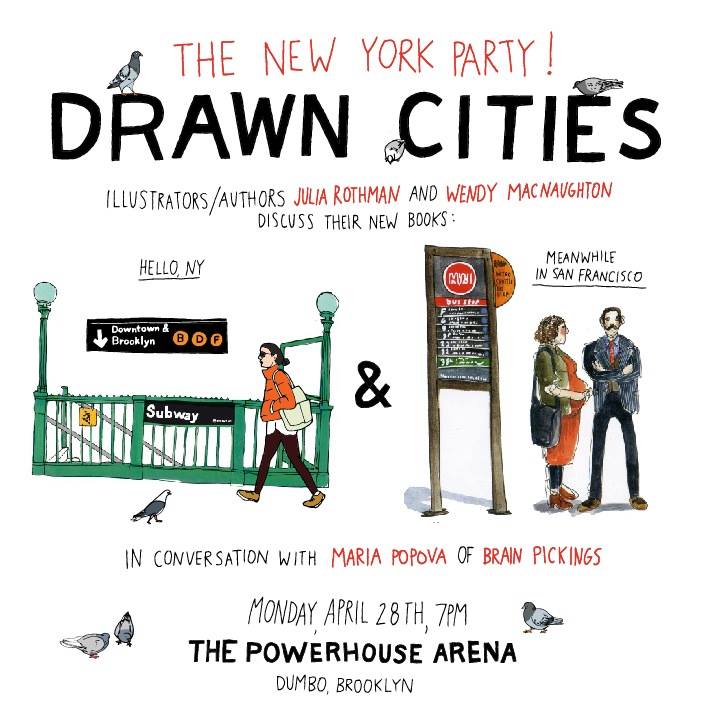 Monday Apr 28, 2014
7:00 pm - 9:00 pm
THE POWERHOUSE ARENA [Dumbo]
37 Main Street
Brooklyn, NY 11201
For more information, please call 718.666.3049
RSVP appreciated: RSVP@powerHouseArena.com
-or-
Please fill out the "Bookings" form at the bottom of this page.
---
Two renowned artists rep their respective cities in these two dynamically illustrated collections, Hello, New York and Meanwhile, in San Francisco.
About Hello, New York:
Anyone who loves New York will delight in this illustrated homage to the city. Artist, author, and lifelong New Yorker Julia Rothman brings humor and tenderness to an eclectic assortment of historical tidbits (how the New York Public Library lion sculptures got their names), idiosyncratic places to visit (where to find the tennis courts at Grand Central Station), interviews with locals (thoughts on love from a Hasidic Jewish landlord), and personal recollections from growing up in the Bronx (fried fish at Johnny's Reef)—all illuminated in her beloved signature style. Part memoir, part guidebook, Hello NY is a personal tour through New York's offbeat treasures through the eyes of beloved indie artist Julia Rothman.
About Meanwhile, in San Francisco:
If San Francisco could talk, what would it say? With her beloved city as a backdrop, a sketchbook in hand, and her natural sense of curiosity, New York Times-bestselling illustrator Wendy MacNaughton asked dozens of locals to describe their lives in the city in their own words. The result is Meanwhile in San Francisco, a street-smart collection of intimate explorations as diverse and beautiful as San Francisco itself.
Readers meet produce vendors at the Civic Center farmers market, patrons combing the shelves at the San Francisco public library, mah jongg players in Chinatown, MUNI drivers getting ready for the day's run, early-morning dogwalkers, Critical Mass bicyclists, fearless ocean swimmers, and much more. Complete with a removable book jacket that folds out into a beautiful, illustrated poster-sized map, Meanwhile in San Francisco is graphic journalism that offers both residents and visitors a priceless opportunity to see the city with new eyes.
About the Authors:
Julia Rothman is the coauthor of The Exquisite Book and The Where, The Why, and The How, and her illustrations have been featured in numerous publications including the New York Times, New York magazine, and the Wall Street Journal. A lifelong New Yorker, she currently lives in Brooklyn.
Wendy MacNaughton is an illustrator based in San Francisco. Her work has appeared in numerous publications, including the New York Times, the Wall Street Journal, and Print magazine. She is the illustrator of Lost Cat: A True Story of Love, Desperation and GPS Technology and the New York Times bestseller The Essential Scratch and Sniff Guide to Becoming a Wine Expert.
---
For more information, please contact
Justin Levine
email: justin@powerhousearena.com
powerHouse Arena, 37 Main Street, Brooklyn, NY 11201
tel: 212-604-9074 x109
RSVP
Bookings are closed for this event.