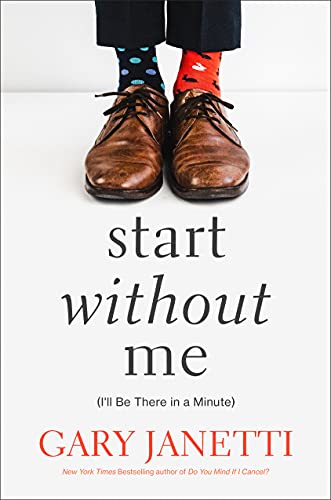 Tuesday Apr 26, 2022
6:30 pm - 8:30 pm
POWERHOUSE @ the Archway
28 Adams Street (Corner of Adams & Water Street @ the Archway)
Brooklyn , NY 11201
This event will be LIVE at POWERHOUSE Arena! Buy tickets here!
PLEASE NOTE: COVID protocol will be observed and seating may be limited. Proof of vaccination is required to attend.
---
About the Book.
From New York Times bestselling author, Family Guy writer, and HBO star Gary Janetti comes Start Without Me, a collection of hilarious, laugh out loud, true life stories about the small moments that add up to a big life.

Gary Janetti is bothered. By a lot of things. And thank God he's here to tell us.

In Start Without Me, Gary returns with his acid tongue firmly placed in cheek to the moments and times that defined him. From his coming of age in 1970's Queens, to his stumbling toward adulthood, and love, in 90's New York, and the digital world of today where you can happily live behind your phone. For Gary "most everything was wonderful. It was only tiny, little things," that stuck like a sharp pebble in a shoe.

This laugh out loud collection of true-life stories from the man, "behind his generation's greatest comedy" (The New York Times) is for anyone who has ever felt like they don't quite fit in. For all of us that have thought, just maybe, those small slights that life flings at us, over and over, are worth remembering. Start Without Me is a book for any of us that have felt the joy in holding a decade long grudge, which is to really say, this book is for all of us. 

Deeply poignant, savagely funny, and slyly tender, Start Without Me will have readers wishing it would never end.
About the Author.
Gary Janetti is a four-time Emmy nominated writer and producer who is the showrunner and creator of HBOMax's The Prince.  He got his start writing on several network series before joining Fox's Family Guy, where he was on the original writing staff and went on to pen many memorable episodes featuring Brian and Stewie.  He then wrote on NBC's Will & Grace, where he rose to executive producer and showrunner. Janetti also created, executive produced and wrote all episodes of the ITV/PBS British sitcom Vicious starring Sir Ian McKellen and Sir Derek Jacobi. His popular Instagram account of over 900k followers has been featured and praised in such publications as the New York Times, People, and Vanity Fair. Janetti's first book, "Do You Mind If I Cancel?" became an instant New York Times bestseller.