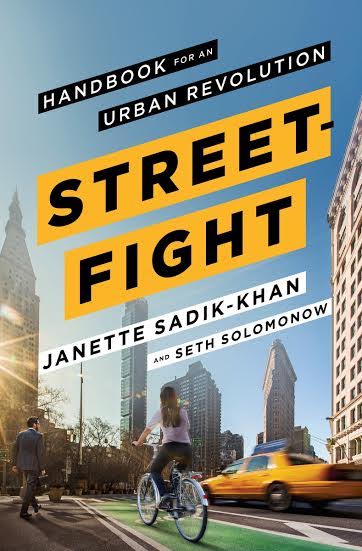 Thursday Mar 10, 2016
7:00 pm - 9:00 pm
Brooklyn Bowl
61 Wythe Ave
Brooklyn, NY 11249
STREETFIGHT deconstructs how New York City's former Director of Transportation Janette Sadik-Khan transformed the streets of one of the world's toughest cities into dynamic spaces that are safe for pedestrians and bikers.
About STREETFIGHT:
During her time as New York City's Director of Transportation from 2007 to 2013, under former mayor Michael Bloomberg, Janette Sadik-Khan achieved the seemingly impossible and transformed the streets of one of the world's toughest cities into dynamic spaces that are safe for pedestrians and bikers. In STREETFIGHT: Handbook for an Urban Revolution, Sadik-Khan and Seth Solomonow deconstruct how she achieved this feat in New York City, while offering an empowering road map for rethinking, reinvigorating, and redesigning city streets across the country to function better for the people and communities that use them.    
As transportation commissioner, Janette Sadik-Khan recognized that New York City desperately needed a new approach to transportation. Her methods were dramatic and effective: simply painting a part of the street to make it into a plaza or bus lane not only made the street safer, but it also lessened congestion and increased foot traffic, which improved nearby businesses. Sadik-Khan's approach confirmed that if you know how to read the street, you can make it function better, not by totally reconstructing it, but by reallocating the space that's already there. Yet, achieving such a radical overhaul wasn't easy, and STREETFIGHT pulls back the curtain on the battles Sadik-Khan won to make her approach work.
Every community has excuses for why changing the way they use their streets is impossible. However, as Sadik-Khan and Solomonow explain in STREETFIGHT, as our cities grow, leaders and the people they serve can no longer accept dysfunctional streets; they must fight to change them. Based on real-world practice, not ivory-tower idealism, STREETFIGHT demonstrates, with step-by-step visuals, how to break a street into its component parts and rewrite the underlying "source code" of a street, while providing advice on how to add protected bike paths, improve crosswalk space, and provide visual cues to reduce speeding. The new operating code for streets that is revealed in this book is already being translated into successful projects in global cities, from pocket parks and plazas in Mexico City and San Francisco, to pedestrian- and transit-friendly road redesigns in Los Angeles and Buenos Aires, to parking protected bike lanes in Chicago and Salt Lake City. STREETFIGHT also includes photographs and illustrations, perfectly capturing how swift, and how remarkably, Sadik-Khan's code can be put to use, inspiring readers everywhere to deconstruct, reassemble, and reinvent the street, to see it in ways they never imagined.
About the Authors:
Janette Sadik-Khan is internationally recognized for her expertise in transportation issues, public policy development, and innovative finance. As New York City's transportation commissioner from 2007 to 2013, she implemented an ambitious program to improve safety, mobility, and sustainability. Now a principal with Bloomberg Associates, she works with mayors around the world to reimagine and redesign their cities. View Janette's TED talk or visit her @JSadikKhan and www.jsadikkhan.com.
Seth Solomonow was the chief media strategist for Janette Sadik-Khan and the New York City Transportation Department under Mayor Bloomberg. A graduate of Columbia University Graduate School of Journalism, Solomonow now works at Bloomberg Associates.
RSVP
Bookings are closed for this event.