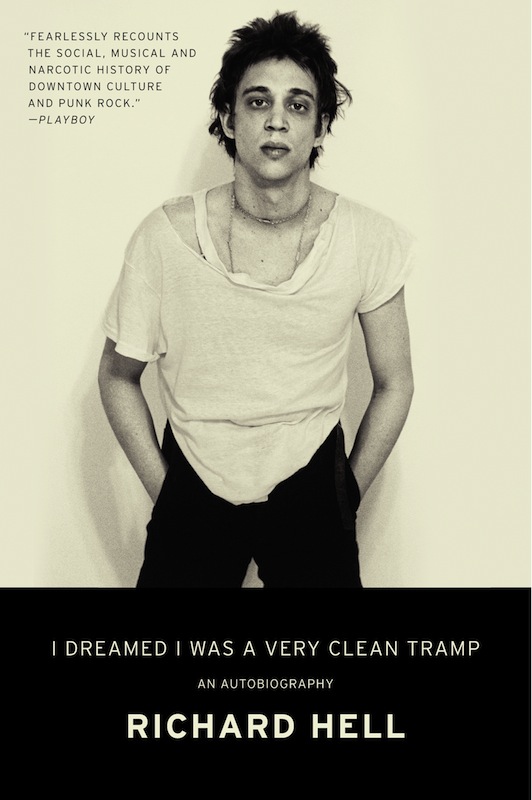 Tuesday Mar 04, 2014
7:00 pm - 9:00 pm
THE POWERHOUSE ARENA [Dumbo]
37 Main Street
Brooklyn, NY 11201
For more information, please call 718.666.3049
RSVP appreciated: RSVP@powerHouseArena.com
-or-
Please fill out the "Bookings" form at the bottom of this page.
---
The punk iconoclast and writer reveals his adventures in this poetic autobiography.  Music journalist and "Dean of American Rock Critics" Robert Christgau joins Hell in conversation.
About I Dreamed I Was A Very Clean Tramp:
Musician, writer, and provocateur Richard Hell was at the center of the social and cultural upheaval of the 1970s that came to be called "punk." With his best friend, Tom Verlaine, he started the band Television, which as the first band to play at a then-obscure downtown bar called CBGBs, ignited an entire movement. Malcolm McLaren admitted that he drew inspiration for the look and music of the Sex Pistols from Hell's original style. Hell's song "Blank Generation," recorded with the Voidoids in 1977, became a defining anthem for the searching, renegade youth of the era.
Hell's unsurprisingly candid and reflective autobiography, I DREAMED I WAS A VERY CLEAN TRAMP, chronicles the coming of age and artistic birth of this iconoclastic icon, and indelibly captures the seminal years when punk rock exploded across New York and London. At the vortex of this seismic shift, Hell helped define its unwritten principles and the sound of its primal battle cry.
Born Richard Meyers in Lexington, Kentucky, the boy who would ultimately push the boundaries of art had a childhood defined by the desire to run away. Innately bright, but a poor student, young Richard had trouble in school and ultimately dropped out of high school—although not before meeting fellow boarding school classmate and future band mate Tom Verlaine (née Miller). At seventeen, Richard landed in New York, where he found work in bookstores and other low-paying jobs, lived in a series of downtown dumps, and began writing poetry and publishing a literary magazine. He had love affairs, including a character-shaping two-year relationship with Claes Oldenburg's ex-wife Patty, fifteen years old than he.
When Tom later arrived in New York, the two friends formed a fraternal bond and artistic collaboration that lead to the formation of Television. The band's regular gig at CBGBs put Hell and Verlaine on the map, and Richard embraced the life of sex, drugs, and rock and roll. His circle included all of the downtown artists who would come to define the age alongside him—Patti Smith, Chris Stein and Debbie Harry, the Ramones. But discord forced Hell to leave Television and move on. He formed The Heartbreakers with Johnny Thunders and later started the Voidoids with Robert Quine, landing a recording deal with Sire Records and touring the UK as the opening act for The Clash. After years of taking drugs, Hell also found himself with a full-blown addiction to heroin, and later cocaine, ultimately confronting these nemeses with the same unapologetic lack of sentimentality that has marked his art.
I DREAMED I WAS A VERY CLEAN TRAMP is a post-punk twist on the classic American coming of age story. An acutely rendered memoir of passion played out through art, rebellion, sex, and drugs, it is the unforgettable testament of one revolutionary artist and the cultural movement he helped create.
About the Author and Moderator:
Richard Hell is the author of the novels Go Now and Godlike, and the collection of essays, diaries, and lyrics, Hot and Cold. Hell has published essays, reportage and fiction in such publications as Spin, GQ, Esquire, the Village Voice, Vice, Bookforum, Art in America, The New York Times, and The New York Times Book Review. From 2004-2006 he was the film critic for Black Book magazine. Hell lives in New York City.
Robert Christgau has been a rock critic since 1967 and was a senior editor and chief music critic at the Village Voice from 1974 to 2006. He has published five books based on his journalism including consumer guides to the albums of the '70s, '80s, and '90s and the Harvard University Press collection Grown Up All Wrong. In 2015 HarperCollins will publish a memoir by Christgau entitled either Going Into the City or Semi Popular.
---
For more information, please contact
Justin Levine
email: justin@powerhousearena.com
powerHouse Arena, 37 Main Street, Brooklyn, NY 11201
tel: 212-604-9074 x109
RSVP
Bookings are closed for this event.