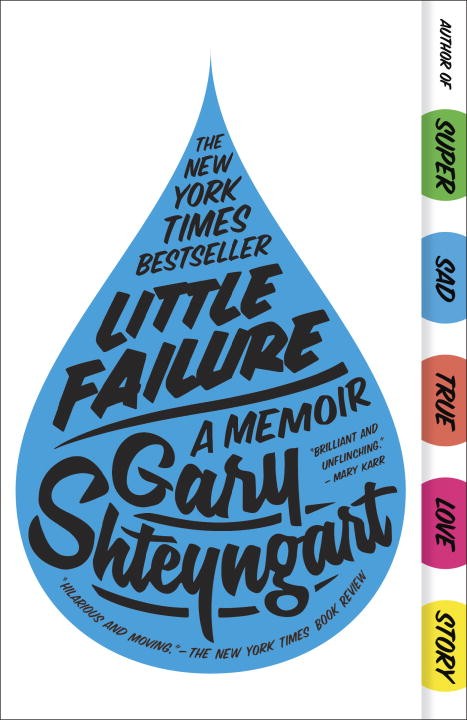 Wednesday Oct 08, 2014
7:00 pm - 9:00 pm
THE POWERHOUSE ARENA [Dumbo]
37 Main Street
Brooklyn, NY 11201
For more information, please call 718.666.3049
RSVP appreciated: RSVP@powerHouseArena.com
-or-
Please fill out the "Bookings" form at the bottom of this page.
---
After three acclaimed novels, Gary Shteyngart turns to memoir in a candid, witty, deeply poignant account of his life so far.
About Little Failure: 
Born Igor Shteyngart in Leningrad during the twilight of the Soviet Union, the curious, diminutive, asthmatic boy grew up with a persistent sense of yearning—for food, for acceptance, for words—desires that would follow him into adulthood. In the late 1970s, world events changed Igor's life. Jimmy Carter and Leonid Brezhnev made a deal: exchange tankers of grain for the safe passage of Soviet Jews to America—a country Igor had been taught was the enemy. Coming to the United States after spending the first part of his childhood in the Soviet Union was equivalent to stumbling off a monochromatic cliff and landing in a pool of pure Technicolor.
Shteyngart recalls that the first two books he ever read were about small children shrunk to even smaller size and forced into a hostile place. Now those stories appeared to have come true, as Igor—renamed Gary along the way so that he would suffer one or two fewer beatings from other kids—lived in two contradictory worlds, all the while wishing that he could find a real home in one. And somebody to love him. And somebody to lend him sixty-nine cents for a McDonald's hamburger.
Shteyngart's loving but mismatched parents dreamed that he would become a lawyer or at least a "conscientious toiler" on Wall Street, something their distracted son was simply not cut out to do. Fusing English and Russian, his mother created the term Failurchka—Little Failure—which she applied to her son. With love. Mostly.
Recounting his life—from his Lenin-loving, ratty-fur-overcoat-wearing childhood to his high school days as an aspiring Republican, to an undergraduate career at Oberlin steeped in longing, to his anxiety-attack-prone twenties in New York—Shteyngart explores what it means to be an immigrant, a son, an American, a boyfriend, a grown-up, a writer. Heart-wrenching, honest and snort-out-loud funny, Little Failure is a memoir of the big-haired '80s and the flannelled '90s, of failing superpowers, of limitless yearning, as told by a lifelong misfit who forged from his imagination a place in the world.
About the Author: 
Gary Shteyngart was born in Leningrad in 1972 and came to the United States seven years later. He is the author of the novels Super Sad True Love Story, which won the Bollinger Everyman Wodehouse Prize and was selected as one of the best books of the year by more than forty news journals and magazines around the world; Absurdistan, which was chosen as one of the ten best books of the year by The New York Times Book Review and Time magazine; and The Russian Debutante's Handbook, winner of the Stephen Crane Award for First Fiction and the National Jewish Book Award for Fiction. His work has appeared in The New Yorker, Esquire, GQ, Travel + Leisure, The New York Times Magazine, and many other publications and has been translated into twenty-six languages. Shteyngart lives in New York City.
RSVP
Bookings are closed for this event.