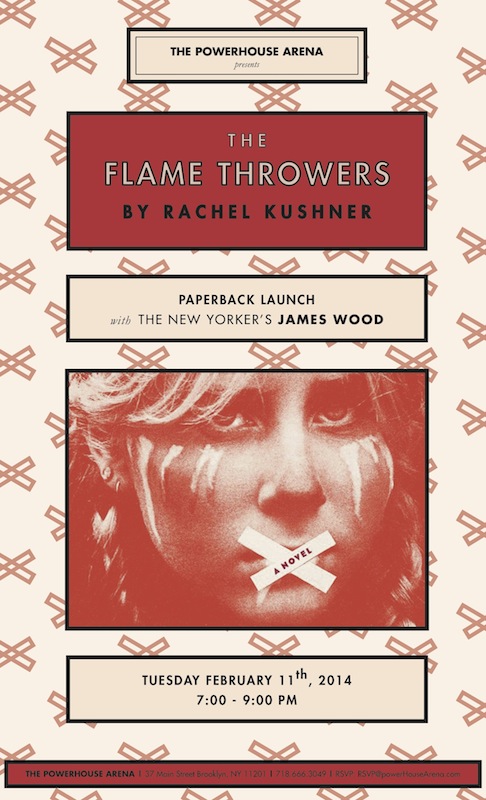 Tuesday Feb 11, 2014
7:00 pm - 9:00 pm
THE POWERHOUSE ARENA [Dumbo]
37 Main Street
Brooklyn, NY 11201
For more information, please call 718.666.3049
RSVP appreciated: RSVP@powerHouseArena.com
-or-
Please fill out the "Bookings" form at the bottom of this page.
---
Kushner's electric story of a young artist exploring New York and Rome in the mid-'70s was nominated for the National Book Award, and with good reason! Come catch a glimpse of one literature's finest new voices. Fiction guru James Wood of The New Yorker joins Kushner in conversation.
About THE FLAMETHROWERS:
Set in part in the untrammeled New York art world of the 1970s, THE FLAMETHROWERS is the story of a young woman – called Reno because she is from there – who moves to New York to pursue artistic ambitions involving speed, distance, and land: "it was an irony but a fact that a person had to move to New York City first, to become an artist of the West."  Soon enough, she makes friends. They include a former Warhol Factory girl who works as a waitress (anyone can be a success, she tells Reno, but "it's so much more interesting to not want that"), an imperious gallery owner who is also a possible romantic rival, and an established artist and his wife who invite Reno into their circle. Most importantly, though, Reno meets Ronnie, an elusive, slippery and attractive character, and his best friend Sandro, an older and successful artist from a wealthy Italian family who becomes Reno's lover.  This loose-knit collection of fakes, narcissists and dreamers submit her to various strains of a "sentimental education"—sexual, intellectual, and aesthetic. THE FLAMETHROWERS, "the best, most brazen, most interesting book of the year," (New York magazine) is certain to be talked about for years to come.
About the Author and Contributor:
RACHEL KUSHNER is the author of two novels, Telex from Cuba and The Flamethrowers. Both received rave reviews, were shortlisted for the National Book Award, and were New York Times bestsellers.
JAMES WOOD is a staff writer at The New Yorker and a visiting lecturer at Harvard University. He is the author of How Fiction Works, as well as the essay collections The Fun Stuff, The Broken Estate, and The Irresponsible Self, and a novel, The Book Against God.
---
For more information, please contact
Justin Levine
email: justin@powerhousearena.com
powerHouse Arena, 37 Main Street, Brooklyn, NY 11201
tel: 212-604-9074 x109
RSVP
Bookings are closed for this event.